All articles with 'using excel' Tag
Podcast: Play in new window | Download
In the 33rd session of Chandoo.org podcast, let's turn the mic to our listeners and hear their tips. What is in this session? This session has 2 things. A surprise Easter egg (an Excel tip hidden in the podcast audio) Collection of Excel tips recorded & submitted by Chandoo.org readers Listen to this session Click here […]
Continue »
We all know that using named ranges is a good practice. So you went ahead and created names for every value in your complex workbook. But now, what about those formulas which still refer to cells by their addresses? Here is a quick tip to make your formulas readable by replacing cell addresses with the names in one go.
Use Apply Names feature.
Continue »
Podcast: Play in new window | Download
In the 31st session of Chandoo.org podcast, let's disappear.
What is in this session?
Spreadsheets are complex things. They have outputs, calculation tabs, inputs, VBA code, from controls, charts, pivot tables and occasional picture of hello kitty. But when it comes to making a workbook production ready, you may want to hide away few things so it looks tidy.
That is our topic for this podcast session.
In this podcast, you will learn
Quick announcements first anniversary of our podcast etc.
Hiding cells, rows, columns & sheets
Hiding chart data points
On/off effect with form controls, conditional formatting
Making objects, charts, pictures disappear
Disabling grid-lines, formula bar & headings
Hiding things in print
Continue »
Here is a very simple & fun way to replace formulas with values.
(Earlier, we talked about how to do this with keyboard)
Just wiggle.
Wiggle what?
Continue »
One of the most useful features of Excel is formula help box. You know the little yellow box that appears as soon as you start typing a formula in a cell. I use this all the time to understand what the syntax of a particular function is, what parameters to pass etc.
Although I love it, sometimes it does get in the way when writing formulas. Because the help box sits on top of my data, often I find it hard to know which cell to link to.
Solution?!?
Simple. Use your mouse to move away the help box wherever you want.
Continue »
If you work with multiple Excel workbooks everyday, then here is a handy tip.
Use Save workspace feature to save your workbook collection & layout.
Continue »
Here is a quick Excel tip to kick start your week.
Sometimes, we want to enter same data in to several cells. You can use CTRL+Enter to do this in a snap.
(1) Select all the cells where you want to enter the same data.
(2) Type the data
(3) Press CTRL+Enter
(4) Done!
See the animation aside to understand how this works.
Continue »
We can take any Excel workbook and format it until Christmas, and we would still not be done. But not many of us have so much of time or energy. So, today, lets talk formatting.
In this, you will learn how to
1) Use tables to format data quickly
2) Change colors of your worksheet in a snap
3) Use cell styles
4) Quickly clone formatting using format painter
5) Clear formats to begin with a clean-slate
6) Formatting shortcuts
7) Formatting options for print
and 8 ) Why you should not go overboard formatting
So go ahead and become a formatting pro.
Continue »
Here is a quick tip on removing data validation rules. We all know that data validation is a powerful feature in Excel to control what data is entered. But, sometimes, you may want to remove the rules from a set of cells. How would you do it? The normal approach is, Select the cells with […]
Continue »
Lets say you have some data in 2 columns and you want to compare row by row to spot the differences. Of course you can write a formula or apply conditional formatting. But there is a quick and dirty solution that works just as fine.
Continue »
I have an exciting news & massive post for you.
Chandoo.org reaches 20,156 RSS Subscriber mark on Jan 19, 2011As of Jan 19, 2011, our little blog has registered our 20,000th RSS Subscriber. While this is not a huge achievement or anything, It certainly calls for celebration. I am so happy to see our mission to make people awesome in Excel is reaching out to more people everyday. Thank you.
To celebrate this milestone, I am doing a massive post with 220 Excel tips, tricks, tutorials & templates.
Formulas [52 tips]
Formatting & Conditional Formatting [36 tips]
Charting [60 tips]
Tables & Pivot Tables [15 tips]
Using Excel [47 tips]
Free Downloads [5 tips]
Recommended Resources [5 tips]
Continue »
We are busy decorating the Christmas tree, making preparations for the holidays. But I have a very quick tip for you.
[Note: all these tips work in Excel 2007 or above]
Whenever you are working with huge lists of data, filtering & sorting is one simple way to analyze the data quickly.
You can quickly filter your data based on current cell's value by right clicking and then selecting filter > filter by selected cell's value.
Continue »
Many of us face this problem. We have some data in a few cells. Either for alignment or structure, we would like to merge the cell contents in to one big cell. But Excel wont help as it cannot merge values from all cells.
Continue »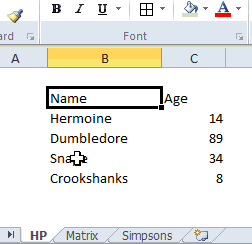 Often we come across workbooks that have similar formatting needs for multiple worksheets. For eg. you may have sales records spanning across 12 worksheets, one for each month. Now as a loyal reader of chandoo.org, you want to keep the formatting of all these worksheets consistent. So here is a quick tip to begin your work week.
Continue »
Today I want to introduce a new excel feature to you, called as Picture link.
Well, picture links are not really new, they are called as camera snapshots in earlier versions. They provide a live snapshot of a range of cells to you in an image. So that you can move the image, resize it, position it wherever you want and when the source cells change, the picture gets updated, immediately.
Continue »