All articles in 'Training Programs' Category
Hiya folks… just a quick update on whats keeping me busy this year, with a bonus Excel tip at the end. Take a sip of your favorite brew and read on.
Continue »
Hi folks,
I have an exciting announcement for you. Starting this month, I will be running a monthly master class on advanced Excel. This is a video class to help advanced users learn creative, powerful ways to use Excel in their day to day work.
What is this Master Class?
The idea is simple. Every month, I will create a lengthy video discussing one of the below topics, specifically targeted at advanced Excel users. As our blog grew, we have a lot of experienced, advanced users and I want to help you achieve more. You will learn,
Dashboards
Data Analytics
Visualizations
VBA / Macros
Business Modeling
Business Intelligence
Each class will be on an different topic with in-depth coverage, creative outputs and awesome techniques. You can sign up for the class that suits your needs.
Continue »
Just a quick announcement.
As you may know, I will be speaking at PASS Business Analytics conference in Santa Clara this April (between 20th & 22nd). As a run up to the event, the good folks at PASS are conducting free webinars on various topics of Excel.
Here are 2 topics on which I am doing webinars. You can watch them and pick up some really cool Excel skills. Just click on below links to enjoy them.
5 Dashboard mistakes to avoid (watch it any time)
Excel charting – productivity tips (

live

on February 3rd)
That is all for now. See you in the webinar.
Continue »
If you are an Excel enthusiast, here is a feast for you.
Just a small glitch, it is a not feast you enjoy with mouth, it is a feast you consume with eyes, ears & mind.
It gives me immense pleasure to invite you to this feast.
Continue »

If you listen carefully, you can hear my screams of joy. I have 2 very happy news to share with you.
I am speaking at Excelapalooza Excel conference, happening at Dallas (Texas) between September 21 to 24.
I will be conducting an Advanced Excel, Dashboards & Power Pivot masterclass at Houston (Texas) between September 15 to 18.
Continue »
Chandoo arrives in Perth, Australia.
Continue »

Last week, we have announced about an upcoming online training program – Excel for Project Managers. Quite a few of expressed interest and shared ideas on how we should do this course. Finally, I am happy to announce the dates for this program and share details. Read on… Who is this program for? Well, there […]
Continue »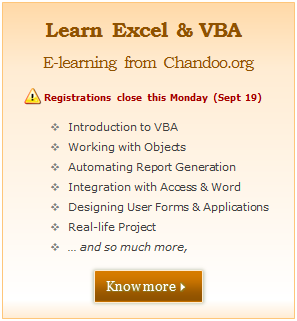 Hi everyone, I have a quick announcement for you.
Registrations for our VBA class will be closing in a few hours
As you may know, we have re-opened the doors for our VBA Class on September 5th. This program is aimed at beginners & intermediate level users. The aim of our VBA class is to make you awesome in Excel & VBA.
We will be closing registrations for this program in few more hours (exactly at 11:59 PM, Pacific time, on 16th September, 2011)
Click here to join our VBA Class now.
Continue »
A quick announcement folks. I am doing an Excel Boot-camp in Singapore this weekend (July 8-10) along with Paramdeep from Pristine. If you are interested in joining our Bootcamp, this is your last chance. Visit our Singapore Excel Boot-camp page for details & sign-up information. The last date for enrollment is Thursday, 7th of July. […]
Continue »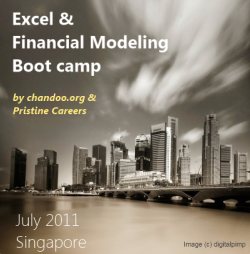 Hello Friends & Readers,
Our Singapore Excel & Financial Modeling Boot-camp is ready for your consideration.
We will be conducting it from July 8th to 10th.
Please read this short page to know details about the program and how to enroll.
Who is this boot-camp for?
This boot-camp is aimed at business analysts, financial analysts & managers, who use Excel all the time. If you are an Excel new-bie, this boot-camp is not for you. Otherwise, you will enjoy this.
Continue »
I have happy news for you.
Paramdeep (from Financial Modeling School) and I am going to organize an Excel Workshop in Singapore during first (or second) week of July.
We want to know if you are interested in this. So please take a few minutes and go thru this small post.
Who is this workshop for?
If you are a financial or business analyst, this workshop is for you. We will be discussing various Excel & Financial Modeling topics during the 12 hour workshop (spread across 2-3 days)
Continue »