All articles in 'Power Pivot' Category
A simple and clear 5 step process to create beautiful and useful dashboards.
Continue »
Watch the replay Getting Started with Power Pivot & DAX 15 useful measures Sample files Blank data file Completed workbook What is in this event? Overview of Power Pivot & DAX 15 useful measures Data model, relationships & star schema Example file provided Your questions answered Got a question? Leave it here.
Continue »
Excel Pivot tables make data analysis and visualization easy. With the help of these advanced pivot table skills, you can create powerful data analytics and reports. New to Pivot Tables? If you are new to Pivot Tables, check out this excellent introduction to Pivot Tables page. × Dismiss alert Table of Contents #1 – One Slicer, Two […]
Continue »
As part of our Excel Interview Questions series, today let's look at another interesting challenge. How can you analyze more than 1 million rows data in Excel?
You may know that Excel has a physical limit of 1 million rows (well, its 1,048,576 rows). But that doesn't mean you can't analyze more than a million rows in Excel.
The trick is to use Data Model.
Continue »
Work in HR and use Power BI? You are going to love this extensive, powerful and useful Employee Turnover Dashboard. In this detailed article, learn how to create your own attrition dashboard system with Power BI. Full example workbook, video and sample data included.
Continue »
In this installment of Power Mondays, let's go the very basics of it all.
What is Power BI?
Power BI is a software to create and publish interactive, web-enabled reports & visualizations for your audience. You can use Power BI on a PC or web to create things. Once you publish a report (or few visuals), your audience can consume them by using any device – PCs, Macs, Web browsers, Apps on cell phone / tablets etc. 
Continue »
Welcome to Power Mondays. Every Monday, learn all about Power BI, Power Query & Power Pivot in full length examples, videos or tips. In this installment, learn how to get top 5 list with a twist.
Let's say you are analyzing sales data and you want to know who are your top 5 sales persons?
Of course, this is simple, you just create a pivot to see total sales by person and then sort the pivot. First five rows have the answer you need. You can even apply a value filter > top 5 to show only their data.
Continue »
Welcome to Power Mondays. Every Monday, learn all about Power BI, Power Query & Power Pivot in full length examples, videos or tips. In the first installment, let's take a look at something we all can related to – Money. 
We all know that Power BI is good for creating awesome visual experiences. Today let me share another fun way to use Power BI – to build a calculator. Learn how to create nest egg calculator in this Power BI parameter example tutorial.
Continue »
Ever wondered how to get percentage of another value in Excel pivot tables, like this: In this tip, learn how to create such calculations using Excel pivot tables. Note: this tip is not compatible with older versions of Excel. If you are using Excel 2007 / 2010 / 2013, then please install free Power Pivot […]
Continue »
So you have decided to up your game with Excel and / or Power BI this year and now ravenously looking for books to read. You have come to the right place. Here is my list of recommended best Excel books, and books on Power BI, visualization, dashboards, VBA, Macros and analytics.
Use below links to navigate the relevant section of this page:
Continue »
Commonwealth games 2018 have ended in the weekend. Let's take a look at the games data thru Power BI to understand how various countries performed.
Here is my viz online or you can see a snapshot above.
Looks good, isn't it? Well, read on to know how it is put together.
Continue »
Before we begin:
Today is the last day for enrolling in our Power BI Play Date. Don't miss out on this amazing opportunity to learn, use and benefit from Power BI at your work. Check out my online class and sign up before the doors close at midnight. Click here.
Let's get our Simpsons on then.
D'oh, How often Homer says his favorite things?
Here is the visualization to explore Homer's (and other character's) favorite sayings in 27 years worth of Simpsons episode. Click on the image to play.
Continue »
Over the weekend, I got an email from Mr. E, one of my students. Mr. E works at a police department in California and as part of his work, he was looking at calls received by police. Whenever police get a call for help, multiple teams can respond to the call and go to the location. All of these dispatches are recorded. So a single call can have several such dispatches. And Mr. E wanted to findout which team responded the first. The problem?
Finding the first responded team is tricky.
Today let's take up this problem as a case study and understand various methods to solve it.  We are going to learn about writing better lookups, pivot tables, power pivot and optimization. Put on your helmets, cause this is going to be mind blowingly awesome.
Continue »
Mary Ellen, one of our readers, has an interesting conundrum,
I have some data that goes to Pivot table then to pivot chart. There is a slicer to filter the data. But when I slice, my pivot chart gets messed up. How to have the slicer, but still see the insights in the chart?!?
See above demo to understand:
This is because when you slice by a school, the pivot table gets filtered and hence % row total for that school becomes 100% (as there are no other schools).
How to fix the problem? The easy answer is to remove the slicers. But we want to have our slicers and eat a slice of them too. So we crank up the Excel awesomeness valve and get to work. There are two ways to achieve what we want.
Old school method: Two pivot tables, some formulas & a line chart
New Excel method: Power Pivot and a line chart
Read the rest of this article to know more.
Continue »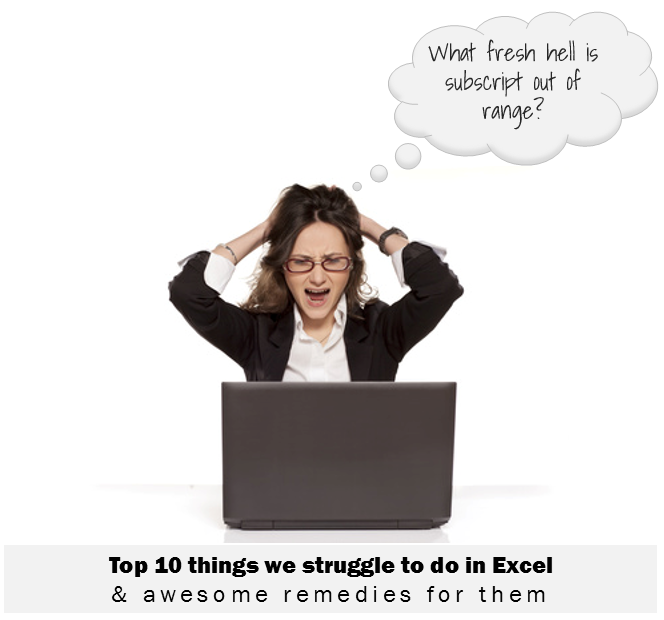 Recently we asked you, what do you struggle doing in Excel? 170 people responded to this survey and shared their struggles. In this post, lets examine the top 10 struggles according to you and awesome remedies for them.
Continue »