If you work with multiple Excel workbooks everyday, then here is a handy tip.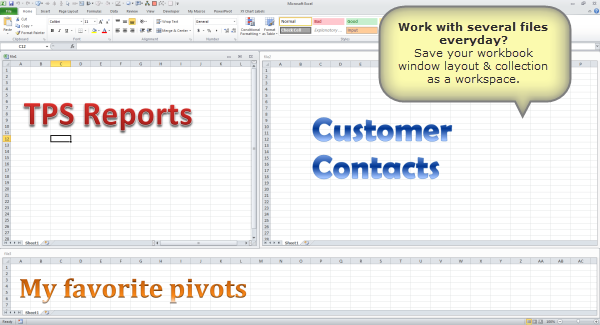 Open all the files you frequently use together.
Go to View ribbon and click on Save Workspace
Give a name to your workspace
Now, whenever you need to open all these files together, just double click on workspace file in your explorer.
You are done!
Workspace saves not just file collection, but also window layouts. That means, if you like to arrange your Excel windows in a specific fashion, you can save this arrangement too.
Bonus tip: Use specific filter criteria all the time? Try custom views.
More tips on using Excel & shortcuts.
Do you use workspace feature?
I find workspace feature to be very useful when I need to work with multiple files, especially in cases like file comparison and consolidation. I can save the file layout as a workspace and re-open it whenever I want to resume the work.
What about you? How do you use workspace feature? Please share your tips & experiences with us using comments.