All articles with 'using excel' Tag
Here is a quick Excel tip to kick start your week.
Sometimes, we want to enter same data in to several cells. You can use CTRL+Enter to do this in a snap.
(1) Select all the cells where you want to enter the same data.
(2) Type the data
(3) Press CTRL+Enter
(4) Done!
See the animation aside to understand how this works.
Continue »
Here is a quick tip on removing data validation rules. We all know that data validation is a powerful feature in Excel to control what data is entered. But, sometimes, you may want to remove the rules from a set of cells. How would you do it? The normal approach is, Select the cells with […]
Continue »
Lets say you have some data in 2 columns and you want to compare row by row to spot the differences. Of course you can write a formula or apply conditional formatting. But there is a quick and dirty solution that works just as fine.
Continue »

I have an exciting news & massive post for you.
Chandoo.org reaches 20,156 RSS Subscriber mark on Jan 19, 2011As of Jan 19, 2011, our little blog has registered our 20,000th RSS Subscriber. While this is not a huge achievement or anything, It certainly calls for celebration. I am so happy to see our mission to make people awesome in Excel is reaching out to more people everyday. Thank you.
To celebrate this milestone, I am doing a massive post with 220 Excel tips, tricks, tutorials & templates.
Formulas [52 tips]
Formatting & Conditional Formatting [36 tips]
Charting [60 tips]
Tables & Pivot Tables [15 tips]
Using Excel [47 tips]
Free Downloads [5 tips]
Recommended Resources [5 tips]
Continue »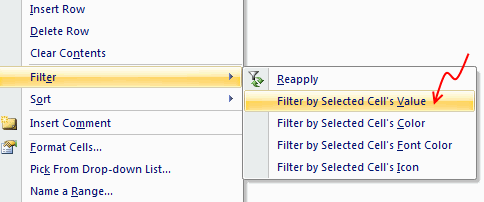 We are busy decorating the Christmas tree, making preparations for the holidays. But I have a very quick tip for you.
[Note: all these tips work in Excel 2007 or above]
Whenever you are working with huge lists of data, filtering & sorting is one simple way to analyze the data quickly.
You can quickly filter your data based on current cell's value by right clicking and then selecting filter > filter by selected cell's value.
Continue »
Many of us face this problem. We have some data in a few cells. Either for alignment or structure, we would like to merge the cell contents in to one big cell. But Excel wont help as it cannot merge values from all cells.
Continue »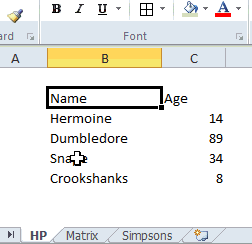 Often we come across workbooks that have similar formatting needs for multiple worksheets. For eg. you may have sales records spanning across 12 worksheets, one for each month. Now as a loyal reader of chandoo.org, you want to keep the formatting of all these worksheets consistent. So here is a quick tip to begin your work week.
Continue »
Today I want to introduce a new excel feature to you, called as Picture link.
Well, picture links are not really new, they are called as camera snapshots in earlier versions. They provide a live snapshot of a range of cells to you in an image. So that you can move the image, resize it, position it wherever you want and when the source cells change, the picture gets updated, immediately.
Continue »
Sometimes when you are working with data, you may need to just copy and paste numbers from one range to another. Here is a handy little trick to achieve that.
Use Paste Special > Add operator to paste numbers only.
1. Select the source range, press CTRL+C
2. Now, go to target range, press ALT+ES to activate paste special dialog
3. Select "Add" operator (you can press d)
4. Click ok.
Continue »
Welcome back. Did you have a good weekend?
We ate fish, watched a movie, had hilarious moments watching the kids and didn't even leave the house for anything other than to buy some fish.
Coming back to Excel, I want to share a simple productivity tip with all of you. I accidentally learned this and now I use it often to speed up when I am working on large excel files.
Jump to Any Cell / Worksheet using Name Box
If you want to quickly jump to a named range or another worksheet, here is a quick trick. Just enter that name or address in the name box (top-left corner, next to formula bar). And bingo, you are on the target cell or sheet.
Continue »
I don't remember when was the last time both of us (Jo and I) were this excited. And the reason?
Nakshatra and Nishanth have started taking their first steps last week !!!
It is such a joy watching them take one step at a time. Aah, the beauty of parenting 🙂
So I asked myself, "What is a good way to celebrate this without looking like a super-excited dad?" and I got my answer in 72 milli-seconds.
I have created 10 short (<10 min) videos helping you to take baby steps in Excel world. Each video introduces you to one new functionality of Excel and shows you some nice examples. Before jumping straight in to the videos, I want to share a short clip (30 seconds) of our kids taking their baby steps.
Continue »
Checking if a value falls between 2 other values is fairly common when you are working with data. In today's quick tip, we are going to learn how to check for such between conditions in excel. You will be learning how to check if a value, date or text falls between 2 other values, dates or texts (when arranged in dictionary order) as shown in the picture aside.
Continue »
Ok, so you have written a shiny new macro to solve all the problems. The macro, solveWorldProblemsAndMakeSomeCoffee() sits nicely in your personalmacros.xlam file somewhere in C drive. You have also installed the macro as an add-in so that it is always available. But wait!!! How do you run your sWPAMSC everyday in the morning? (ok, […]
Continue »
When I published the comprehensive list of excel shortcuts few weeks back, I thought I had them all. Boy, I was wrong. I am pleasantly surprised to find a new shortcut, one that takes away my manic mouse scrolling in one feel swoop. Often, when I am working with large tables of data, I scroll […]
Continue »
In the last installment of excel 2010 features, we will explore the backstage view (or file menu) in Excel 2010.
Background on Backstage view:
Most of the windows based applications have a File menu. This is the usual place you go to create, open, save, save as, print and close. In Office 2007, Microsoft ditched menu based navigation and introduced Ribbon. They moved all the formatting, pivot, charting, formula, print etc. options to various individual ribbon tabs. But they couldn't move the functionality of File menu to a separate ribbon. Instead, they moved all this functionality to Office button – a clone of file menu.
Continue »