All articles in 'Project Management' Category
Do you know that we can easily calculate the critical path for a project using Excel formulas?
For a long time, it has been tricky to calculate the Critical Path using Excel formulas. But thanks to the arrival of new Dynamic Array functionality in Excel, we can now calculate critical path. In this article let me describe the approach with an example.
Put on your hardhats, this one is going to blow your minds.
Continue »
Do you manage projects? You are going to LOVE ? this one. In this in-depth tutorial, learn how to create a fully interactive & dynamic Excel Project Management dashboard. Sample files & video instructions are also provided.
Continue »
Are you in IT & use Excel often? This article explains top 10 formulas for IT professionals. Useful for project managers, IT analysts, Testing people and BAs.
We cover a 10 practical situations and explore various Excel formulas to solve them. Example workbook provides more details too.
Continue »
Risk comes from not knowing what you are doing. Warren Buffet If you ever ask a project manager what they are up to, they will tell you "I have no idea". So risks are quite common in project management. That is why I made this awesome free Excel risk map template to keep track and […]
Continue »
We all have some projects to manage every now and then and there are needs of various trackers that help us in gauging the progress of the same. One of the most important things are heat maps that quickly help us in visually displaying the names of the projects that need special attention and resolve issues that are impacting them.
Continue »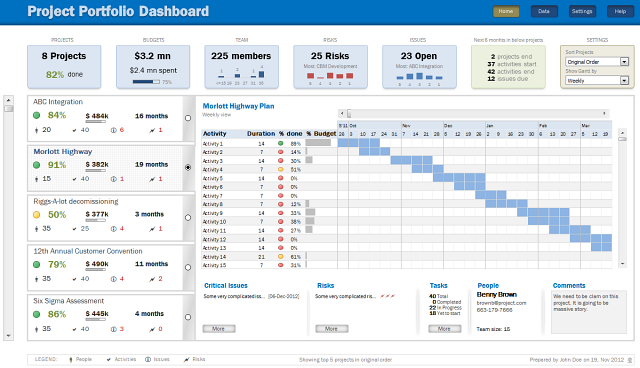 In this 2 part tutorial, we will learn how to design a project portfolio dashboard. Part 1 discussed user needs & design. Part 2 will show you Excel implementation.
Final Implementation – Project Portfolio Dashboard
First lets take a look at the finalized dashboard implementation. Continue reading to learn more & download this dashboard.
Continue »
Behold, here is the official trailer for our Project Portfolio Dashboard, releasing worldwide on 19th November (Monday), 2012.
Continue »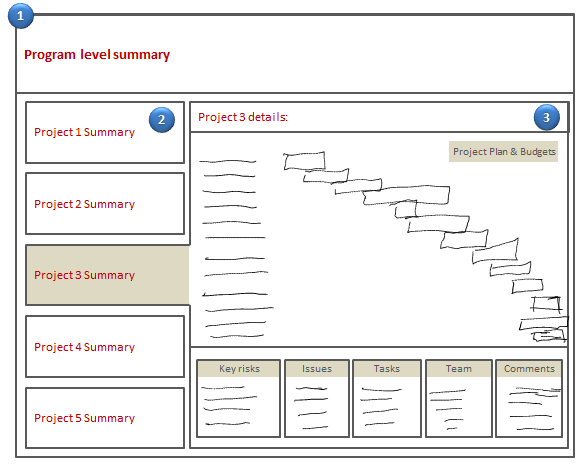 In this 2 part tutorial, we will learn how to design a project portfolio dashboard. Part 1 will focus on user needs & design. Part 2 on Excel implementation.
Background
As you may know, we sell a set of Excel Project Management templates. These templates help plan, track, manage & report a project right from Excel.
While these templates good, they have one limitation. They work for one project at a time. Many customers have asked me if I come up with a project portfolio dashboard that can tell what is going on in a set of projects in one view.
And that is where we begin.
Continue »

My dear friends & readers of Chandoo.org,
We are so happy to announce Excel for Project Managers program for your consideration. Please read this short page to understand the benefits of this course & to sign-up. Or visit our sales page for details.
Who is this course for?
Well, I am sure you know the answer. This course is aimed at Project Managers, Business Analysts, Project Leads and people aiming for various project management roles. This course also helps project sponsors, people working in reporting & financial analysis of projects.
To enjoy this course, you should be familiar with various aspects of Excel (preferably Excel 2007 or 2010). This course is not aimed at absolute newbies of Excel.
Continue »

Last week, we have announced about an upcoming online training program – Excel for Project Managers. Quite a few of expressed interest and shared ideas on how we should do this course. Finally, I am happy to announce the dates for this program and share details. Read on… Who is this program for? Well, there […]
Continue »

Few days ago, we announced about our upcoming Excel for PMs course. Quite a few of emailed me and told that you are looking forward for this.
Today I want to share our preliminary agenda for this course and take your help in fine-tuning it.
Continue »
In 2005, fresh out of MBA School, I was put on managing an e-business transformation strategy project. It was then that realized that project management was a full time job (I always wondered before that why PMs were even paid a dime!). We created huge Project Management reports for the client, where were tracked and […]
Continue »