All articles in 'Quizzes' Category
What functions you believe Excel is missing?
Continue »
Last week, we had our very first quiz – "How well do you know your LOOKUPs?". I hope you have enjoyed it.
Today lets understand the answers & explanations for this quiz.
Continue »
Published on Mar 22, 2013
in
Quizzes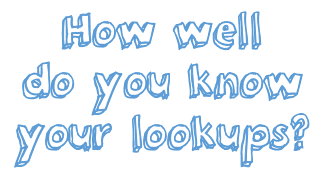 So you think you know VLOOKUP formula? Well, test your knowledge.
Click here to take our first ever quiz – on Look up formulas.
Continue »