In the 31st session of Chandoo.org podcast, let's disappear.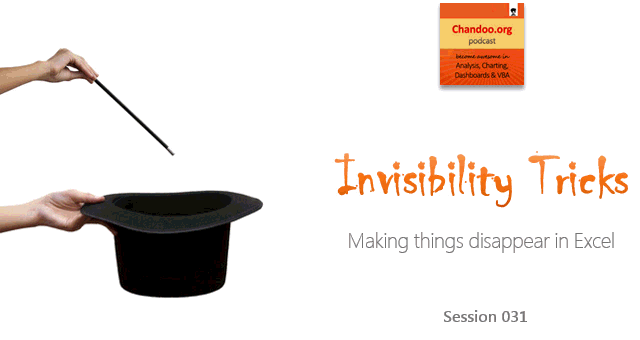 What is in this session?
Spreadsheets are complex things. They have outputs, calculation tabs, inputs, VBA code, from controls, charts, pivot tables and occasional picture of hello kitty. But when it comes to making a workbook production ready, you may want to hide away few things so it looks tidy.
That is our topic for this podcast session.
In this podcast, you will learn
Quick announcements first anniversary of our podcast etc.
Hiding cells,
Hiding rows & columns
Hiding chart data points
On/off effect with form controls, conditional formatting
Hiding sheets
Making objects, charts, pictures disappear
Disabling grid-lines
Turning off formula bar
Getting rid of headings
Hiding things in print
Listen to this session
Podcast: Play in new window | Download
Subscribe: RSS
Click here to download the MP3 file.
Links & Resources mentioned in this podcast
Hiding cell content
Hiding chart data points / series 
Hiding objects, shapes & charts
Hiding things in Print
Transcript of this session:
Download this podcast transcript [PDF]
What is your favorite Excel magic trick?
My favorite tricks are using formulas + form controls to make charts dynamic, using conditional formatting, using VBA to animate stuff.
What about you? What magic you do to impress your boss & colleagues? Please share your tips & ideas in the comments section.
Subscribe to our podcast and get latest episodes automatically
Use below link to add our podcast to iTunes. For other options (Android, Windows phone or RSS) click the link below. Thank you.