All articles in 'Cool Infographics & Data Visualizations' Category
Power BI is great for visualizing and interacting with your data. In this article, let me share a technique for creating variance chart in Power BI. Variance charts are perfect for visualizing performance by comparing Plan vs. Actual or Budget vs. Actual data.
Continue »
Ok, I will be honest. I have no idea what to call it. May be Chart Cover Flow? But Interactive Chart Slider Thingy sounds so better. So let's go with it.
Learn how to create this magical contraption in Excel.
Continue »
Excel Pivot tables make data analysis and visualization easy. With the help of these advanced pivot table skills, you can create powerful data analytics and reports. New to Pivot Tables? If you are new to Pivot Tables, check out this excellent introduction to Pivot Tables page. × Dismiss alert Table of Contents #1 – One Slicer, Two […]
Continue »
This is an Excel replica of excellent Tableau visual on Tour de France winner data made by Marc Reid.
Last week I saw a stunning visualization on Tour de France using radial charts. I wanted to replicate it in Excel. So here we go.
Continue »
If you want to tell the story of how your business / project / charity / thing is going on, then making a dashboard is the best way to go about it. Dashboards can combine heaps of data, insights and messages in to one concise format that fits on to a desktop or table or mobile screen.
But let's be honest. Creating them in Excel is a lot of work. Even after spending hours on them, they might still look meh. So, let me share a trick to make your dashboards look snazzy (without compromising on insights per inch).
Create dashboard tiles, something like above.
Continue »
Over on Twitter, I came across this beautiful chart, aptly titled – Joyplot. It is the kind of chart that makes you all curious and awed. So I did what any Excel nerd would do. Recreated it in Excel of course. This post takes you thru the process.
Take a look at final outcome above. Read on to learn more.
Continue »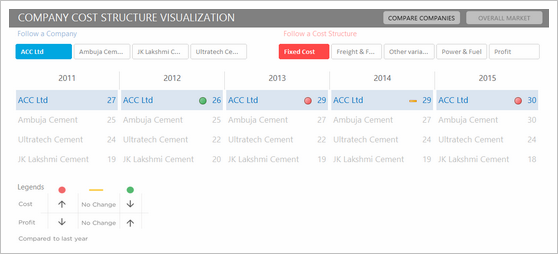 In this amazing guest post, the winner of our 2016 dashboard contest – Chandeep – Explains how he constructed the jaw dropping beauty (shown above) using Excel, creativity, love and sweat. Grab a full cup of coffee (or whatever liquid fancies you) and read on. Take lots of notes and play with the ideas in Excel while reading to maximize your learning.
Thanks Chandeep.
Continue »
Over at Flowing Data, Nathan has published an interesting visualization about spread of obesity.
While the above chart is quite interesting, it doesn't offer much insight in to the data. There are a few drawbacks,
Understanding obesity trends for a given state over the years is hard due to the layout and format of the chart.
Finding which states are experiencing most obesity growth rates is not possible
Ironically, the chart itself is obese. It takes too much space to explain the data.
Nevertheless, the chart looks cool and can be reused with smaller data-sets (quarterly trends or just for a few years). So let's recreate the same in Excel. While we are at it, let's also build an alternative visualization to explore the obesity data.
Continue »
Its party time! A while ago, we ran a contest asking you to visualize financial metrics data. We got 30 awesome entries. Today let's reward the winners.
But first a quick note: Congratulations to all the entrants. I have learned a lot just by playing with your files and exploring them. Thank you so much for taking time to share your knowledge with all of us.
Continue »
Over the years, we have discussed a whole heap of techniques to visualize budget vs. actual charts. Today let's take a ride on this slope again and learn another fun, silly & awesome way to depict target vs. actual progress.
Introducing biker on a hill chart
Tada!!!
Biker on a hill!?! Don't worry, I didn't fall down on a descent and lose my brain. I am talking about an Excel chart to visualize target vs. actual progress on a time line with biker on a hill analogy. See the above chart, you will know.
Looks interesting? Read on to learn how to create this in Excel.
Continue »
Have you ever wondered about applying different Spreadsheet Formats or Styles to reports which you may be send to different people and so the styling may be different for each recipient?
I haven't, but in this post I will show how you can add it to your worksheets.
Continue »
As announced earlier, here is the first one of our Master Classes. In this one, you will learn how to create advanced interactive charts in Excel by blending pivot tables, slicers, timelines, VBA, conditional formatting and charts. The final outcome is BEAUTIFUL!!! Monthly Master Class – Episode 1 – Trailer Check out a quick trailer of the […]
Continue »
Here is a simple but effective rule for your next dashboard. Tell all versions of truth. All versions? But there is only one version no? Of course, there is only one version of truth (or data), but you can present that in different ways, thus creating different perspectives, offering different insights. By using an interactive element (slicers […]
Continue »
During last week, an alert reader of our blog, Jørgen emailed me a link to "How Trump happened".  It is an interactive visualization by Wall Street Journal. Jørgen asked me if we could replicate the visualization in Excel. My response: "Making a new chart in Excel? Hell yeah!"
Read on for awesome visualizations and full explanation.
Continue »
This is the final part of our series on how to analyze half a million customer complaints. Click below links to read part 1 & 2.
Complaint reason analysis – Part 1
Regional trends & analysis – Part 2
Customer satisfaction scorecard
In the previous parts of this case study, we understood what kind of complaints were made and where they came from (states). For the customer satisfaction scorecard, let's focus on individual companies.
Continue »