All articles with 'paste-special' Tag
Last week, we talked about how to copy and paste visible cells alone (ie exclude any filtered rows or hidden columns etc.) In the comments section many of you suggested two more ways to deal with this annoying problem. Let's take a look them.
Continue »
Here is something annoying with Excel.
Open any Excel file with few columns of data. Hide some of those columns (select the columns and press CTRL+0). Now, copy a few rows of data. Paste it else where. Excel will paste the values in hidden columns too. We thought Excel would omit the values in hidden columns.
What the filter Excel?!? I thought we were friends, but you annoy me with some of these quirks.
Continue »
One of the regular reporting tasks I do involves a manual step I hated. It goes like this:
Dump several columns of data in the template file.
Hide a particular set of columns (these are not together, so must be done one at a time or with CTRL+selection)
Save and publish the file.
After doing this manually for last few fortnights, today I wanted to automate the column hide process. I was about to write a VBA macro to clone the hide settings from one workbook to another. But then I thought, may be paste special can be of use.
And what do you know. It does exactly that.
Continue »
Making your workbooks, charts, dashboards & presentations beautiful is a time consuming process. It is a mix of art & craft. Naturally, we spend hours polishing that important slideshow or visualization. But do you know about simple features in Excel that can save you a lot of time and help you create gorgeous output?
Continue »
Here is a fun way to use Paste Special to quickly multiply everything in a range with 1.1 (why 1.1? Well, imagine you have a report with everything in US $s and your boss wants to see the numbers in Australian $s…)
Since your report has different formulas for each cell, you can't multiply first cell with a rate variable and drag it down. You have to manually edit each formula and add *rate at the end of it.
Oh wait…, you can use Paste Special.
Continue »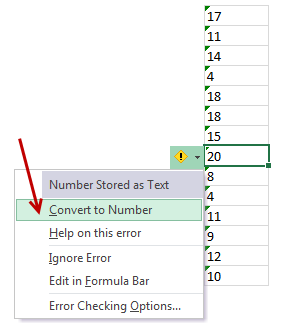 Here is a quick tip to start the week.
Often, we end up with a situation where a bunch of numbers are stored as text.
In such cases, Excel displays a warning indicator at the top-left corner of the cell. If you click on warning symbol next to the cell, Excel shows a menu offering choices to treat the error.
Continue »
Podcast: Play in new window | Download
Subscribe: Apple Podcasts | Spotify | RSS
In the 17th session of Chandoo.org podcast, lets leave Excel aside and talk about other MS Office apps.
Thats right. We will be learning 10 tips on how to use Word, Power Point, Outlook etc. Ready?
In this podcast, you will learn,
About Paul
Ten tips for MS Office
1. Use Excel to communicate instead of just calculations
2. Paste Special
3. Double click trick!
4. Inserting screenshots
5. Turning off notifications
& more…
Continue »

On Friday, we learned how to transpose a table of data using Excel formulas. Today lets learn a quicker & easier way to do this by just using copy, paste, find & replace.
Continue »

Today lets tackle a familiar data clean-up problem using Excel – Transposing data.
That is, we want to take all rows in our data & make them columns. Something like this:
Learn these 4 techniques to transpose data:
1. Using Paste Special > Transpose
2. Using INDEX formula & Helper cells
3. Using INDEX, ROWS & COLUMNS formulas
4. Using TRANSPOSE Formula
Continue »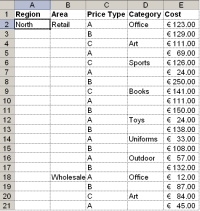 This post is authored by Martin, one of our readers.
Situation:
Sometimes I encounter data in my tables with blank cells where there is a repeated value from the cell directly above. See below:
This can be annoying when it comes to interpreting the data and when sorting columns.
Solution:
To know how I solve this, just read rest of the article.
Continue »

Everyone and their colleague knows the importance of Excel keyboard shortcuts. While it may be a good idea to know a 97 different shortcuts for everything in Excel, the fact is, you don't use them all the time. So, it all boils down to memorizing the few shortcuts that you use all the time.
In this post, I am sharing 10 such shortcuts that I can't live without, especially, when I am analyzing data, making charts and formatting my workbooks.
Continue »
Here is a quick tip on removing data validation rules. We all know that data validation is a powerful feature in Excel to control what data is entered. But, sometimes, you may want to remove the rules from a set of cells. How would you do it? The normal approach is, Select the cells with […]
Continue »

I have an exciting news & massive post for you.
Chandoo.org reaches 20,156 RSS Subscriber mark on Jan 19, 2011As of Jan 19, 2011, our little blog has registered our 20,000th RSS Subscriber. While this is not a huge achievement or anything, It certainly calls for celebration. I am so happy to see our mission to make people awesome in Excel is reaching out to more people everyday. Thank you.
To celebrate this milestone, I am doing a massive post with 220 Excel tips, tricks, tutorials & templates.
Formulas [52 tips]
Formatting & Conditional Formatting [36 tips]
Charting [60 tips]
Tables & Pivot Tables [15 tips]
Using Excel [47 tips]
Free Downloads [5 tips]
Recommended Resources [5 tips]
Continue »
Sometimes when you are working with data, you may need to just copy and paste numbers from one range to another. Here is a handy little trick to achieve that.
Use Paste Special > Add operator to paste numbers only.
1. Select the source range, press CTRL+C
2. Now, go to target range, press ALT+ES to activate paste special dialog
3. Select "Add" operator (you can press d)
4. Click ok.
Continue »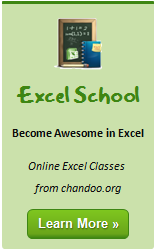 As you may know, I run an online excel training program, called as, Excel School. I have opened registrations for 2nd batch of this program on last Monday. Thank you very much for supporting this program wildly. In a few hours, I will be closing the registrations for Excel School.
Click here to sign up for Excel School
At the time of writing this post (around 9 AM IST on 21st), we have 103 students signed up for Excel School. This is certainly a bit more than what I expected. But, I am also confident and eager to help as many of you as possible. So go ahead and join the program, because, you want to be awesome.
Continue »