Quickly convert numbers stored as text [tip]
Here is a quick tip to start the week.
Often, we end up with a situation where a bunch of numbers are stored as text.
In such cases, Excel displays a warning indicator at the top-left corner of the cell. If you click on warning symbol next to the cell, Excel shows a menu offering choices to treat the error.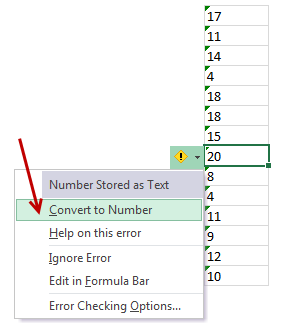 Converting numbers stored as text back to numbers
Tip #1: Error correction
One easy and quick way to convert all the text-numbers to numbers is,
Select all the cells
Click on warning indicator next to top-most cell
Choose Convert to number option
Done
Tip#2: Paste Special Convert
Sometimes such text-numbers may be scattered across the worksheet, thus making selection of cells a pain.
In such cases, follow this process (see demo below)
In a blank cell, just type 1
Copy this blank cell.
Select all the cells that have text-numbers.
Press CTRL+ALT+V to launch Paste Special box.
Choose Multiply from operation area.
Click ok & Done!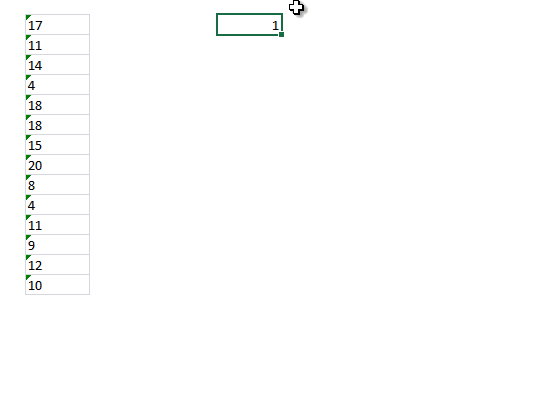 Enjoy your numbers.
Bonus tip: If you think the error indicators are annoying, you can turn them off. Just go to File > Options > Formulas and turn off all the error checking rules you don't need.
PS: Thanks to Justin for emailing me the Paste Special Multiply with 1 trick.
Hello Awesome...
My name is Chandoo. Thanks for dropping by. My mission is to make you awesome in Excel & your work. I live in Wellington, New Zealand. When I am not F9ing my formulas, I cycle, cook or play lego with my kids. Know more about me.
I hope you enjoyed this article. Visit Excel for Beginner or Advanced Excel pages to learn more or join my online video class to master Excel.
Thank you and see you around.
Related articles: