All articles with 'online excel training' Tag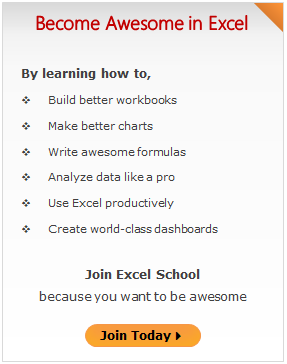 Hello lovelies,
We break the regular awesomeness on Excel & related beauty to bring you an important notice.
You may know that I run an online Excel & Dashboard training program, called as Excel School. We have been running this course since Jan 2009 and trained more than 1,500 students thru this so far. And starting next Monday (29 August), the course prices are going up.
So, if you are waiting to become awesome in Excel, now is your chance.
Click here to learn more about Excel School & Join us.
Continue »

Who is this course for?
If you use MS Excel to do data analysis, reporting, day to day tracking or project management then this is the right course for you. If you struggle with formulas or not sure which formula to use for any given occasion, then this is the perfect course for you. We will be introducing more than 40 different formulas with 100s of examples in this course. As we will be using realistic data & examples, you can very quickly apply the same to your day to day work and do so much more with ease & confidence.
Click here to learn more & join this course.
Continue »
Hello friends & readers of Chandoo.org,
I am very excited to tell you that our financial modeling & project finance classes are open for registration starting today.
In this article, you can learn about our training program, how it can help you & payment instructions.
Continue »
Hi there,
Do you know that Chandoo.org run an online training program on Financial Modeling & Project Finance Modeling?
So far, we have trained more than 200 students thru this program and now, I am excited to announce that from July 27th, you can join this course again.
Read this short post to understand how our program can benefit you.
Continue »
Today, I want to quickly share a few things about the upcoming VBA Classes.
I have been running online training programs since Jan, 2010. I have trained more than 900 students till date. Still, whenever I am launching a new program, I could feel that familiar sense of eagerness, tension and tremendous enthusiasm building up. I feel eager because I want to meet you, teach you and learn from you. I feel tensed because I want to do it right. I feel enthusiastic because these training programs give me a lot of new ideas and open-up new possibilities.
Continue »
Few days ago, I have asked you, Do you want to learn Excel VBA online? and many of you said YES. So we are starting the program, on next Monday – 9th of May.
VBA Classes is a 12 week online training program that will explain various Excel VBA concepts to you in an easy to understand format. Just like Excel School, we will keep this fun, exciting, interactive and useful. We will learn from each other as much as we learn from this course. To help you understand how this course works, we made a small video. You can watch it and get other details about the program in this post.
Continue »
I have a quick announcement for you.

As you may know, we have re-opened registrations for our 2nd batch of Financial Modeling School on Feb 23rd. We will be closing the doors for new students tonight at 11:59 pacific time. Thank you so much for supporting this program enthusiastically.
If you wish to join Financial Modeling School, click here.
Continue »
Many of us want to learn advanced Excel and make progress in our career. But how to do it? In this post, I show 3+1 ways in which you can learn advanced excel.
Last week I did an interview with Robert Mundigl of clearlyandsimply.com. Robert is an Excel wizard. You may know him thru the KPI Dashboard articles he has written on chandoo.org a while ago.
We spent about 90 minutes discussing some really cool & advanced Excel stuff. The interview will be available shortly on Excel School for our Dashboard students. But here is a snapshot of the dashboard we discussed in the interview. Robert taught me how to make such a dashboard using Excel.
Continue »
We are opening Financial Modeling School for 2nd batch of classes on 23rd February. It feels very exciting to re-run this successful program. I want to share a few details about the program so that those of you interested to join can know more about it.
Please read this short post to learn 10 things about the financial modeling school program.
Continue »
As you may know, I run an online Excel training program called as Excel School. So far, I have conducted 3 batches of Excel School training and now on January 12th I am opening registrations again for new students.
In this post, I am going to share few important details about the program and give 3 FREE lessons to you. Read on, if you are interested to learn Excel.
Continue »
First some good news, On 21st November, 2010, our little blog received its 10,000th comment!
Thank you so much for making this happen.
Those of you reading chandoo.org for a while know my penchant for comments. I have learned a lot of excel tips & ideas just by reading the comments you posted on this blog. I think comments are one of the best parts of this blog. So, naturally, I wanted to celebrate this milestone, with something big & awesome.
My intention was to download all the 10,000+ comments and play with the data to come up with something outstanding, like a dashboard. It took me 2 days to conceptualize and create this beauty.
Continue »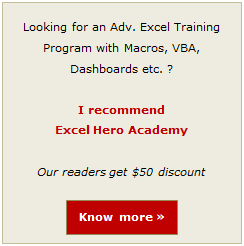 Quick Summary: Recently I have had the opportunity to test Daniel Ferry's Excel Hero Academy online training program. In this post I am going tell why it is a good program to learn Excel.
Plus you can get it for $50 OFF if you use the discount code chandoo.
Continue »
I have a quick announcement for you.
As you may know, I am running an Online Financial Modeling Training Program called as Financial Modeling School in collaboration with Pristine Education. We have opened registrations for first batch of this program on October 18th. Thank you very much for supporting this program wildly. In a few hours, I will be closing the registrations for Financial Modeling School.
Click here to sign up for Financial Modeling School
Continue »
Financial modeling is a no catwalk. You can not look pretty, wear ridiculous outfits and expect to find if a project is worth investing money in. That is why I am very happy to announce Financial Modeling School.
Please read this short post to learn more about the program.
Continue »
This is a guest post written by Paramdeep from Pristine. Chandoo.org is partnering with Pristine to bring an excel financial modeling online training program for you. This is Part 6 of 6 on Financial Modeling using Excel In this tutorial we are going to learn how to build assumptions & input sheets in our excel […]
Continue »