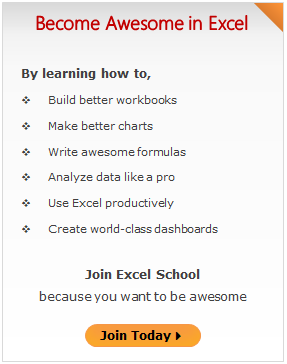 Hello lovelies,
We break the regular awesomeness on Excel & related beauty to bring you an important notice.
You may know that I run an online Excel & Dashboard training program, called as Excel School. We have been running this course since Jan 2009 and trained more than 1,500 students thru this so far. And starting next Monday (29 August), the course prices are going up.
So, if you are waiting to become awesome in Excel, now is your chance.
Click here to learn more about Excel School & Join us.
What is Excel School and is it for me?
Excel School is structured and comprehensive online training program for learning Microsoft Excel. It is full of real world examples.
The aim of Excel School is to make beginners become productive and awesome in Excel. It has an optional module on Dashboards, which can teach you how to design awesome Excel Dashboards.
This program is for you, if you use Excel more than an hour a day and feel that there are things you don't know. You are going to love this program if you like the articles & examples you see on Chandoo.org. Especially, if you are an analyst, manager or heavy-duty Excel user, you are going to one up your Excel mojo after completing this course.
Click here to download the course brochure [PDF]
What do you get when you join this course?
You get a lot of benefits by joining this program.
Structured Excel Training: 24 hours of Excel training starting from basics and all the way to advanced areas like dynamic charts, form controls, pivot tables, advanced formulas.
Easy to follow Examples: You can download more than 50 example workbooks and follow the lessons very easily. All these examples are based on real-world scenarios, so you can immediately apply them to your area of work.
Learn to Create Awesome Dashboards: We show you how to construct 6 jaw-dropping dashboards in Excel, from scratch. You can download the lesson videos, workbooks and follow the instructions so that you can do the same and impress everyone.
Answers to your questions: If you have any doubts on any topic, you can ask questions in our classroom area.
All this and so much more: For more info, visit Excel School page.
How to join this program?
Simple. Click here and choose the option that works for you.
Note: If you are from India, you can use this page to pay by Credit Card, Debit Card, Net-Banking & More.
More Information about Excel School:
For more information, click on below links:
Thank you for supporting Excel School
Thank you so much for all our past students. You zeal for more drives me to learn and share. I am really thankful to all our readers who spread the word about Chandoo.org and help us make you awesome in Excel.
PS: Next week we are going to do a VBA Crash Course on Chandoo.org. Stay tuned!
PPS: Go ahead and join Excel School. Because you want to be awesome.