All articles with 'contests' Tag
Hiya folks… Got an exciting news to share with you all. Over the weekend, my YouTube channel hit 50,000 subscriber milestone.
Thank you so much for making me a part of your journey to awesomeness.
Continue »
Its party time! A while ago, we ran a contest asking you to visualize financial metrics data. We got 30 awesome entries. Today let's reward the winners.
But first a quick note: Congratulations to all the entrants. I have learned a lot just by playing with your files and exploring them. Thank you so much for taking time to share your knowledge with all of us.
Continue »
Around 2 months back, I asked you to visualize multiple variable data for 4 companies using Excel.  30 of you responded to the challenge with several interesting and awesome charts, dashboards and reports to visualize the financial metric data. Today, let's take a look at the contest entries and learn from them.
First a quick note:
I am really sorry for the delay in compiling the results for this contest. Originally I planned to announce them during last week of July. But my move to New Zealand disrupted the workflow. I know the contestants have poured in a lot of time & effort in creating these fabulous workbook and it is unfair on my part. I am sorry and I will manage future contests better.
Continue »
Our newest contest is inspired from a question asked by Kaushik, one of our forum members, interesting problem.
Need to quickly visualize 3 variables ( Company, years, Financials) in a single […] chart.
Create a chart to understand multiple variable data and you could win $100 Amazon gift card. Do send your charts before 4th of July to qualify for the prizes.
Continue »
Here is a quick visualization challenge for you.
There are 25 KPIs and each has a base value, current month, corresponding month values. The KPIs also have targets.
The data looks like this:

Download the data:
Click here to download the data for this contest.
Rules for this contest:
Visualize this data using one Excel chart (one chart per KPI is ok too).
You may omit any any data
You can use interactive charts.
Do not use add-ins or VBA to make your charts
Go ahead and make your chart(s).
Continue »
Yay, bring out the birthday hats, candles, cake & confetti. Chandoo.org podcast is 1 year old.
In this one year, we had 31 sessions, 4 guest appearances, 390,000 downloads & lots of 5 star reviews. Thank you so much for making it a grand success so far.
To celebrate the occasion, I want to reward 3 lucky listeners of our podcast.
How to participate in this contest?
Simple. Figure out what your favorite Excel tip is.
Open your smart phone's voice recorder app

on iPhone use the Voice Memos app
on Andriod use sVoice or voice recorder widgets
If you cant find these apps, just Google record audio <your phone name>

Record the tip (less than 3 mins duration)
Please say your name at the end of recording.
Send the audio file by email to hello@chandoo.org
Do so before

end of day 16 March 2015 (Monday)
Once I collect all the tips, I will feature some of them in next episode of Chandoo.org podcast.
Continue »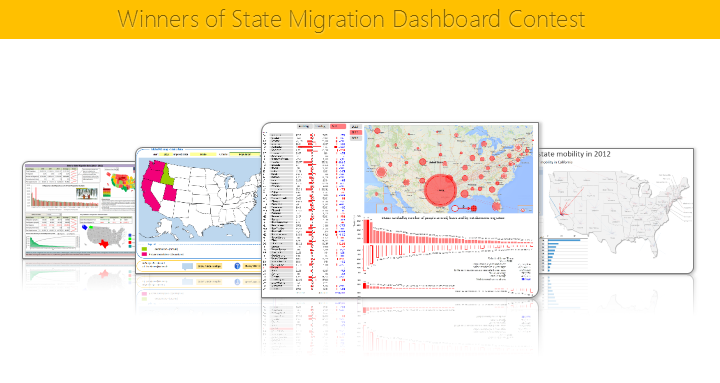 Finally the wait is over. Here are the winners of our 2014 dashboard contest. Check them out.
Continue »
They are here! the shortlisted 12 entries of our dashboard contest for 2014 are here.
Please take a minute to review the entries and cast your vote. Click here.
Go ahead and cast your vote. Online voting for your favorite entries closes at midnight on 25th June, Wednesday (2014), Pacific time.
Continue »
Hello everyone. Stop reading further and go fetch your helmet. Because what lies ahead is mind-blowingly awesome.
About a month and half ago, we held our annual dashboard contest. This time the theme is to visualize state to state migration in USA. You can find the contest data-set & details here.
We received 49 outstanding entries for this. Most of the entries are truly inspiring. They are loaded with powerful analysis, stunning visualizations, amazing display of Excel skill and design finesse. It took me almost 2 weeks to process the results and present them here.
Click on the image to see the entries.
Continue »
Time for another dashboard contest. Sit straight, set aside your appointments and get number-crunching.
Analyze state to state migration data between 2012 & 2010 and present your results in a dashboard (or charts) and you could walk away with glory, fame & and an iPad.
If all of this sounds tempting, read on.
The contest
Analyze the data and create a dashboard or set of charts (see rules below)
Submit your workbook by 20th of April (Sunday), 2014.
If readers at chandoo.org and our panel of judges love your work, you get one of the cool prizes.
Continue »
One of the beautiful things about working on internet is you know so much about people even before you meet them first time. I think I first heard about Mr. Excel in 2006, when I started my career as business analyst. I landed on mrexcel.com while searching for something related to doing cluster analysis using Excel. In a way, mrexcel.com inspired me to share my thoughts and techniques on Chandoo.org.
So it wont be an understatement when I say, I feel like a kid in candy store knowing that Bill Jelen aka Mr. Excel is just a few miles away from where I live. Since Rob Collie and Bill are good friends, I asked Rob if we 3 can meet for dinner. And Bill said yes.
I am meeting Bill for dinner on Friday and Rob, Bill & I will be discussing spreadsheets, technology, share our experiences and bump ideas off each other.
Continue »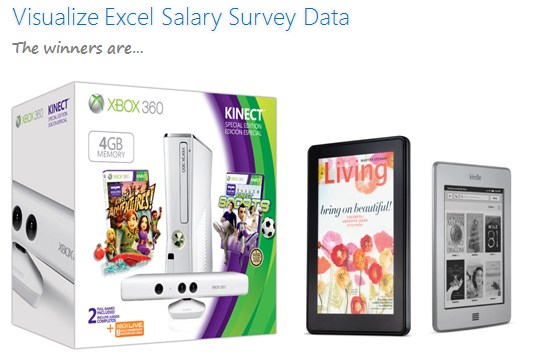 Finally the wait is over. Eager to know who won our Excel Salary Survey Dashboard contest? Read on.
Continue »
Ladies & gentleman, put on your helmets. This is going to be mind-blowingly awesome.
See how many different ways are there to analyze Excel salary data. Look at these 66 fantastic, beautifully crafted dashboards and learn how to one up your dashboard awesomeness quotient.
Continue »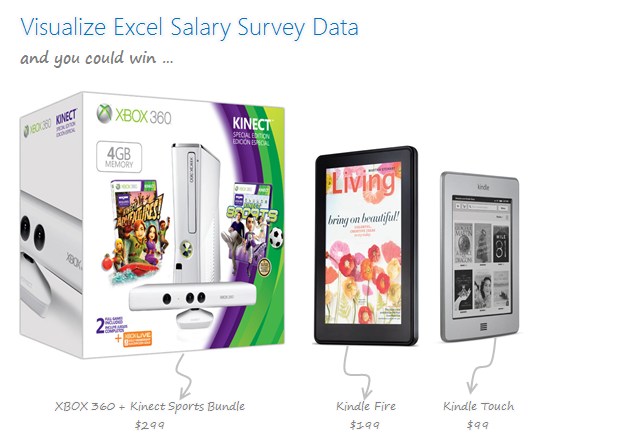 Its contest time again! Put on your creative hats & bring your Excel skills to the game.
Analyze more than 1900 survey responses & present your results in a stunning fashion, and you could walk away with an XBOX 360 + Kinect Sports Bundle (valued at $299).
Sounds interesting? Read on.
Continue »
Hello Data Junkies & Chart Lovers, I have a fun announcement for you. If you like to analyze data and present results in charts, then you can win up to $3000 in prizes by participating in Microsoft's BI DataMashUp Contest. The contest is on from September 8th and runs until 28th. How to Participate in […]
Continue »