Hello everyone. Stop reading further and go fetch your helmet. Because what lies ahead is mind-blowingly awesome.

About a month and half ago, we held our annual dashboard contest. This time the theme is to visualize state to state migration in USA. You can find the contest data-set & details here.
We received 49 outstanding entries for this. Most of the entries are truly inspiring. They are loaded with powerful analysis, stunning visualizations, amazing display of Excel skill and design finesse. It took me almost 2 weeks to process the results and present them here.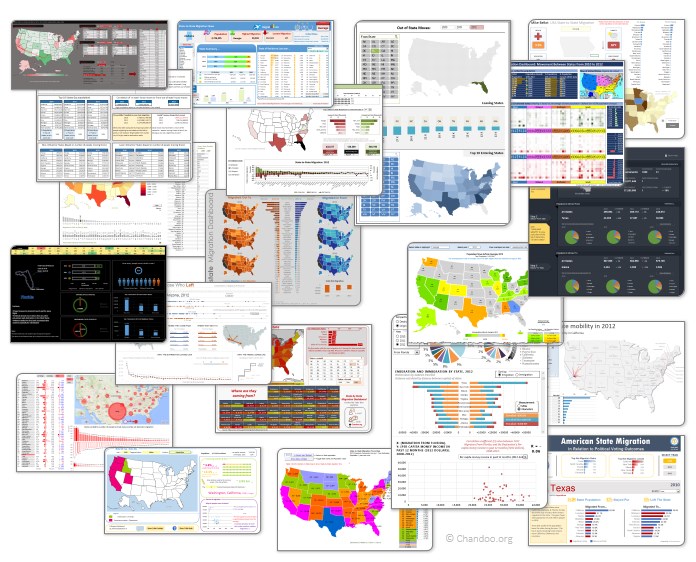 But first, let me apologize
Each of our contest participants spent a lot of time crafting their files. But due to unforeseen personal work, I could not set aside time to process the entries until last week of May. I sincerely apologize for taking this much time to showcase the entries.
What about the winners?
This week our panel of judges will be reviewing these 49 entries. Next week we will share short-listed entries for public voting. Once the voting is complete, we will declare the winner. This process should be completed with-in 2 weeks.
How to read this post?
This is a fairly large post. If you are reading this in email or news-reader, it may not look properly. Click here to read it on chandoo.org.
Each entry is shown in a box with the contestant's name on top. Entries are shown in alphabetical order of contestant's name.
You can see a snapshot of the entry and more thumbnails below.
The thumb-nails are click-able. So that you can enlarge and see the details.
You can download the contest entry workbook, see & play with the files.
You can read my comments at the bottom. The comments are in 2 sections – what is good, what can be improved.
Please take my comments on "what can be improved" lightly. I do not mean to offend any of the contestants.
At the bottom of the box, you can find links to the key techniques used. Click on them to learn more.
Thank you
Thank you very much for all the participants in this contest. I have thoroughly enjoyed exploring your work & learned a lot from them. I am sure you had fun creating these too.
So go ahead and enjoy the entries.
PS: We had to disqualify 2-3 entries due to errors in VBA code or inability to open the file.
Like all? Download one zip file with all dashboards
If you are planning to play with all these dashboards,
download this zip file [50 mb, ZIP file].
Make sure you close all other workbooks before opening these files as many contain VBA code.
How do you like these dashboards?
Quite a few of these dashboards are really impressive. Seeing them is just like watching a magic show or world-class ballet performance. I will share my views & our judges views next week.
Meanwhile, Tell us which entries you liked most? Go ahead and share your views.