We are busy decorating the Christmas tree, making preparations for the holidays. But I have a very quick tip for you.
[Note: all these tips work in Excel 2007 or above]
Whenever you are working with huge lists of data, filtering & sorting is one simple way to analyze the data quickly.
You can quickly filter your data based on current cell's value by right clicking and then selecting filter > filter by selected cell's value.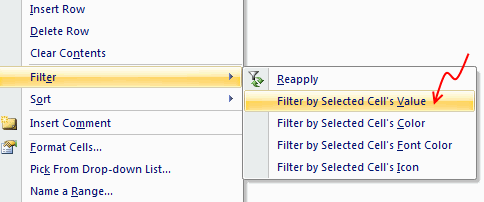 Bonus tips on Filters:
You can even filter by selected cell's color, font or conditional formatting icon.
You can also sort a list by selected cell's column in either ascending or descending order.
You can instantly turn on / off filters by pressing CTRL+SHIFT+L