Use Filter By Selected Cell's Value to save time [Quick Tips]
We are busy decorating the Christmas tree, making preparations for the holidays. But I have a very quick tip for you.
[Note: all these tips work in Excel 2007 or above]
Whenever you are working with huge lists of data, filtering & sorting is one simple way to analyze the data quickly.
You can quickly filter your data based on current cell's value by right clicking and then selecting filter > filter by selected cell's value.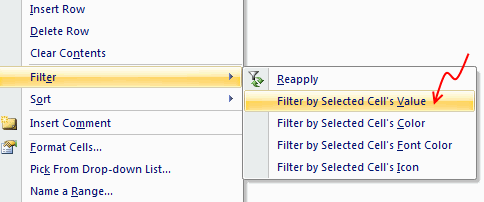 Bonus tips on Filters:
You can even filter by selected cell's color, font or conditional formatting icon.
You can also sort a list by selected cell's column in either ascending or descending order.
You can instantly turn on / off filters by pressing CTRL+SHIFT+L
Hello Awesome...
My name is Chandoo. Thanks for dropping by. My mission is to make you awesome in Excel & your work. I live in Wellington, New Zealand. When I am not F9ing my formulas, I cycle, cook or play lego with my kids. Know more about me.
I hope you enjoyed this article. Visit Excel for Beginner or Advanced Excel pages to learn more or join my online video class to master Excel.
Thank you and see you around.
Related articles: