Often we come across workbooks that have similar formatting needs for multiple worksheets. For eg. you may have sales records spanning across 12 worksheets, one for each month. Now as a loyal reader of chandoo.org, you want to keep the formatting of all these worksheets consistent. So here is a quick tip to begin your work week.
Just select all the different sheets (select one, then hold CTRL key and click on other sheet names).
Now format any sheet and similar formatting will be applied to all selected sheets
See this demo to understand: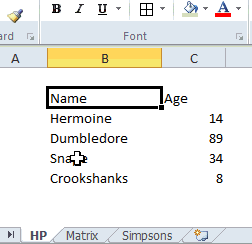 The group & format technique is particularly useful when you,
Want to apply same header / footer / print settings to multiple worksheets
Want to write similar formulas in multiple worksheets (for eg. totals)
Do you use group sheets option?
I like to have consistent look & feel for all my worksheets. Especially if I am doing it for a client or for a product. So I find group sheets option pretty attractive and productive.
What about you? Do you use it? Share your tips & ideas with us.
More Quick Tips:
We have more than 60 quick excel tips that boost your productivity or introduce a new feature to simplify your work. Each of them is bite sized so you can learn quickly. Go on and consume a quick tip.