All articles with 'keyboard shortcuts' Tag
Let's keep this simple & short.
Whenever you are editing cells or formulas, the usual sequence is like this:
Double click on the cell you want to edit
For existing cells: Go to the left most / right most part and start typing
For blank cells: start typing right away
Here is a faster sequence:
Read on…
Continue »
Making your workbooks, charts, dashboards & presentations beautiful is a time consuming process. It is a mix of art & craft. Naturally, we spend hours polishing that important slideshow or visualization. But do you know about simple features in Excel that can save you a lot of time and help you create gorgeous output?
Continue »
Excel has many powerful & time-saving features. Even by Excel's standard, Flash Fill is magical. Introduced in 2013, Flash Fill is a rule engine to Excel's fill logic. Every time you type something in a cell, Excel will try to guess the pattern and offers to fill up the rest of cells for you. That is some serious time saving magic.
Let's understand what Flash Fill is and few sample use cases.
Continue »
Analyst's life is busy. We have to gather data, clean it up, analyze it, dig the stories buried in it, present them, convince our bosses about the truth, gather more evidence, run tests, simulations or scenarios, share more insights, grab a cup of coffee and start all over again with a different problem.
So today let me share with you 25 shortcuts, productivity hacks and tricks to help you be even more awesome.
Continue »
Here is a fun way to use Paste Special to quickly multiply everything in a range with 1.1 (why 1.1? Well, imagine you have a report with everything in US $s and your boss wants to see the numbers in Australian $s…)
Since your report has different formulas for each cell, you can't multiply first cell with a rate variable and drag it down. You have to manually edit each formula and add *rate at the end of it.
Oh wait…, you can use Paste Special.
Continue »
Here is a fairly annoying problem.
Imagine a chart showing both sales & customer data. Sales numbers are large and customer numbers are small. So when you make a chart with both of these, selecting the smaller series (customers) becomes very difficult.
In such cases, you can use arrow keys – as shown above.
Continue »
Podcast: Play in new window | Download
Subscribe: Apple Podcasts | Spotify | RSS
In the 33rd session of Chandoo.org podcast, let's turn the mic to our listeners and hear their tips. What is in this session? This session has 2 things. A surprise Easter egg (an Excel tip hidden in the podcast audio) Collection of Excel tips recorded & submitted by Chandoo.org readers Listen to this session Click here […]
Continue »

A lot of analysts swear strong allegiance to keyboard shortcuts. But when it comes to formatting a spreadsheet, these shortcuts go for a toss as formatting is a mouse-heavy activity.
But we can use a few simple & effective shortcuts to zip through various day to day formatting tasks. Let me share my favorite formatting shortcuts.
Continue »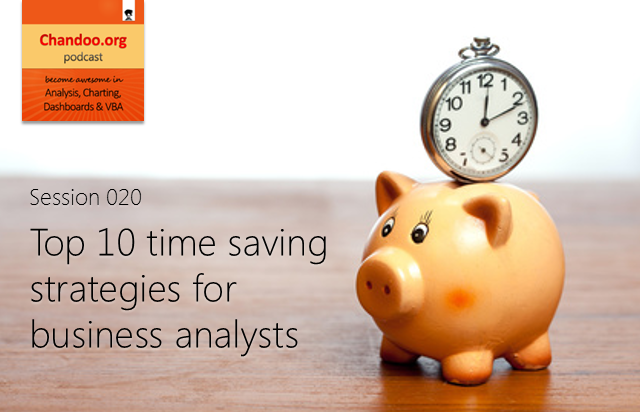 Podcast: Play in new window | Download
Subscribe: Apple Podcasts | Spotify | RSS
In the 20th session of Chandoo.org podcast, lets save some time.
What is in this session?
We all want to save time and stay productive. The obvious answer seems like using keyboard shortcuts. But they can only get you so far. So what about the real productive strategies? That is what we address in this podcast.
In this podcast, you will learn,
Announcements
5 key areas of business analyst work – tracking, analysis, reporting, data management & modeling
Time saving strategies for tracking
for analysis
for reporting
for data management
for modeling
Conclusions
Continue »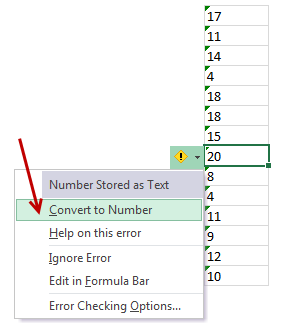 Here is a quick tip to start the week.
Often, we end up with a situation where a bunch of numbers are stored as text.
In such cases, Excel displays a warning indicator at the top-left corner of the cell. If you click on warning symbol next to the cell, Excel shows a menu offering choices to treat the error.
Continue »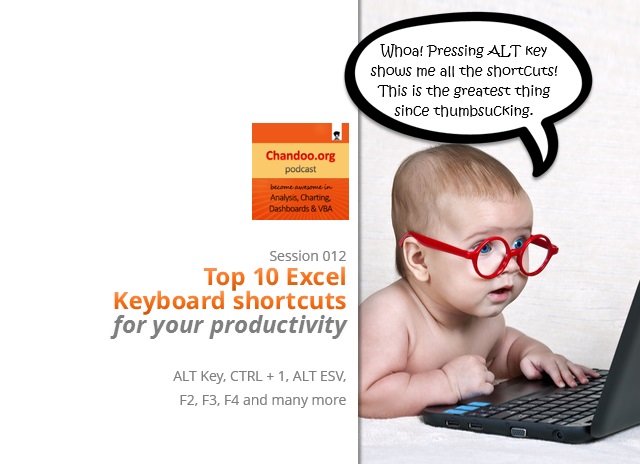 Podcast: Play in new window | Download
Subscribe: Apple Podcasts | Spotify | RSS
In the 12th session of Chandoo.org podcast, lets get productive fast.

Announcement: Short format podcasts sessions once a month
Based on listener feedback, I am adding short format sessions (20 mins). This short format sessions will run once a month (along with longer sessions that we publish almost every week) so that you have something light & easy to chew between heavy doses of Excel awesomeness.
I hope you like this new format. Do let me know what you think in comments.
And I really appreciate your reviews & comments on iTunes. Please click here and post your review.
Continue »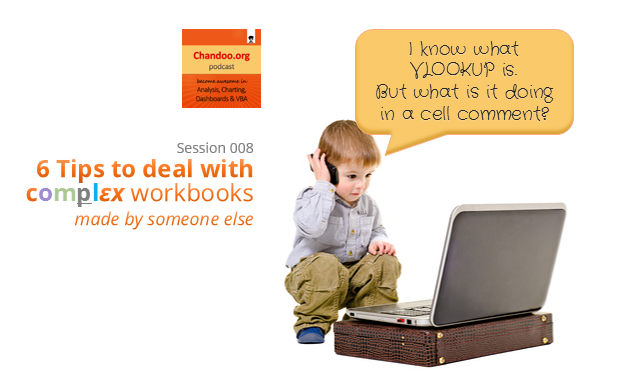 Podcast: Play in new window | Download
Subscribe: Apple Podcasts | Spotify | RSS
Here is a problem we all face once in a while. We inherit this bulky, bloated, leaking at the edges workbook from a colleague. Now the onus of maintaining it is on us. The person who made this workbook is nowhere to be found. May be she is vacationing in Hawaii sipping pineapple juice. May be he became a vice president and roaming the country in your company's private jet.
So what do we do? How do we handle this inheritance?
That is the topic of our podcast, episode 8.
In this podcast, you will learn,
An overview of the inheritance problem
6 Tips to understand workbooks made by someone else
Tip 0: Talk to the creator
Tip 1: Model the workbook on paper
Tip 2: Locate the engine, ie the formulas
Tip 3: See what else is under the hood – hidden sheets, names, VBA code
Tip 4: Annotate (add comments) as you learn
Tip 5: Locate the controls – inputs, assumptions, scenarios
Tip 6: Re-construct from scratch
Deep dive in to understanding the formulas
Deep dive in to understanding VBA code
Conclusions
Continue »
One of the most useful features of Excel is formula help box. You know the little yellow box that appears as soon as you start typing a formula in a cell. I use this all the time to understand what the syntax of a particular function is, what parameters to pass etc.
Although I love it, sometimes it does get in the way when writing formulas. Because the help box sits on top of my data, often I find it hard to know which cell to link to.
Solution?!?
Simple. Use your mouse to move away the help box wherever you want.
Continue »
Well here's something I never knew until today…I was watching one of Mike ExcelIsFun Girvin's great YouTube videos from his great Slaying Excel Dragons series – the one on Excel 2010 Keyboard Shortcuts – when he showed how to do the equivalent of a mouse right click using a key on the keyboard that I'd […]
Continue »

We are almost at the end of 2013. Time to review how much more awesome we became this year. Today let me ask you a very simple question.
What is the coolest Excel trick you have learned this year?
Go ahead and post your answers using comments.
Continue »