In the 8th session of Chandoo.org podcast, lets tackle inheritance problem.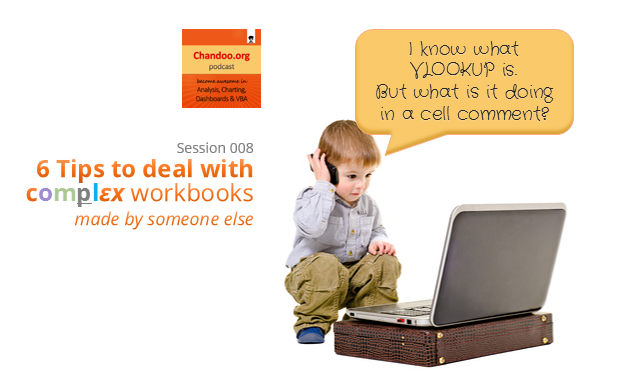 What is in this session?
Here is a problem we all face once in a while. We inherit this bulky, bloated, leaking at the edges workbook from a colleague. Now the onus of maintaining it is on us. The person who made this workbook is nowhere to be found. May be she is vacationing in Hawaii sipping pineapple juice. May be he became a vice president and roaming the country in your company's private jet.
So what do we do? How do we handle this inheritance?
That is the topic of our podcast, episode 8.
In this podcast, you will learn,
An overview of the inheritance problem
6 Tips to understand workbooks made by someone else
Tip 0: Talk to the creator
Tip 1: Model the workbook on paper
Tip 2: Locate the engine, ie the formulas
Tip 3: See what else is under the hood – hidden sheets, names, VBA code
Tip 4: Annotate (add comments) as you learn
Tip 5: Locate the controls – inputs, assumptions, scenarios
Tip 6: Re-construct from scratch
Deep dive in to understanding the formulas
Deep dive in to understanding VBA code
Conclusions
Go ahead and listen to the show
Podcast: Play in new window | Download
Subscribe: RSS
Links & Resources mentioned in this session:
Keyboard Shortcuts
CTRL + ` to show / hide formulas
F9 key to evaluate portions of a long formula

F5  followed by ALT S and then F – Go to Special & Highlight formulas
Shift + F2 – insert a comment in a cell
CTRL + G – turn on / off immediate window in Visual Basic Editor (VBE)
Related: Important Excel Keyboard Shortcuts
Important Excel Functions to learn
VBA Code concepts
Transcript of this session:
Download this podcast transcript [PDF]
How do you handle workbooks made by others?
In corporate environment, inevitably, we all end up hauling others work. In this podcast, I have shared the techniques and ideas I frequently use to handle such workbooks.
What about you? Do you take over workbooks made by others? How to handle them? What tricks and techniques you apply to demystify the complexities of these files? Please share your thoughts in comments.
Subscribe to Chandoo.org Podcast
Do you know that you can subscribe and receive latest episodes of our podcast right to your ears? Use one of the below links to get started.