In the 12th session of Chandoo.org podcast, lets get productive fast.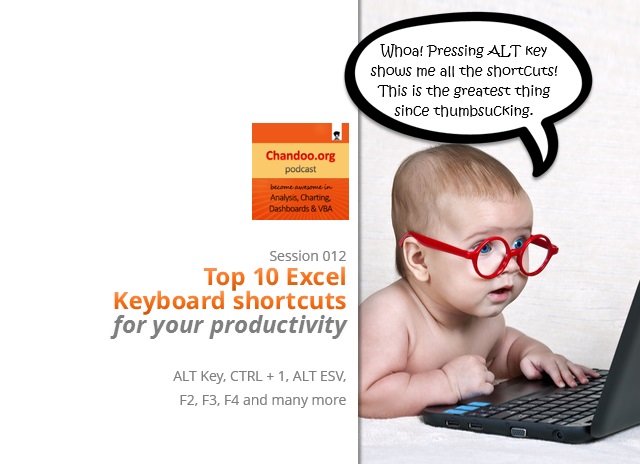 Announcement: Short format podcasts sessions once a month
Based on your feedback, I am adding short format sessions (20 mins). These short format sessions will run once a month (along with longer sessions that we publish almost every week) so that you have something light & easy to chew between heavy doses of Excel awesomeness.
I hope you like this new format. Do let me know what you think in comments.
And I really appreciate your reviews & comments on iTunes. Please click here and post your review.
What is in this session?
Keyboard shortcuts are the low hanging fruits you must pluck in your journey to of Excel awesomeland. Just by learning a few handful shortcuts, you can save tons of time, work faster and create lasting impact. Not just that, learning something new (like shortcuts) can make you smart & sexy (as they as in Big Bang Theory, Smart is the new Sexy).
In this podcast, you will learn,
Announcement about the short format podcast sessions
20 minute rule
Top 10 keyboard shortcuts (according to me)
ALT Key
CTRL + 1
ALT + ESV (or Menu Key + V)
Function key shortcuts (F2, F3 & F4)
& More
Go ahead and listen to the show
Podcast: Play in new window | Download
Subscribe: RSS
Links & Resources mentioned in this session:
20 minute rule
The 20 minute rule from time.com
Important Keyboard Shortcuts

Transcript of this session:
Download this podcast transcript [PDF].
What are your favorite Excel keyboard shortcuts?
Go ahead and tell us in comments. I am hoping to learn a few more useful ones.

Subscribe to Chandoo.org Podcast