All articles with 'formatting' Tag
We can take any Excel workbook and format it until Christmas, and we would still not be done. But not many of us have so much of time or energy. So, today, lets talk formatting.
In this, you will learn how to
1) Use tables to format data quickly
2) Change colors of your worksheet in a snap
3) Use cell styles
4) Quickly clone formatting using format painter
5) Clear formats to begin with a clean-slate
6) Formatting shortcuts
7) Formatting options for print
and 8 ) Why you should not go overboard formatting and 10 other tips.
So go ahead and become a formatting pro.
Continue »
Excel table is a series of rows and columns with related data that is managed independently. Excel tables, (known as lists in excel 2003) is a very powerful and supercool feature that you must learn if your work involves handling tables of data.
What is an excel table?
Table is your way of telling excel, "look, all this data from A1 to E25 is related. The row 1 has table headers. Right now we just have 24 rows of data. But I can add more later!"
Continue »
We are on a tiki tour around NZ. So far we have been to Taupo & Rotorua. And we are doing what you do when you are on a holiday – being lazy, going on walks, swimming in lakes, eating copious amounts of food and getting lost. Of course, all this means, I have very little time to access to internet & my blog. So the updates will be slow for next two weeks. Here is a quick tip (well, two of them) to keep you busy and awesome.
How to remove ugly formatting from your workbooks?
Do you have a colleague or boss (shudder) that loves to apply their special touches to every workbook their mouse lands on? Do you constantly wince and whine when you have to work on that spreadsheet.
Here are two handy ways to restore your data to its original glory.
Clear formats:
Simple, select the data you want formatting gone from, go to Home > Clear > Formats.
And Excel will weave an expelliformat spell at your data and make it clean.
Here is a quick demo.
Continue »
Working with multiple charts (or drawing shapes / images) can be a very slow process. But here is a secret to boost your productivity.
Use selection pane & select object tools
Selection Pane & Select Objects?
If you have never heard of these, don't worry. These are 2 very powerful features hidden in Excel. Once you know how to unlock them, you will never look back.
How to use selection pane & select object tools to work with charts faster – Video
In this video, understand how to use these powerful features to work with charts faster.
Continue »
Making your workbooks, charts, dashboards & presentations beautiful is a time consuming process. It is a mix of art & craft. Naturally, we spend hours polishing that important slideshow or visualization. But do you know about simple features in Excel that can save you a lot of time and help you create gorgeous output?
Continue »
We all know pivot table functionality is a powerful & useful feature. But it comes with some quirks. For example, we cant insert a blank row or column inside pivot tables.
So today let me share a few ideas on how you can insert a blank column.
But first let's try inserting a column
Imagine you are looking at a pivot table like above.
And you want to insert a column or row. Go ahead and try it.
Continue »

A lot of analysts swear strong allegiance to keyboard shortcuts. But when it comes to formatting a spreadsheet, these shortcuts go for a toss as formatting is a mouse-heavy activity.
But we can use a few simple & effective shortcuts to zip through various day to day formatting tasks. Let me share my favorite formatting shortcuts.
Continue »
Podcast: Play in new window | Download
Subscribe: Apple Podcasts | RSS
In the 25th session of Chandoo.org podcast, let's learn how to avoid SSUP syndrome.
What is in this session?
Most of us suffer from Sexy on the Spreadsheet, Ugly on Printout syndrome. I used to suffer from it too. This happens because we spend all our attention creating that perfect workbook, report or model. And then, we forget about making the proper print settings.
In this podcast, let's understand how to create awesome workbooks that look great and print great.
In this podcast, you will learn,
Frozen & Cars, where my free time goes
Primer on print settings

Width & height of printouts
Page breaks
Row & column repetitions on every page
Size & orientation of paper

Dealing with unprintables
Proofing your print settings
Printing whats not on screen
Closing thoughts
Continue »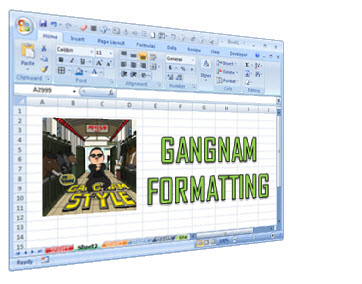 Ever seen a glaring, over the top, wow-I-am-sooo-cool type of spreadsheet? Lets call them Gangnam spreadsheets!
Gangnam what?!?
If you have never heard about Gangnam style, do not worry. Just like you I too was living under a rock for about a week ago. Then I watched the awesome Gangnam style song. And now I am hooked. You can see it here.
What has all this got to do with Excel?
Oh I am coming to the point. One of the key ingredients of being awesome in Excel is,
To make our Excel workbooks communicate best by avoiding over the top formatting, unnecessary bells & whistles and focusing on what our users want.
But Excel being a feature rich software, it does have various so called Gangnam styles – superfluous 3d effects, formatting options, charting choices and as such.
Today, lets talk Excel formatting – Gangnam style
Continue »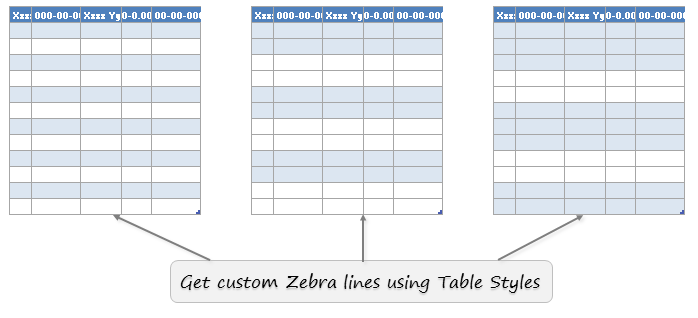 Zebra lines, the dull highlighting applied to alternative rows is a very good way to make your tables readable & pretty.
We can use either conditional formatting or table formats to quickly add zebra lines to our data.
But what if you want a little more?
What if you want to highlight, lets say 3 rows in one color and 3 in another and repeat this …
Continue »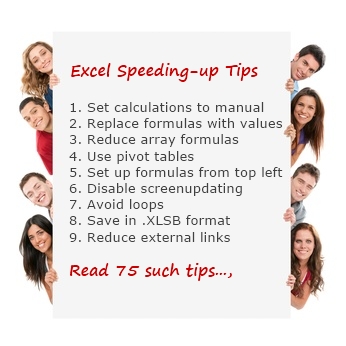 As part of our Speedy Spreadsheet Week, I have asked you to share your favorite tips & techniques for speeding up Excel. And what-a-mind-blowing response you gave. 75 of you responded with lots of valuable tips & ideas to speed-up Excel formulas, VBA & Everything else.
Thanks to all the contributors
Many thanks to everyone who shared their tips & ideas with us. If you like the tips, please say thanks to the contributor.
Read Excel Speeding-up tips by area
This page is broken in to 3 parts, click on any link to access those tips.
Read everything
Formula Speeding-up Tips
VBA / Macros Optimization Tips
Everything Else
Share your tips
Continue »
Did you know you can apply any text effect to a single character or group of text characters within a cell ?
This post will show you 2 quick tips to assist you in this technique.
Continue »

Everyone and their colleague knows the importance of Excel keyboard shortcuts. While it may be a good idea to know a 97 different shortcuts for everything in Excel, the fact is, you don't use them all the time. So, it all boils down to memorizing the few shortcuts that you use all the time.
In this post, I am sharing 10 such shortcuts that I can't live without, especially, when I am analyzing data, making charts and formatting my workbooks.
Continue »

I have an exciting news & massive post for you.
Chandoo.org reaches 20,156 RSS Subscriber mark on Jan 19, 2011As of Jan 19, 2011, our little blog has registered our 20,000th RSS Subscriber. While this is not a huge achievement or anything, It certainly calls for celebration. I am so happy to see our mission to make people awesome in Excel is reaching out to more people everyday. Thank you.
To celebrate this milestone, I am doing a massive post with 220 Excel tips, tricks, tutorials & templates.
Formulas [52 tips]
Formatting & Conditional Formatting [36 tips]
Charting [60 tips]
Tables & Pivot Tables [15 tips]
Using Excel [47 tips]
Free Downloads [5 tips]
Recommended Resources [5 tips]
Continue »
Many of us face this problem. We have some data in a few cells. Either for alignment or structure, we would like to merge the cell contents in to one big cell. But Excel wont help as it cannot merge values from all cells.
Continue »