As part of our Speedy Spreadsheet Week, I have asked you to share your favorite tips & techniques for speeding up Excel. And what-a-mind-blowing response you gave. 75 of you responded with lots of valuable tips & ideas to speed-up Excel formulas, VBA & Everything else.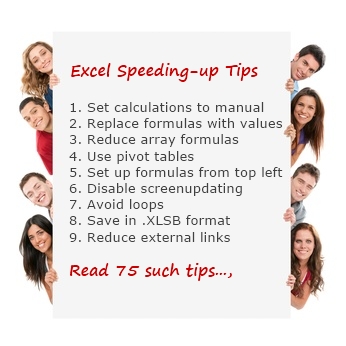 How to read this post?
Since this is a very large article, I suggest reading few tips at a time & practicing them. Consider bookmarking this page so that you can refer to these wonderful ideas when you are wrestling with a sluggish workbook.
Thanks to all the contributors
Many thanks to everyone who shared their tips & ideas with us. If you like the tips, please say thanks to the contributor.
Please note that I am not able to share some of the files you emailed as they contained personal / sensitive data.
Read Excel Speeding-up tips by area
This page is broken in to 3 parts, click on any link to access those tips.
Formula Speeding-up Tips
VBA / Macros Optimization Tips
Everything Else
Share your tips
Formula Speeding-up Tips
VBA / Macros Optimization Tips
Everything Else
More on Excel Optimization & Speeding up:
Read these articles too,
Excel Optimization tips submitted by our readers
How do you speed-up Excel? Share your tips
Between these 75 ideas & and previously written articles, we have covered a lot of optimization & speeding-up techniques. What are your favorite methods? How do you optimize & deal with sluggish workbooks? Please share your ideas & tips with us using comments.