Archive for September, 2014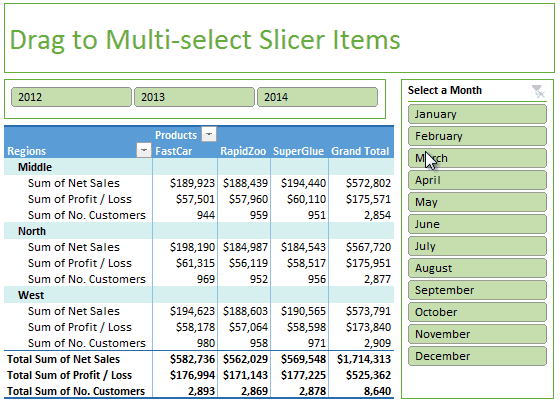 Hola folks…
My trip to Houston & Dallas was very successful, fun & awesome. I got back home on Friday and instantly I am in another fun, awesome & happy place with my kids, Jo (my wife), rest of the family & friends.
Today, I want to share a very simple yet super awesome trick with you. I learned this from Augie, one of the Houston Masterclass participants.
You can drag slicer items to multi-select them.
Selecting multiple items in a slicer quickly
We know that slicers are powerful, friendly and fun way to filter the pivot tables, pivot charts, power pivot tables and regular tables (only in 2013). They are visual filters that can be used to instantly filter the data (or report). But when it comes to selecting multiple items, slicers can be hard. We must hold CTRL key and tap multiple slicer items one at a time to select them. At least that is how I used to do it.
Do you know we can drag to multi-select?
See this demo:
Continue »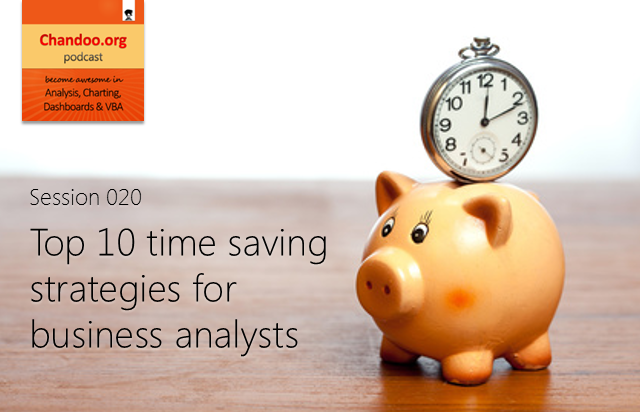 Podcast: Play in new window | Download
Subscribe: Apple Podcasts | Spotify | RSS
In the 20th session of Chandoo.org podcast, lets save some time.
What is in this session?
We all want to save time and stay productive. The obvious answer seems like using keyboard shortcuts. But they can only get you so far. So what about the real productive strategies? That is what we address in this podcast.
In this podcast, you will learn,
Announcements
5 key areas of business analyst work – tracking, analysis, reporting, data management & modeling
Time saving strategies for tracking
for analysis
for reporting
for data management
for modeling
Conclusions
Continue »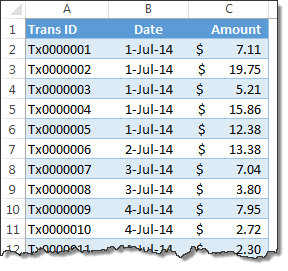 My mom will be very unhappy with this post. She always told me to focus on one thing at a time. But in this post we are talking about 3 things, not one. Sorry mom.
1. Thank you
I want to thank you for visiting chandoo.org & supporting us.
As I am about to leave to USA for attending Excelapalooza conference, I couldn't help but be amazed at how much you have given me & my family. Almost 4.5 years ago, when I left my plush corporate job to work full time on Chandoo.org, I had no clue how the future will unfold. Today my heart is full of happiness, my family is secure, my site has grown by heaps and our community (especially you) is awesome.
Without your enthusiasm to learn and keen desire to become awesome, I would not have a job (of running this website). You inspire me to learn new things everyday so that I can share them with you.
Thank you for all the visits, clicks, comments, emails, tweets, likes, signups, purchases & love.
Thank you.
Continue »

Hi friends & readers of Chandoo.org,
I have an exciting and awesome new training program for you. 50 ways to analyze your data is aimed to give you critical data analysis & charting skills necessary for your success as an analyst (or manager). I want to make sure that this course offers you best content & value. I need your help in designing it. Please take a few minutes to read this short post & share your feedback.
Continue »
We all know about the MAX formula. But do you know about 3D Max?
Sounds intriguing? Read on.
Lets say you are the sales analyst at ACME Inc. Your job involves drinking copious amounts of coffee, creating awesome reports & helping ACME Inc. beat competition.
For one of the reports, you need to find out the maximum transactions by any customer across months.
But there is a twist in the story.
Your data is not in one sheet. It is in multiple sheets, one per month.
Continue »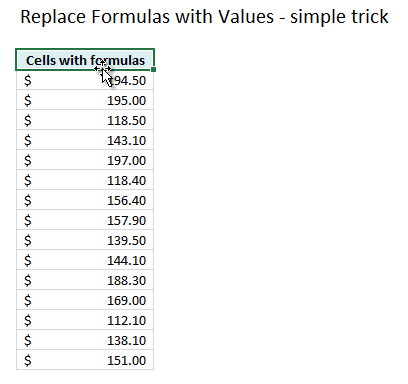 Here is a very simple & fun way to replace formulas with values.
(Earlier, we talked about how to do this with keyboard)
Just wiggle.
Wiggle what?
Continue »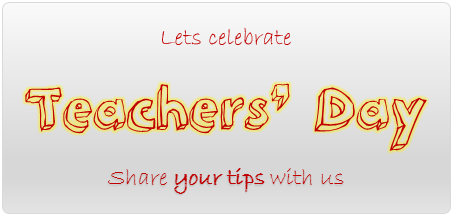 Today is teachers' day in India. I owe everything I learned to my teachers. Their powerful, insightful & inspirational lectures make me a better person.
Today I want to recruit more teachers. Because you never learn enough.
So why don't you come on board and teach me (and rest of website visitors) something?
All you have to do is post a comment with an Excel tip, technique, idea or experience with us. It can be related to anything, from formulas to solver, charts to power pivot, VBA to keyboard shortcuts. Anything goes.
Lets go. I am all ears.
Continue »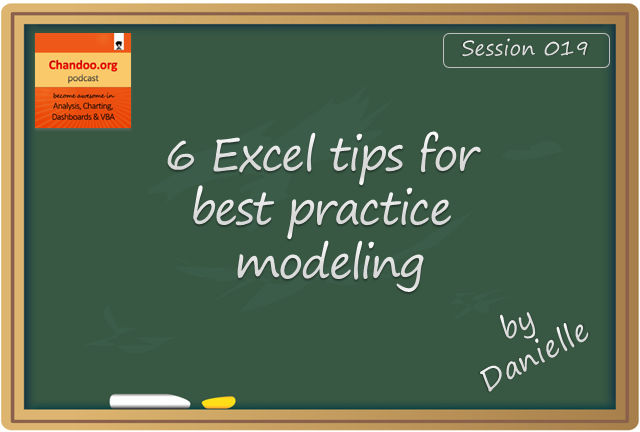 Podcast: Play in new window | Download
Subscribe: Apple Podcasts | Spotify | RSS
In the 19th session of Chandoo.org podcast, lets talk about modeling best practices.
What is in this session?
I am very happy to interview my good friend, blogger, author, excel trainer & business-women – Danielle Stein Fairhurst for this session. I first met Danielle when I went to Sydney, Australia in April 2012. Our friendship & collaboration grew a lot in the last 2.5 years. She is a great speaker & trainer. This episode is loaded with her trademark style commentary, explanation & tips for better modeling. I hope you will enjoy it.
In this podcast, you will learn,
Introduction to Danielle & her work
6 Tips for Best Practice Modeling

Write consistent formulas
Avoid hard-coding
Smart referencing
Ditch the bad habits
Document assumptions
Format & label things

Resources for learning more
Continue »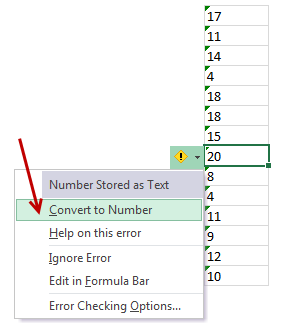 Here is a quick tip to start the week.
Often, we end up with a situation where a bunch of numbers are stored as text.
In such cases, Excel displays a warning indicator at the top-left corner of the cell. If you click on warning symbol next to the cell, Excel shows a menu offering choices to treat the error.
Continue »