In the 19th session of Chandoo.org podcast, lets talk about modeling best practices.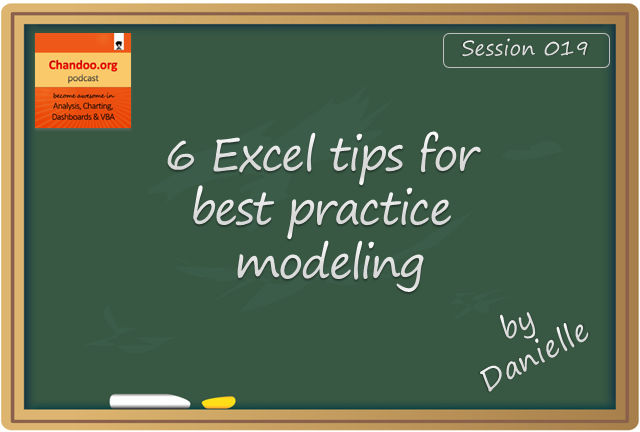 What is in this session?
I am very happy to interview my good friend, blogger, author, excel trainer & business-women – Danielle Stein Fairhurst for this session. I first met Danielle when I went to Sydney, Australia in April 2012. Our friendship & collaboration grew a lot in the last 2.5 years. She is a great speaker & trainer. This episode is loaded with her trademark style commentary, explanation & tips for better modeling. I hope you will enjoy it.
In this podcast, you will learn,
Introduction to Danielle & her work
6 Tips for Best Practice Modeling

Write consistent formulas
Avoid hard-coding
Smart referencing
Ditch the bad habits
Document assumptions
Format & label things

Resources for learning more
Go ahead and listen to the show
Podcast: Play in new window | Download
Subscribe: RSS
Links & Resources mentioned in this session:
Download Example Workbook
Please download the example workbook Danielle created to understand these tips.
About Danielle
Learn how to create financial models in Excel

On Modeling Best Practices
Other topics relevant to the podcast:
Transcript of this session:
Download this podcast transcript [PDF].
What keeps your models sane & sexy?
I use all the tips recommended by Danielle. Apart from these, I also use ideas like named ranges, structural references, separation of input & output to keep my models user friendly.
What about you? Do you apply the tips suggested by Danielle? What else do you use to make your models awesome? Please share your tips & ideas using comments.