All articles with 'polls' Tag
We, analysts take pride in the fact that we tell stories. But what if you have a boss, client or colleague who wouldn't buy the story?
This is a problem we face often. Let's say your boss has stubborn opinion about something, like more advertising leads to more sales. You know the data doesn't support this theory. But how do you change your boss' mind?
Here is an interesting way, showcased in NY Times recently.
Continue »
It is thanksgiving week in USA, which means our friends & readers in America are enjoying a fun long weekend with family & friends.
Happy thanksgiving day to you and your family.
Since most of our readers will be enjoying the holiday, I want to save Excel awesomeness for next week. Meanwhile, lets have our very first Ask me anything [AMA].
Ask me anything.. what is it?
It is very simple. In the comments section, you can ask me anything. I will reply to you.
Anything from Excel to my life, SUMPRODUCT to C23.. you get the drift.
Continue »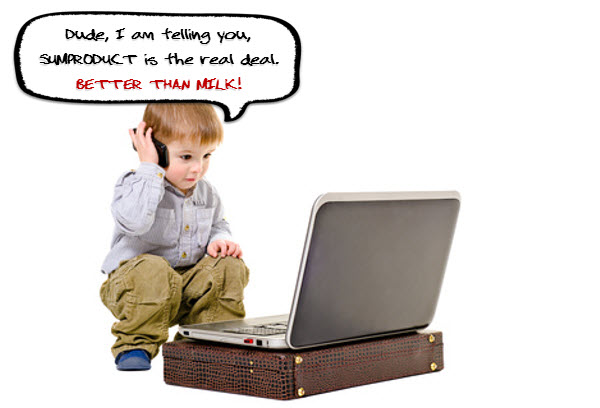 Its Friday, time for another poll.
This weeks topic is inspired from a discussion Jordan started in our forums.
I will go first.
My favorite features are,
Conditional formatting: Quickly highlight something that is not alright (or meets conditions), see trends with data bars or heat maps.
Pivot tables: Turn data in to understandable information with just a few clicks. When combined with slicers & conditional formats, becomes very powerful.
Formulas: Ofcourse, with out formulas, Excel would be a glorified notepad!
What about you? What are your favorite features in Excel? Go ahead and share with us by posting a comment.
Continue »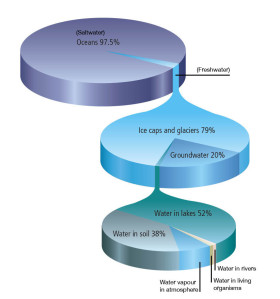 There are some charts that look so stunning and yet confusing. You cant make up your mind whether it tells a compelling story or it is just plain wrong.
Today, let me present you one such chart. I call this Pie of a Pie of a Pie chart.
Continue »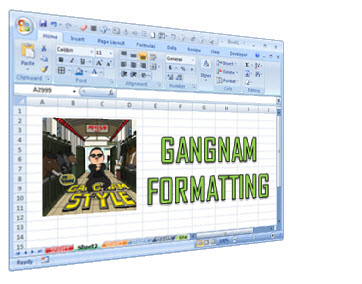 Ever seen a glaring, over the top, wow-I-am-sooo-cool type of spreadsheet? Lets call them Gangnam spreadsheets!
Gangnam what?!?
If you have never heard about Gangnam style, do not worry. Just like you I too was living under a rock for about a week ago. Then I watched the awesome Gangnam style song. And now I am hooked. You can see it here.
What has all this got to do with Excel?
Oh I am coming to the point. One of the key ingredients of being awesome in Excel is,
To make our Excel workbooks communicate best by avoiding over the top formatting, unnecessary bells & whistles and focusing on what our users want.
But Excel being a feature rich software, it does have various so called Gangnam styles – superfluous 3d effects, formatting options, charting choices and as such.
Today, lets talk Excel formatting – Gangnam style
Continue »
Published on Sep 7, 2012
in
Humor
Lets have some fun this Friday.
Post your favorite Spreadsheet jokes using comments. Have a big smile.
I will start:
1. A pivot table walks in to a bar and orders a beer. It says, "Put me in the same tab, will ya?"
2. A slicer and pivot chart walk in to a bar. The bartender says, "look at those bast*rds, walking around with out a pivot!".
3. Once Excel, Access and Windows were bragging to each other. Excel says, "I once crashed so hard, it took 5 minutes to recover". Access says, "Oh thats nothing. I once crashed and took down an entire data base. It took them 30 minutes to recover". Windows doesn't say anything. Excel pokes him in the arm asks "what about you?", Windows jolts & replies, "Sorry, what did you say, I just crashed again."
Continue »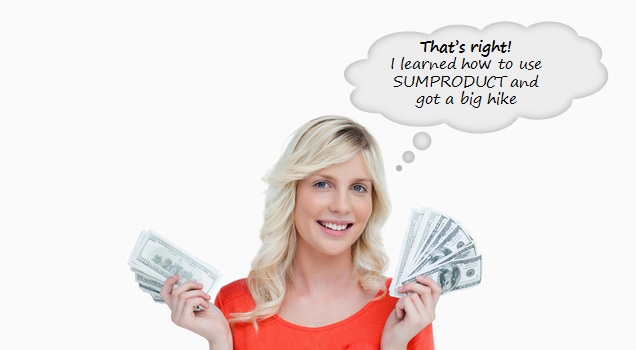 Ever wondered how much your Excel skills are worth?
Here is 2 step procedure to find out.
1) Complete this survey. Tell me how much you make & what you do.
2) Wait for a week and we will tell you how much Excel professionals are earning all over the world 🙂
PS: You can be anonymous.
Continue »

In recent installment of Customer Service Dashboard post, our reader Salmon asked an interesting question,
I am struggling with data size with my dashboards…so many SQL data pulls and formulas to generate the Dashboard, the entire file is massive and sluggish. Perhaps a few tips from Chandoo Master for all us rookie dashboard designers regarding how to minimize file size and maximize calc speeds. #
Dan l & others chipped in and shared their ideas on speeding up Excel. But the topic is wide & has many solutions. So I am dedicating an entire week to discuss this. Welcome to Speedy Spreadsheet Week.
Continue »
Recently, I bought a new laptop, because my old Toshiba died down. After installing the OS and other necessary tools (like browser, skype etc.), I have installed Office 2010. Since Excel is my bread and butter, I like to customize it so that I can get more work done. So today,let me share how I […]
Continue »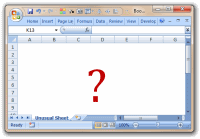 It is almost weekend. Today we (Jo and I) are going to watch a cricket match being played in Vizag. We are pretty excited as this is the first time we are watching a match in stadium. So, let keep this light and fun. I want to know What is one area of Excel you […]
Continue »
This week's poll is dead simple. Just tell me since how many years you are using Excel. I will go first: I have first started using Excel in year 2003 to keep track of my MBA entrance exam preparation. It helped me a lot in recording practice test scores, listing all the mistakes I made […]
Continue »
(You can win my latest Excel Dashboard Training kit free, read this post to find out how.)
Over at Jorge's ExcelCharts blog, he started a very good discussion on Excel Dashboards: Who needs them anyway?.
Jorge has very good experience designing, working on and teaching about dashboards. So he uses all that skill to gaze in to a crystal ball, to understand who needs excel dashboards and why. In this post, I build on his argument and ask you the big question – "If you make or use Excel Dashboards, who are you?"
Continue »
Christmas is my favorite festival. It has certain magical feel to it. This year, it is going to be even more special, because we have 2 more hilarious, lovely people to share our joy with, not to mention over 16,000 of you to celebrate it with.
So naturally, I was excited when Fred suggested that we have a contest on this in our forums. So here we go.
Continue »
This is a fun and quick poll.
I want to know what is the maximum number of cells you can see when you open Excel. Do this:
Open Excel, Maximize the window if it is not.
Just tell me the bottom right cell that you can see completely.
Go have a good weekend 🙂
Continue »
It is the labor day weekend in USA. That means, majority of our readers are busy barbecuing, enjoying the last few days of summer with their families and vacationing. Even though, I am not in US, I never miss an opportunity to sit-back and relax. So I thought of not posting anything until 8th of Sept.
Then, I realized, what the heck, only US has labor day. For rest of us, this is just another labor day.
So, we have a contest. I am giving away one $14.85 worth gift card to a random commenter.
Continue »