All articles with 'accounting' Tag
Last week, we learned how to use formulas to reconcile (match) transactions in Excel. Today, lets take a look at even faster and simpler way to do this:
Using Pivot Tables
Here is a short video explaining the technique and why it works. See it below
Continue »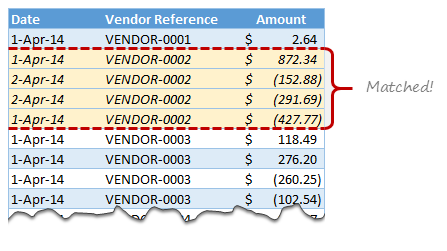 Imagine you are the head of Accounts Receivable department at a large company. Drab, I know, But humor me and imagine.
Now, every month you get a transaction report.
And you want to know which numbers are matching up.
i.e, if your company gave Vendor-0002 $872.34 on 1st of April, 2014 and your received below payments from them subsequently,
$427.77 on 1st April
$152.88 on 2nd April
$291.69 on 2nd April
Then you consider the account matched since the total received is same as total payable.(427.77 + 152.88 + 291.69 = 872.34).
Continue »
This is part 2 of 6 on Profit & Loss Reporting using Excel, written by Yogesh Data sheet structure for Preparing P&L using Pivot Tables Preparing Pivot Table P&L using Data sheet Adding Calculated Fields to Pivot Table P&L Exploring Pivot Table P&L Reports Quarterly and Half yearly Profit Loss Reports in Excel Budget V/s […]
Continue »
With this post we are starting a new series on how to do basic accounting in Microsoft Excel. In this and next 5 posts, we will aim to setup Profit & Loss account reporting for multi-location retail company.
During this series we will learn how to make P&L reports on various criteria with just few clicks.
Many users find it difficult to manage their P&L reporting for Multi Location organization.
We will be using Pivot Tables for our reporting purpose and will take example of a Retails chain with multiple locations divided into various regions.
Continue »
Published on Feb 23, 2005
in
Random
On a dark night, I am sitting in my room with QT textwondering whether to learn T-Test or go out for a Tea Taste Tomorrow (or rather today) is the last day of mids. Got QT and OM exams. Sofar finished majority of QT. will go through OM once I comeback from T break. Actually […]
Continue »
Published on Feb 20, 2005
in
Random
When i was a kid, i was fascinated by numbers. So much so that I used to top all the maths courses. Later during the engineering first year when I failed to add 2 matrices in the final exam I felt like suiciding. It was such a shame for me. All the penchant for numbers […]
Continue »
Published on Jan 22, 2005
in
Random
Well, you have seen them all. Cost accounting, management accounting, HR accounting, this accounting, that accounting. But Accounting of Exams??? Well, I guess there is no such concept in existence till now. Hmm, so something original, you must be thinking. But even if you are remotely aware of the blog title you will remember that […]
Continue »
Published on Dec 19, 2004
in
Random
Note: This post assumes minimum knowledge of cost accounting terminology. Also anything that has 'account' in it written by an engineer would be highly sarcastic. You are warned! Scene 1 (Location: our very own parliament house, Time: just after a loksabha winter session)Speaker: (Sigh!) another round of mindless damage to this house. Last year during […]
Continue »
Published on Dec 13, 2004
in
Random
After coming here the meaning of weekend blurred a lot. We have seen some crazy weeks in both the terms. Day before yesterday was different experience altogether. Unlike weekends for most people living in India, certain sample of hazaar people celebrate it in a different way. Their weekend starts on Saturday afternoon and ends on […]
Continue »
Classes will begin for the term 2 in another 40 mins. 🙂 well, today we have fin, accounting and bto2 sessions. Should be an interesting day for the one who has prepapred for the classes. Thanks largely to the vacation, i got lazy and havent completed the reading assignments for BTO2. It seems i am […]
Continue »
Published on Oct 1, 2004
in
Random
Done with my registration for term 2 today morning. Got the reading material for the term too. Well, the material is simply intimidating. One of the books actually looked like a dictionary. Dont know howmuch I can comprehend. Broadly the out line of the term is, Monday 4th October – classes begin Thursday 20th October […]
Continue »
Published on Oct 1, 2004
in
Random
I am here for the Term 2 of the PGDM. Before I start blabbering anything about the t2 I think a review of the term one might be a good read. Like everyother soul on this hill I also came with infinite dreams and unlimited($) hopes to this place. Well, looking back at the term […]
Continue »
Published on Sep 15, 2004
in
Random
Somedays, life seems highly miserable and hopeless. Well, not for cribbing but for the fun part of the life under thousand tonnes of pressure read on. Start the day at 12:00 by reading some come-dicks accounting case and trying to learn and appreciate their taxation policies and lease mechanisms, not to mention about the amortization […]
Continue »
Published on Sep 14, 2004
in
Random
Thats the general feeling of PGP1 on the hill. Todays paper was a major fart with so much of globing. I started understanding why many people hate HR. Tomorrow accounting and qt are there. Hope they go peacefully. Otherwise, there is nothing much happening here. See you after the exhams. Chandoo Current Y! status says: […]
Continue »
Published on Sep 4, 2004
in
Random
Long time, Almost a week. Or is it more than that. Frankly, there is no one reason why i am not able to write anything here. as mentioned earlier, september 1 has been the favourite deadline for several course instructors. Result is that most of us are busy fine tuning their Just-In-Time skills 😛 well, […]
Continue »