All articles with 'training' Tag
Just a quick announcement.
As you may know, I will be speaking at PASS Business Analytics conference in Santa Clara this April (between 20th & 22nd). As a run up to the event, the good folks at PASS are conducting free webinars on various topics of Excel.
Here are 2 topics on which I am doing webinars. You can watch them and pick up some really cool Excel skills. Just click on below links to enjoy them.
5 Dashboard mistakes to avoid (watch it any time)
Excel charting – productivity tips (

live

on February 3rd)
That is all for now. See you in the webinar.
Continue »
Hello friends,
Let me stop our broadcast of Excel tips to bring an announcement.
Houston, we are going to get awesome
As you may know, I am doing 4 days of live masterclasses on Advanced Excel, Dashboards, Power Pivot & Data Analytics in Houston (Texas) this September.
15 & 16 September (Mon & Tue) on Advanced Excel & Dashboard Reporting
17 & 18 September (Wed & Thu) on Power Pivot & Data Analytics
This 4 day masterclass is aimed at managers, analysts, reporting professionals, executives in sales, marketing, customer service or anyone who wants to learn about Data Analytics, Advanced Excel, Dashboard reporting.
Please click here to know more.
Continue »

If you listen carefully, you can hear my screams of joy. I have 2 very happy news to share with you.
I am speaking at Excelapalooza Excel conference, happening at Dallas (Texas) between September 21 to 24.
I will be conducting an Advanced Excel, Dashboards & Power Pivot masterclass at Houston (Texas) between September 15 to 18.
Continue »
Hello folks,
I have a quick announcement. As you may know, I am doing a set of Excel & Dashboards Masterclasses in Sydney, Melbourne & Brisbane. We had a fantastic session in Sydney (with 18 delegates). We are sold out in Melbourne & have 2 spots left in Brisbane. But we kept getting requests for more in Melbourne. So we have added an additional session in Melbourne. This is right after Queen's birthday – on 12th & 13th of June. Please use below links to enroll for the masterclass if you are interested.
Reviews from our Sydney masterclass delegates
We asked the delegates of our Sydney masterclass to tell us how they liked it. Here is a short video with their reviews (4 min):
Continue »

Who is this course for?
If you use MS Excel to do data analysis, reporting, day to day tracking or project management then this is the right course for you. If you struggle with formulas or not sure which formula to use for any given occasion, then this is the perfect course for you. We will be introducing more than 40 different formulas with 100s of examples in this course. As we will be using realistic data & examples, you can very quickly apply the same to your day to day work and do so much more with ease & confidence.
Click here to learn more & join this course.
Continue »
A quick announcement folks. I am doing an Excel Boot-camp in Singapore this weekend (July 8-10) along with Paramdeep from Pristine. If you are interested in joining our Bootcamp, this is your last chance. Visit our Singapore Excel Boot-camp page for details & sign-up information. The last date for enrollment is Thursday, 7th of July. […]
Continue »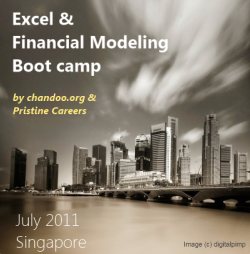 Hello Friends & Readers,
Our Singapore Excel & Financial Modeling Boot-camp is ready for your consideration.
We will be conducting it from July 8th to 10th.
Please read this short page to know details about the program and how to enroll.
Who is this boot-camp for?
This boot-camp is aimed at business analysts, financial analysts & managers, who use Excel all the time. If you are an Excel new-bie, this boot-camp is not for you. Otherwise, you will enjoy this.
Continue »
I have happy news for you.
Paramdeep (from Financial Modeling School) and I am going to organize an Excel Workshop in Singapore during first (or second) week of July.
We want to know if you are interested in this. So please take a few minutes and go thru this small post.
Who is this workshop for?
If you are a financial or business analyst, this workshop is for you. We will be discussing various Excel & Financial Modeling topics during the 12 hour workshop (spread across 2-3 days)
Continue »
In todays post I review Excel Everest, an excel spreadsheet that teaches you how to use excel. In this post I am going to review the product and recommend it you.
What more, you can get it for 20% off if you use the discount code chandoo. Go ahead and read rest of the review.
Continue »
Rewind an year or two and you would have known me as a staunch supporter of all roles that are marketing and vying to become one sometime. Well, I believe that i am marketer even now. Just that i am selling services, technology and consulting instead of a pack of beedis, printers or pills. But […]
Continue »
My training is still going on. I have another week left in Khandala I still dont know where I would be heading from here, whether its mumbai, chennai or good old hyderabad… The answer is still not clear. The allocation procedure should be over by wednesday. Will update everyone about my role and other details […]
Continue »
Published on May 29, 2006
in
Random
The trip to khandala training facility (its called North Point Learning center) was eventful with its own share of (mis)adventures. We (Kishore and myself) started from HYD on 27th night in a bus to Pune. There is a huge traffic jam on the way and we reached 3 hours late to pune at around 9:30am. […]
Continue »
Published on May 26, 2006
in
Random
Ay Kya karti TuAy Kya Main karoonSunSunaAati Kya KhandalaKya Karoon Aake Main KhandalaSeekhenge Padenge Nachenge ppt karengeTraining Karenge Aur Kya hehe, rather a poor attempt at mocking the old song. Nevertheless, I am going to Khandal for 4 weeks. My initial training program @ TCS will be conducted there. Hoping for lots of hills, serene […]
Continue »
Published on Mar 1, 2006
in
Random
Somestuff… I am leaving day after tomorrow. Madhu (comp), all the books and most of the clothes will be leaving tomorrow Planning a trip to Arunachal Pradesh, Assam and some other northeast destinations. May start from 16th March and go on till 29th march. The convocation is most probably on April !st. somebody said in […]
Continue »
Published on Nov 24, 2005
in
Random
The traditional theories of corporate finance have 2 viewpoints. They are, Shareholder value maximization is much more important than growing ones own limbs, stealing office stationary and gossiping at the water cooler. No one ever bothered to read the second bullet point. But the world from now onwards is not going to be like that. […]
Continue »