All articles with 'spreadsheets' Tag
Stage is almost set for my first international Excel workshop. That is right. I am doing a physical excel workshop on Intermediate & Advanced Excel at Maldives between January 23 and 27, 2011. I feel quite excited to do this.
While I derive immense pleasure and learn lots of new things by running Excel School, there is one nagging problem. It is an online program, so the scope of physical interaction with students is limited.
Doing a physical class is a great way to meet new people, gather material for new content, get ideas, learn new things and get challenged. And that is why I am looking forward to do my workshop in Maldives next week.
If you would like to join this workshop: Please call Mr. Guru Raj, Training Manager at IIPD, Malè. His number is +960 7625338. (Workshop agenda)
Because I will be busy with the workshop next week, I will not be able to post much on the blog. I have requested Hui, our guest author to keep you all engaged. So expect some delicious stuff from him while I am away.
Continue »
Often, while creating a complex model or dashboard, you may want to include additional training material in the workbook. So let us learn how to embed flash movies, Youtube videos etc. in to Excel workbooks.
To Embed Flash Movies, Youtube Videos in to Excel, follow these steps.
Continue »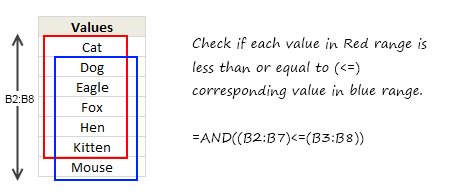 Today, we will learn an interesting array formula trick to test if a list is sorted or not. During last one week, I got 2 requests from different clients for some excel related work. Both of them had one thing in common. To test whether a list is sorted or not. So I got thinking, […]
Continue »
Wish you a happy new year and Welcome back to Chandoo.org. So how did you celebrate the new year's eve? We put the kids to sleep early and partied till 1. Next day, we took them to a park. The kids loved grass, trees and ran like wind. What about you? As for the new […]
Continue »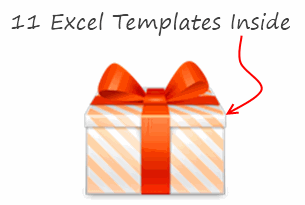 We are just a few days away from 2011. New year always brings hope, cheer, joy and revitalizes us. So naturally many of us embark on journeys with new goals, resolutions, things to do.
Naturally, Excel can help us better manage the new year. In this post, I am featuring 11 templates so that you can have a rocking 2011.
Continue »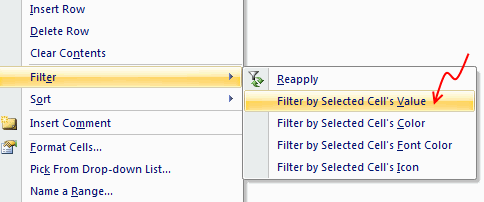 We are busy decorating the Christmas tree, making preparations for the holidays. But I have a very quick tip for you.
[Note: all these tips work in Excel 2007 or above]
Whenever you are working with huge lists of data, filtering & sorting is one simple way to analyze the data quickly.
You can quickly filter your data based on current cell's value by right clicking and then selecting filter > filter by selected cell's value.
Continue »
Here is a quick formula tip to start another awesome week.
Often while working with data, I need to split a number in to integer and decimal portions. Now, there are probably a ton of ways you can do this. But here are two formulas I use quite often and they work well.
Assuming the number is in cell A1,
Integer part =INT(A1)
Decimal part =MOD(A1,1)
These formulas work whenever my data has only positive numbers (which is the case 90% 0f time). But if I am dealing with a mix of positive and negative numbers, …
Continue »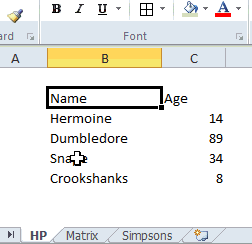 Often we come across workbooks that have similar formatting needs for multiple worksheets. For eg. you may have sales records spanning across 12 worksheets, one for each month. Now as a loyal reader of chandoo.org, you want to keep the formatting of all these worksheets consistent. So here is a quick tip to begin your work week.
Continue »
Situation
We know that VLOOKUP formula is useful to fetch the first matching item from a list. So what would you do if you need 2nd (or 3rd etc.) matching item from a list?
For eg. If you have below data, and you want to find out how much sales John made 2nd time, then VLOOKUP formula becomes quite useless. Or is it?!?
Read more to find how to solve this.
Continue »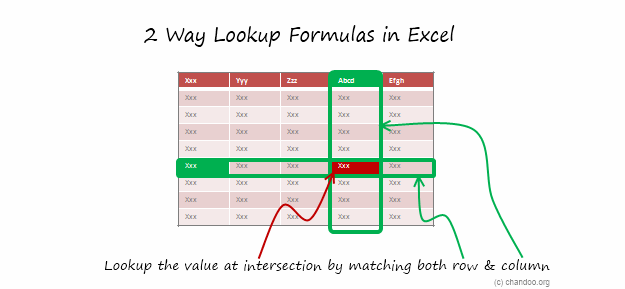 Situation
So far we have seen what VLOOKUP formula is and how to put it to some nifty uses. Today, we will go one step further and learn how to do 2 Way Lookups.
What is a 2 Way Lookup?
Lookup is when you find a value in one column and get the corresponding element from other columns. 2 Way Lookup is when you lookup value at the interesection corresponding to a given row & column values.
For example, assuming you have data like below, and you want to findout how much sales Joseph made in month of March, you are essentially doing a 2 way lookup.
Read more to find how to solve this.
Continue »
Excel Tables, a newly introduced feature in Excel 2007 is a very powerful way to manage & work with tabular data. I really like tables feature and use it quite often. If you are new to tables, read up Introduction to Excel Tables.
In this short video tutorial I explain how to combine VLOOKUP, INDEX, MATCH formulas with Excel Tables.
Continue »
SituationVLOOKUP is great for extracting information from a huge data table based on what you are looking for. But what if you need to extract more than one column of information? For eg. Lets say you have salesperson's name in left most column, and monthly sales figures in next columns, one for each month. Now, you want to find the total sales made by a given sales person. How do you go about it? Read more to find how to solve this.
Continue »
VLOOKUP (and other lookup formulas) are very powerful and quite practical. They can fetch you the information you are looking for from a heap of data.
Now that we have seen the power of VLOOKUP thru several posts this week, I want to test your understanding of these formulas by presenting 3 challenges. The challenges are, (1) Calculating amount payable after applying quantity discounts, (2) Calculating amount payable after applying accumulated quantity discounts, (3) Calculating unit price after finding the closest match.
Read the rest of this article to find the challenge details and 2 joke and 1 link 🙂
Continue »
Ok, you have learned how to write vlookup formulas. You have also seen some pretty interesting examples of it (1, 2).
But how do you write better VLOOKUP formulas?
Here is a list of 6 tips that work wonders with VLOOKUP writing.
Continue »
SituationNot always we want to lookup values based on one search parameter. For eg. Imagine you have data like below and you want to find how much sales Joseph made in January 2007 in North region for product "Fast car"? Read more to find how to solve this.
Continue »