All articles with 'productivity' Tag
Excel date time features are very handy and knowing how to use Excel date values can help you save a ton of time in your day to day spreadsheet chores. Let us prepare for your date with the sheet using these 10 handy tips.
Before jumping on to the tips, it helps to know how excel represents the date and time.
Microsoft Excel stores dates as sequential numbers … January 1, 1900 is serial number 1, and 28 July, 2021 is serial number 44405 because it is 44,405 days after January 1, 1900. Excel stores times as decimal fractions because time is considered a portion of a day.
Read on to learn more.
Continue »
Ever had a workbook with multiple protected worksheets? May be you are enterprise architect at Death Star or chief strategist at Mordor and got all the plans in a tidy little but protected workbook. Of course, you hate having to unprotect many of the worksheets every time you have a new evil plan for world domination. Don't you worry, you can use this handy little trick to unproect en masse.
Just open the workbook
Go to File > Info
Right on the top, you can see all protected worksheets and a link to unprotect them.
Click to unprotect the ones you want to.
Done.
Continue »
Podcast: Play in new window | Download
Subscribe: Apple Podcasts | RSS
In the 43rd session of Chandoo.org podcast, let's talk about top time saving features of Excel.
What is in this session?
In this podcast,
Quick announcement about Awesome August
My 9 favorite time saving features of Excel
Remove Duplicates
Tables
Pivot Tables
Auto fill
Format Painter
Find & Replace
VBA / Macro Recorder
Auto save
Auto complete / Intellisence
Recap & Conclusions
Continue »
Working with multiple charts (or drawing shapes / images) can be a very slow process. But here is a secret to boost your productivity.
Use selection pane & select object tools
Selection Pane & Select Objects?
If you have never heard of these, don't worry. These are 2 very powerful features hidden in Excel. Once you know how to unlock them, you will never look back.
How to use selection pane & select object tools to work with charts faster – Video
In this video, understand how to use these powerful features to work with charts faster.
Continue »
A significant portion of our time in Excel is spent navigating between various ribbon tabs and clicking buttons. Wouldn't it be better if you can combine all the frequently used features in to one ribbon? Something like above:
Read on to learn how to create, edit and share custom ribbons in Excel.
Continue »
Want to write formulas faster? Here is a quick tip.
Use Auto-correct!
That is right. Excel's auto-correct feature can be setup to help you write formulas faster. See above demo. Read on for details.
Continue »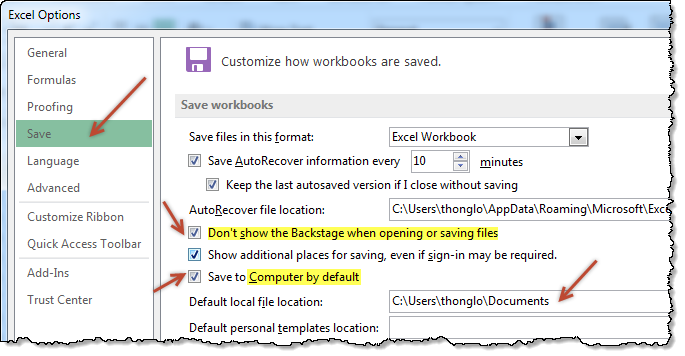 Excel 2013, the newest version of Excel as of writing this has many great features like data modeling, improved pivot tables, power view, flash fill etc. But one thing that I find very annoying is the Open & Save experience. Any time we open a file or save a workbook (which happens alot everyday), we must navigate the painful backstage screen to select our favorite folders. You see, Excel 2013 supports cloud saving. So that means, by default it will show your Office 365 or OneDrive or SkyDrive or whatever fancy new name Microsoft has for these things. But I am not so much in to clouding. Heck, I see a passing cloud in the sky and I almost run inside my house. So what to do?
Simple. We can turn off these features.
Continue »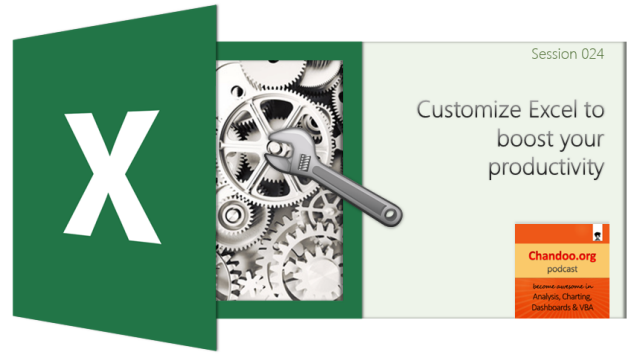 Podcast: Play in new window | Download
Subscribe: Apple Podcasts | RSS
In the 24th session of Chandoo.org podcast, let's customize Excel so we become productive.
What is in this session?
Each of us use Excel in our own way. And yet, we all end up using the same Excel. That's not fair. Shouldn't the Excel of an accountant be different from Excel of a teacher?
In this podcast, lets understand some of the powerful & useful ways to customize Excel so that we can do our work better. Tune in only if you are serious about productivity.
You can get Excel Customization Handbook free. Listen to the podcast for instructions.
In this podcast, you will learn,
Announcements
Why customize Excel?
Customization options:

Excel Options
Quick Access Toolbar
Excel Ribbon
File menu / back stage view
Themes, styles & templates
Personal Macros

Closing thoughts & Bonus give away instructions
Continue »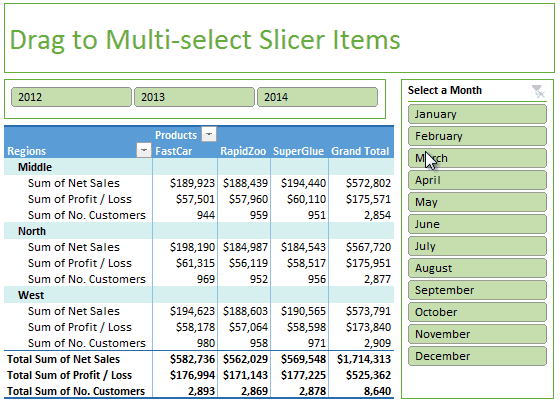 Hola folks…
My trip to Houston & Dallas was very successful, fun & awesome. I got back home on Friday and instantly I am in another fun, awesome & happy place with my kids, Jo (my wife), rest of the family & friends.
Today, I want to share a very simple yet super awesome trick with you. I learned this from Augie, one of the Houston Masterclass participants.
You can drag slicer items to multi-select them.
Selecting multiple items in a slicer quickly
We know that slicers are powerful, friendly and fun way to filter the pivot tables, pivot charts, power pivot tables and regular tables (only in 2013). They are visual filters that can be used to instantly filter the data (or report). But when it comes to selecting multiple items, slicers can be hard. We must hold CTRL key and tap multiple slicer items one at a time to select them. At least that is how I used to do it.
Do you know we can drag to multi-select?
See this demo:
Continue »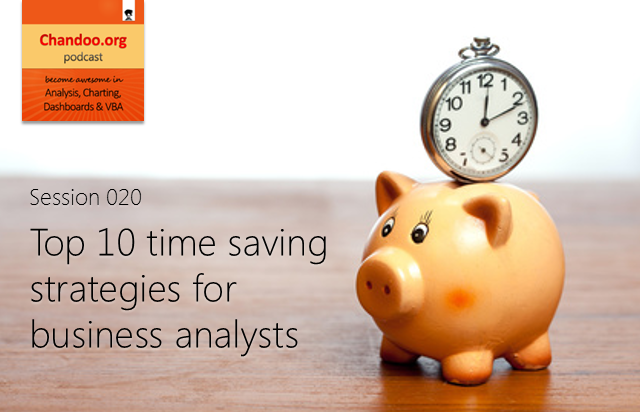 Podcast: Play in new window | Download
Subscribe: Apple Podcasts | RSS
In the 20th session of Chandoo.org podcast, lets save some time.
What is in this session?
We all want to save time and stay productive. The obvious answer seems like using keyboard shortcuts. But they can only get you so far. So what about the real productive strategies? That is what we address in this podcast.
In this podcast, you will learn,
Announcements
5 key areas of business analyst work – tracking, analysis, reporting, data management & modeling
Time saving strategies for tracking
for analysis
for reporting
for data management
for modeling
Conclusions
Continue »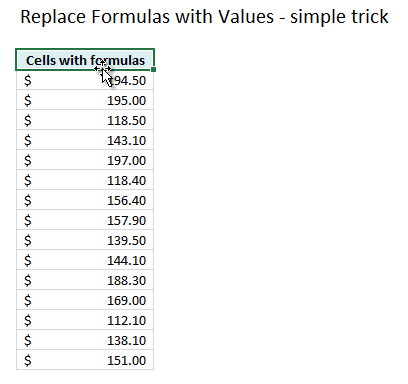 Here is a very simple & fun way to replace formulas with values.
(Earlier, we talked about how to do this with keyboard)
Just wiggle.
Wiggle what?
Continue »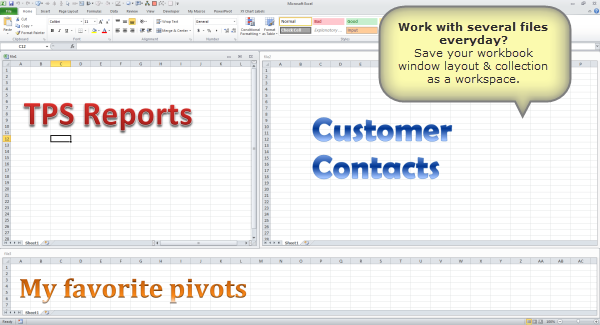 If you work with multiple Excel workbooks everyday, then here is a handy tip.
Use Save workspace feature to save your workbook collection & layout.
Continue »

Here is a quick tip to start your week. Ever wanted to insert a few columns in between like this? Here is how to do it. Hold down control key. Select one column at a time Right click and choose Insert Done! Bonus tip: You can use this to insert rows too! More Quick tips.
Continue »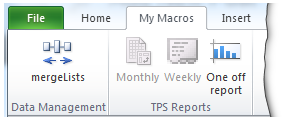 Do you know that in Excel 2010 you can create your own Ribbon tabs and add anything to them, including your own macros? Today, we are going to take a look at this useful feature and learn how to add your own macros as buttons to Excel Ribbon. Steps to Add your own macros to […]
Continue »
Recently, I bought a new laptop, because my old Toshiba died down. After installing the OS and other necessary tools (like browser, skype etc.), I have installed Office 2010. Since Excel is my bread and butter, I like to customize it so that I can get more work done. So today,let me share how I […]
Continue »