Do you know that in Excel 2010 you can create your own Ribbon tabs and add anything to them, including your own macros? Today, we are going to take a look at this useful feature and learn how to add your own macros as buttons to Excel Ribbon.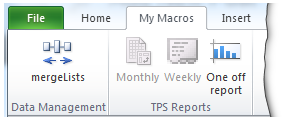 Steps to Add your own macros to Excel Ribbon [Excel 2010]
Step 1: Go to Excel Options to create a new ribbon
The first step is simple. Click on File menu and go to Excel Options. From here, click on Customize Ribbon.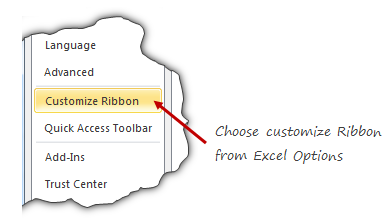 Step 2: Add a Ribbon for your macros, Add your macros
This step is even simpler. Just create a new tab, add new groups as needed and add your macros. To add macros,
Choose macros from the leftside area, then select all your personal macros and add them to your own ribbon.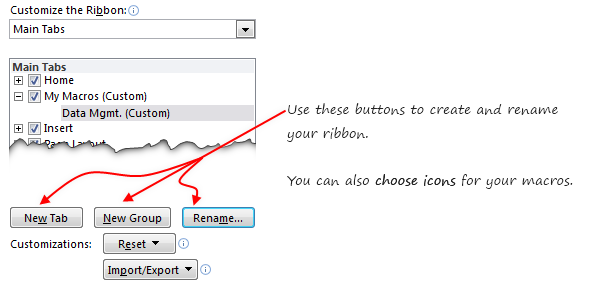 Bonus tip: You can also change or set icons for your macros. So that they look awesome on your new ribbon.
Step 3: Click ok and be done!
Really there is no step 3. Just click ok and play with your new ribbon.
Things to keep in mind while creating new ribbons
With Excel 2010, Microsoft introduced the capability to create and customize ribbon. While this is a powerful feature, it does have some gotchas. Keep these in mind while adding new ribbons or customizing existing ones.
When you add a group or tab, excel doesn't ask you for a name. Make sure you click on "rename" button to change the name to something you remember.
You cannot add commands to an existing excel defined group. You can however add groups to existing ribbons.
The ribbon and QAT customizations you do are local to your installation of excel only.
However, you can export the customizations and import them to other computers.
Do you use Customized Ribbons in your Excel?
Even though this is a very powerful feature, I have not used it much as most of what I do is found on regular ribbons. However, for those of you frequently accessing a set of features, you can add all of these (and any personal macros) to a custom ribbon and get rid of everything else. It looks clean and saves a lot of mouse travel.
What about you? Do you use customized ribbons? Have added macros to them? Please share your experience using comments.
Add VBA & Macros to your Skills Ribbon
Do you know that you can join our online VBA Classes and learn how to create powerful macros from scratch? Our online VBA Class is a step by step program aimed to teach you all the basics and advanced macro programming so that you can save time, look awesome and get things done faster. Click here to join us today.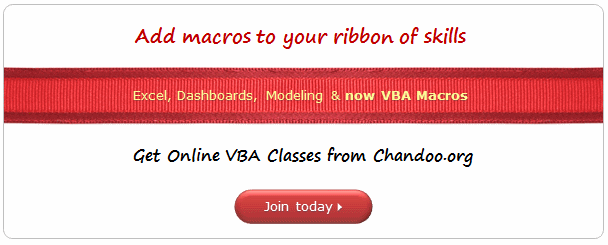 References to Learn More
Ribbon & Quick Access Toolbar help us find what we want and do. That said, they are not the easiest interfaces for those of us migrating from menus & t0olbar world (read Excel 2003 or earlier). Do not worry, we have a lot of helpful material on these topics. Check out,