All articles with 'excel apps' Tag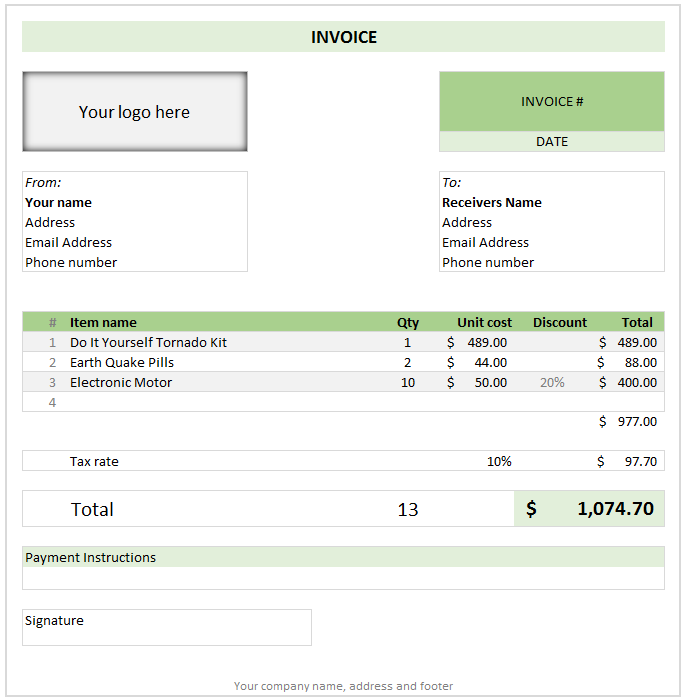 Anyone running a small business knows the oozing bits of joy when you hear a customer saying, "Can you send me an invoice?"
While creating an invoice is an easy task, if you want something that is professional looking, easy to manage and works well, then you are stuck.
That is where Excel really shines. By using an invoice template, you can quickly create and send invoices.
Today I want to share one such template with you all. Why? Because we are awesome like that.
Continue »
Attention brides-to-be, grooms-to-be and everyone believing in "one ring to rule"…, I am very happy to announce the launch of Excel Wedding Planner Template. The premium version is now available for your consideration. Here is a short sales pitch along with links to purchase it. [Click here to get a copy or read full sales […]
Continue »
I am very happy to tell you that Excel Wedding Planner is ready download.
Continue »
About a month ago, I got an email from Kevin. The crux of this email is,
I am working on a wedding planner based in Excel. Do you want to collaborate?
I replied to him asking for more details as I got curious about the project. Kevin sent me a work-in-progress version of his wedding planner which blew my mind. Although I have only one wedding experience and even that I hardly planned (as it is traditional for parents to take care of the wedding ceremonies in India), I found Kevin's planner quite comprehensive, useful and easy.
So we worked on it together and I am happy to announce the Excel Wedding Planner
Continue »
Like most of the small businesses, I too use Excel for running various activities including preparing quotations, estimates and pricing models. In this post you can find a couple excel quotation templates that you can immediately use.
The first template is useful for sending quotations for one time work or services.
The second template is useful for sending quotations for hourly work like repairs, services, consulting.
Go ahead and download these excel quote templates to prepare beautiful quotations right from your favorite program.
Continue »
Welcome to another edition of excel links. During the last week, I have revised excel downloads page on PHD and now it contains over 75 excel templates, tutorial downloads. I am not sure if you dig the new format of the page though. So go take a look at it and let me know what […]
Continue »
Excel is very good for keeping track of your investments. Due to its grid nature, you can easily create a table of all the mutual fund holdings and monitor the latest NAVs (Net Asset Values) to see how your investments are doing. A while back we have posted a file on tracking mutual funds using excel. Today we are going to release an upgrade for that file.
Read the rest of this post to understand how this template works and download the free template.
Continue »
Steven, one of our readers from England sent me a Christmas gift tracker worksheet. I found it pretty cool, so made some minor changes to it and sharing it with you all so that you can have great time shopping for the holidays.
The workbook is full of lessons on conditional formatting, cell formatting, using formulas. Go ahead and download it today.
Continue »
At PHD household, we believe in using money wisely. Both Mrs. PHD and I come from very modest backgrounds. Our upbringing has taught us value of money in the most effective way – by exposing us to not having any. So when we got our first job (did I tell you that both Jo and I started working in same company and sat in same floor? Oh, it was such a lovely time), we were very prudent and decided not to waste money on anything trivial (we still are, just that over last 6 years our earning capacity increased a bit and we became parents).
Anyways, I am not here to bore you about my household. But I am here to tell you fun ways to track expenses and household budgets using spreadsheets.
Continue »
Learn how you can write your own twitter client using Excel. All it takes is excel, internet connection and 5 minutes of spare time.
Continue »
Today we will learn how to make an employee satisfaction survey and consolidate the data using excel.
Continue »