Anyone running a small business knows the oozing bits of joy when you hear a customer saying, "Can you send me an invoice?"
While creating an invoice is an easy task, if you want something that is professional looking, easy to manage and works well, then you are stuck.
That is where Excel really shines. By using an invoice template, you can quickly create and send invoices.
Today I want to share one such template with you all. Why? Because we are awesome like that.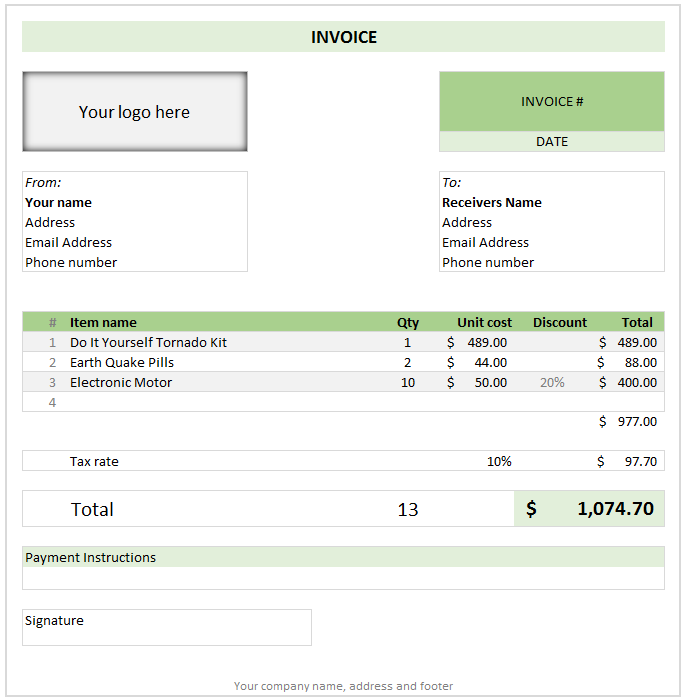 Free Invoice Template – Download
Click here to download the template.
The file contains 2 sheets.
A ready to use or print invoice template. Just fill in values and bingo!
A table where you can list all your products and services. This way you can select them on the invoice to generate prices quickly, as shown below: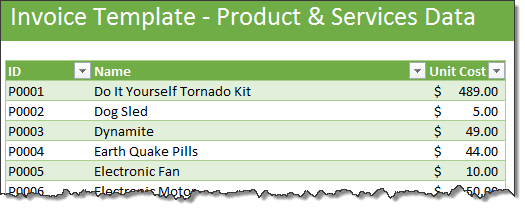 How to use this invoice template?
This template is optimized to print or save as PDF. All you have to do is enter the data and go.
Go to Products & Services tab and specify your details
Select items & specify quantities to see prices
Apply any discount per line item as needed
Delete extra lines or add lines as needed
Specify tax % if any
Provide payment instructions
Add other details like invoice #, receivers details and your details
Print this sheet (only invoice will be printed)
OR
Save this worksheet as PDF (only invoice will be saved)
How is this template made?
As a curious reader, you may want to know what Excel techniques are involved in constructing this template.  So here we go,
Tables: to keep the products & services data
Data validation: to select one of the products from list
Conditional formatting

to prevent duplicate product names in the invoice
to show zebra lines (alternative rows in different color) in the invoice items list
to show $ amounts only if quantity & product name is specified

VLOOKUP formula to fetch price of selected item
IFERROR formula to suppress any errors
Print areas: to print (or save as PDF) only the invoice portion
Do you use Excel for preparing invoices?
Just like millions of small businesses around the world, we at chandoo.org too use Excel for making invoices, quotations and tracking data.
What about you? Do you use Excel templates to manage invoices, quotations etc.? What is your experience like? Please share your thoughts & techniques in the comments.
More Excel templates for you
Check out these templates to save precious time and kick some serious ass.