All articles with 'Cool Infographics & Data Visualizations' Tag
A good chart tells a story. Here is a fantastic example of what a good chart is. The chart itself is very simple and easy. But it brilliantly juxtaposes two interesting pieces of data : Obesity rates in countries and Time spent eating per day, to tell a story.
Continue »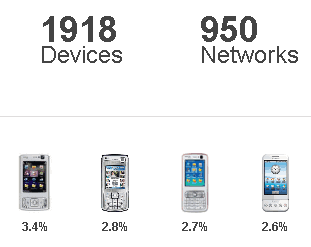 Take a look at the web analytics dashboard from percent mobile. It is well executed and provides good quality information at a glance.
Continue »
Take a look at the innovation heat map published by McKinsey and tell us what you think – Hot or Not?
Continue »
Checkout this very neatly done "where did all the money go?" data visualization on Guardian, and share your opinion.
Continue »
Michael Anderson, a web designer has posted this delicious looking visual resume. While the resume looks stunning at a glance, a closer inspection reveals that you cant really make any valuable conclusions about Michael's past experience and qualifications. Of course if the purpose of this resume is to show that he is a fabulous designer, then the resume definitely achieved that.
What is your opinion on this type of resume data visualizations ?
Continue »
Check out user journeys and other cool visualizations in this weeks edition.
Continue »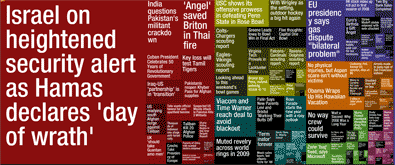 Every week Pointy Haired Dilbert celebrates visualization and info-graphics by showcasing some of the creative and fun charting work from around the web. Have inspiration and fun. Browse hundreds of fun visualization and graphics projects in archives.
Newsmap is a creative and fun way to look at news. They organize news items on a tree map based on recency and relevancy of the news items (that are probably pulled from Google news). The background color indicates the news topic (red for world, purple for business, green for tech etc.)
Continue »
Every week PHD features 5 of the most beautiful and awesome visualizations seen on the web for your inspiration and amusement. These charts explore and present data in creative ways and provide new ideas. Browse past visualizations for inspiration and fun.
Continue »
When you have the data of 9,955,441 parking tickets from New York city, what would you do with it? Of course, you will make a visualization out of it so that anyone can know where the tickets are issued most. Check out this interactive visualization of parking tickets from NY Times.
Continue »
TED Talks are a great way to keep your mind nourished. They inspire you, give you a ton of new ideas. I saw this ted talk (embedded below) Tidying up art by Ursus Wehrli and couldn't resist sharing it with you. It is an entertaining one and I recommend watching it. In this talk the […]
Continue »
The best 3d pie chart ever We all know that 3D pies are not a very good way to express your story. I guess this one is an exception we all are happy to make [via PTS Blog] How to solve problems – Interactive visualization This interactive visualization shows how to solve problems in a […]
Continue »
Advertisements and info-graphics can excite us a lot by their sheer ability to tell a story convincingly. What happens when you combine both? The results are dazzling… don't believe me? Checkout these examples: Heineken Beer – How to get a girl in the bar – Flow chart Evening College from 5 – 10 PM – […]
Continue »
Every Friday, PHD celebrates the art of chart making by posting 5 beautiful visualizations. These are truly outstanding visualizations providing good information and insights. Browse the last 4 weeks featured items by clicking these links: Visualizations for your inspiration [Nov 04] Must see info-graphics [Oct 31] 5 Beautiful Visualizations [Oct 24] Visualizations of the week […]
Continue »
Every week Pointy Haired Dilbert features 5 beautiful & creative info-graphic visualizations for your inspiration. I like building, reading and sharing charts and info-graphics and it is a pleasure sharing these with you all. Happy weekend 🙂 Who donated to Obama and how much? This beautiful arc chart shows how much people have donated to […]
Continue »
It is not an easy job to design dashboards for providing up to date information & insights about the most talked about election ever and these sites seem to have done fantastic job. Don't take my word, just go see them in action. Here is a list of live US poll trackers, dashboards that you […]
Continue »