All articles in 'blogging' Category
2011 has been the most awesome year since we started Chandoo.org.
Without doubt, the credit goes to our community – that is you.
I feel very fortunate to have you in our community. You inspire me to learn & share. I know I said this several times, but everytime, I feel like I have not done enough. Thank you so very much.
Apart from our little community, I feel thankful to many others, who have helped me through out 2011 to make you awesome in Excel. In this post, I am highlighting them & expressing my gratitude.
Continue »
Christmas & New year have always been our favorite holidays. Many of our relatives & friends visit us around this time. The weather is excellent. This year, it seems even more special. Nakshatra & Nishanth (our twins) are looking forward to this as much as we do. Plus, we are celebrating it in our new home. Feels magical.
We wish you Merry Christmas & Happy New Year 2012.
I also want to tell you how thankful I am for your love, support & kindness. Everyday, I feel inspired knowing that I can share my knowledge, mistakes & passion with all of you. Thank you so much for your eagerness to learn from me, we have a home now, we get to spend time with our kids and do things we love & care. Thank you.
Continue »
Normally when responding to a Post or a Forum Post you will see a plain old text response like

Occasionally you may see some Bold or Code highlighted like

How is this done and what else can I do to add value / pizazz to my posts ?
Continue »
It is megaphone time at Chandoo.org. I have a few quick announcements about upcoming training programs & other interesting stuff. Just read on 🙂
1. VBA Classes – 2nd batch details.
2. Good news for our Indian customers
3. New Excel Formula Crash Course – from tomorrow (17 August)
4. Excel School prices going up!
5. Recommended Live Training – Mike's Power Analyst Bootcamp in US
Continue »
Our Sales Analysis Chart Contest is over and the winner is….,
Oh, wait!
I have decided to award the prize to 2 contestants. Each of them will get an Amazon Kindle Reading Device.
The winners are,
Continue »
Chandoo.org is looking for your ideas!
What would you like to see discussed in future posts at Chandoo.org ?
Continue »
Alert readers of chandoo.org would have noticed that I have been away from action for a week. You are right. I took an unexpected break this week. I was commissioned to do an important baby sitting project. And you know how difficult they can be. So for the last one week Jo (my wife) and […]
Continue »
Hello there,
I am glad to announce this week (21-25 March, 2011) as Dashboard Week on Chandoo.org
What happens in Dashboard Week?
As you can guess, during this week, I will be posting exclusively about Excel Dashboards. This is the tentative agenda … []
Continue »
This year has been hectic for Chandoo.org. We have posted 229 excel tips & articles this year. In addition, we had 6500+ comments & a lot of new pages on the website. We have also trained more than 700 students in Excel & Financial Modeling thru Excel School & Financial Modeling School programs.
In this post, I will share some of the best content on Chandoo.org in year 2010. Just read these posts to supercharge your excel skills.
Continue »
2010 has been phenomenally awesome for Chandoo.org.
Obviously, most of this success is due to the fantastic community here. That is you.
I feel really fortunate to have you in our community. You constantly inspire and motivate me to learn and share new things. Thank you very much.
But, apart from the vibrant community here at chandoo.org, I am also thankful to several others. I would like to remember all the kind souls who helped me through-out this year to make more of you awesome in Excel.
Continue »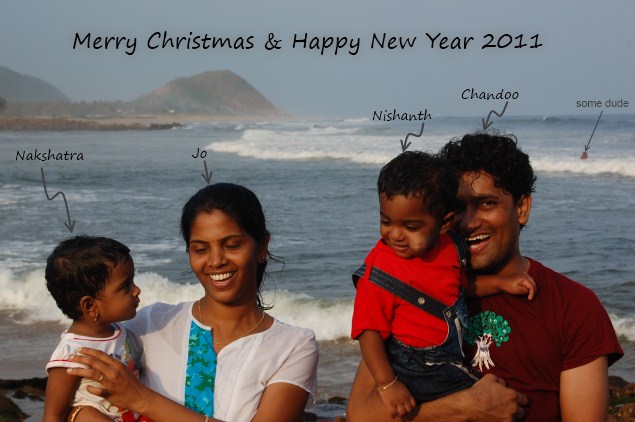 Christmas & New year have a special place in our hearts. Around our household, we have the official festive season from September last week to February 2nd week. In these 5 odd months, we celebrate all our birthdays, our marriage anniversary, a lot of fun festivals, not to mention Christmas & New Year. This year, it is even more special because we have 2 noisy, hilarious & rowdy kids to share and multiply our joy.
We wish you a Merry Christmas & Happy New Year.
I also want to tell you that how much thankful I am to you. Without you, I wouldn't be spending this holiday season with my family. Because you find me useful, and support me thru your visits, purchases, comments & enthusiasm to learn that I have the courage to leave my day job to embark on this exciting journey called chandoo.org. Thank you.
Continue »

Over the last few weeks we have seen huge influx of new members to our little blog. It is good time I said hello and introduced my site to you.
PS: If you have been at chandoo.org for a while, you can still find a good link or nugget in this post. So read on.
Continue »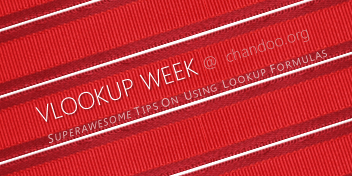 Hi all,
Few weeks back, I had a mild internet outage. Since I didn't know what to do, I turned to you for help and asked you to share "VLOOKUP tips" while I get my connection back.
Oh boy!, the response to that has been overwhelming. More than 50 comments were posted, each with unique, fabulous uses of VLOOKUP & Other lookup formulas.
VLOOKUP is such an important formula that, I cannot imagine preparing a dashboard, report or any other data intensive workbook without using it a few times. So, to celebrate the versatility and usefulness of this beautiful formula (and other lookup formulas) we are going to call this as VLOOKUP week @ chandoo.org.
Continue »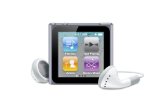 Hello Folks.
I have a rather bad news for you. My internet service provider (TATA Photon) has mysteriously blocked chandoo.org. My site hasn't been loading since Sunday. While, I know it is up and running, I cannot see it unless I go thru a proxy server.
It may take a few days to get this resolved. I am using this time to take a break from blogging and finish reading a few books.
But I have a contest for you that will keep you busy. Share your favorite VLOOKUP tip / trick and you can win an iPod Nano. Read more for rules & how to participate.
Continue »
I have a happy news to share with you!!! For the first time since starting this website, we got 500,000 + page views in the month of September 2010. Half-a-million! Thank you so much. To put this in context, in Sept 2009, we got 245,000 views. Traffic grew by more than 100% in last 12 […]
Continue »