Bad News & VLOOKUP Contest
Hello Folks.
I have a rather bad news for you. My internet service provider (TATA Photon) has mysteriously blocked chandoo.org. My site hasn't been loading since Sunday. While I know it is up and running, I cannot see it unless I go thru a proxy server like kproxy.
It may take a couple of days for this to be resolved. I am using this time to take a break from blogging and read some books that have been waiting. I am almost done with Edward Tufte's The Visual Display of Quantitative Information
and Walkenbach's Excel 2010 Bible
. I will be reading Stephen Few's Information Dashboard Design
and then Walkenbach's Excel 2010 Power Programming
.
In the meanwhile I have a fun VLOOKUP contest for you.
All you need to do is, share a VLOOKUP trick or tip thru comments.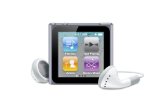 And the winner gets an iPod nano
. 8gb latest version.
Some rules to keep in mind:
You have to post the entire tip in the comments. No links please.
You can post as many tips as you want.
You can post tips on VLOOKUP, INDEX – MATCH, OFFSET – MATCH, HLOOKUP, LOOKUP or lookups done using SUMPRODUCT
Bonus karma & points for people making an example excel file & linking it along with the tip.
Contest closes on October 12, End of day (Pacific time, why? because I love the big, blue ocean)
Winner will be selected randomly.
Go!
Read these excellent articles explaining – VLOOKUP, OFFSET & MATCH, SUMPRODUCT.
PS: If you would like to sponsor this contest, just drop me an email at chandoo.d @ gmail.com

Hello Awesome...
My name is Chandoo. Thanks for dropping by. My mission is to make you awesome in Excel & your work. I live in Wellington, New Zealand. When I am not F9ing my formulas, I cycle, cook or play lego with my kids. Know more about me.
I hope you enjoyed this article. Visit Excel for Beginner or Advanced Excel pages to learn more or join my online video class to master Excel.
Thank you and see you around.
Related articles: