Hello Folks.
I have a rather bad news for you. My internet service provider (TATA Photon) has mysteriously blocked chandoo.org. My site hasn't been loading since Sunday. While I know it is up and running, I cannot see it unless I go thru a proxy server like kproxy.
It may take a couple of days for this to be resolved. I am using this time to take a break from blogging and read some books that have been waiting. I am almost done with Edward Tufte's The Visual Display of Quantitative Information
and Walkenbach's Excel 2010 Bible
. I will be reading Stephen Few's Information Dashboard Design
and then Walkenbach's Excel 2010 Power Programming
.
In the meanwhile I have a fun VLOOKUP contest for you.
All you need to do is, share a VLOOKUP trick or tip thru comments.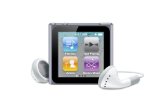 And the winner gets an iPod nano
. 8gb latest version.
Some rules to keep in mind:
You have to post the entire tip in the comments. No links please.
You can post as many tips as you want.
You can post tips on VLOOKUP, INDEX – MATCH, OFFSET – MATCH, HLOOKUP, LOOKUP or lookups done using SUMPRODUCT
Bonus karma & points for people making an example excel file & linking it along with the tip.
Contest closes on October 12, End of day (Pacific time, why? because I love the big, blue ocean)
Winner will be selected randomly.
Go!
Read these excellent articles explaining – VLOOKUP, OFFSET & MATCH, SUMPRODUCT.
PS: If you would like to sponsor this contest, just drop me an email at chandoo.d @ gmail.com