Archive for November, 2008
As told earlier I have finished my 10 k run today (actually 13 k). Even though running 10 kilometers is not a big deal for many people, it is a HUGE deal for me and I thought I would write a small post sharing my experience of crossing this important milestone.
Continue »
Tomorrow is thanksgiving day here. It is a harvest festival on which people express thanks for what they have. Much like Sankranthi (pongal) in India. At this moment I am very angry and frustrated about the terror strikes in Mumbai. I am not sure how a person can do something like this to others. I […]
Continue »
Dashboards let users get all the information they want in a quick glance. Not if users start using scroll bars and scroll down to cell A64000. So here is a quick and dirty trick. Assuming your dashboard ends in row 40, select row 41 and go to menu > window > freeze panes. That way […]
Continue »
Data validation is a great way to keep your users informed about possible values in a cell and guide them to select something appropriate. As part of the spreadcheats series, in this post we will discuss 2 advanced data validation techniques that can help you when you are modeling a complex worksheet.
Continue »
TED Talks are a great way to keep your mind nourished. They inspire you, give you a ton of new ideas. I saw this ted talk (embedded below) Tidying up art by Ursus Wehrli and couldn't resist sharing it with you. It is an entertaining one and I recommend watching it. In this talk the […]
Continue »
This is probably the 100th time I have changed this site's tag line. So, it may not be a great news to you. But again, I need to say out this loud so that you, my dear reader, will know what this blog is going to stand for: Excel Tips, Charting Ideas and Visualization Oomph. […]
Continue »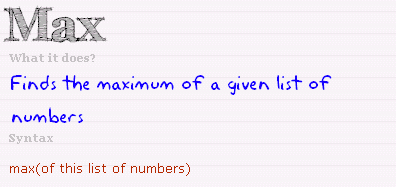 One of the most common comments we get here is "how does xxx formula works?" Even though there is vast documentation on excel formulas including the built-in help in MS Office, often it is difficult for us to learn a formula quickly and use it in a snap. So to help new users of excel […]
Continue »
This is pure fun! Few Googlers used the collaborative feature in Google Spreadsheets to create a holiday art template with snow flakes using 18 colors. Each of them added few colors on a blue canvas to create this massive template. The best part is they even made a time lapse video of the whole process […]
Continue »
The best 3d pie chart ever We all know that 3D pies are not a very good way to express your story. I guess this one is an exception we all are happy to make [via PTS Blog] How to solve problems – Interactive visualization This interactive visualization shows how to solve problems in a […]
Continue »
Often when you are writing code or testing an application, it might be helpful to have random phone numbers generated for you. Here is an excel formula that I use: =value(left(substitute(rand(),"0.",""),10)) try these 2 instead (thanks to John) =RAND()*(9999999999-1000000000)+1000000000 =RANDBETWEEN(1000000000,9999999999) [needs analysis toolpack add-in or excel 2007] Even though it works most of the time […]
Continue »
Did you checkout the new web based Mac vs. PC ads Apple is running on the CNN.com? They are totally cool. why? because, in that ad, the PC guy walks from one ad-block to another creating wow user experience for whoever seeing the ad. Here is a small animation I have created out of it […]
Continue »
I have an exciting news for you, Yesterday I have mailed Charley Kyd – an Excel MVP, author of four books and 50+ articles for various national media, owner of exceluser.com and creator of popular products like plug-n-play excel dashboard kit. And he has agreed to give me an interview over phone / email. The […]
Continue »
Do you know that while recording macros in excel you can use the relative reference based recording so that you can use your macro anywhere and the references would be adjusted automatically? Yes! I have learned this yesterday and I thought it is pretty cool. Here is how you can make your macro VBA code […]
Continue »
It has been almost 9 months since I crossed the 5k running mark for the first time in my life. Running is one of the most enjoyable things I do. I have been running between 5 and 7 kilometers ever since. I wanted to run 10 kilometers and finally I am confident of doing it. […]
Continue »
Advertisements and info-graphics can excite us a lot by their sheer ability to tell a story convincingly. What happens when you combine both? The results are dazzling… don't believe me? Checkout these examples: Heineken Beer – How to get a girl in the bar – Flow chart Evening College from 5 – 10 PM – […]
Continue »