All articles with 'reviews' Tag
Podcast: Play in new window | Download
Subscribe: Apple Podcasts | Spotify | RSS
In the 52nd session of Chandoo.org podcast, let's discuss monkeys, Ok, I am kidding. We are going to talk about M is for Data Monkey book.
What is in this session?
In this podcast,
Updates: Why so much gap between episodes?
Quick introduction to Power Query
Why you should get this book?
What is in this book?
A very cool example of the techniques you will learn
Conclusions
Continue »
Business analysis & modeling are new areas where a lot of fresh graduates find themselves when they start work. Unfortunately, this is also an area where there is very little structured information. Thanks to Danielle's new book, Using Excel for Business Analysis, you can understand the basics of financial modeling, good spreadsheet design & business analysis
First up, let me congratulate my good friend Danielle for the successful launch of her first book. Today, I want to share my review of this book with you.
Who is this book for?
You are someone who uses Excel to analyze & model parts of a business,
You are not sure how to go about it
You started using Excel in last few years and lack structured approach to spreadsheet design
You are a fresh MBA hoping to become an analyst
Then this book is for you.
Continue »

During last one week, we had a gala time with Dashboard Week on chandoo.org. To wrap-up the week, I am sharing a list of recommended resources, websites, tutorials & ideas for making dashboards.
Recommended Resources on Making Dashboards:
I have broken down this post in to various sections. Click on the links to quickly access the part you want to know or just keep scrolling to get the whole thing.
Continue »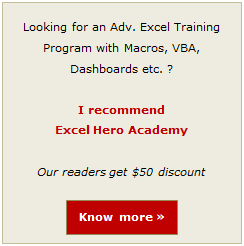 Quick Summary: Recently I have had the opportunity to test Daniel Ferry's Excel Hero Academy online training program. In this post I am going tell why it is a good program to learn Excel.
Plus you can get it for $50 OFF if you use the discount code chandoo.
Continue »
In todays post I review Excel Everest, an excel spreadsheet that teaches you how to use excel. In this post I am going to review the product and recommend it you.
What more, you can get it for 20% off if you use the discount code chandoo. Go ahead and read rest of the review.
Continue »
PS: Today is the last day for joining excel school. So bear the promotional messages. Skip this post if you are already sold or not going to buy.
I gave free excel school passes to few of the people I respect and learn from. You see, I have worked mostly alone on Excel School and while the first batch students were very happy with what they got in the school, I wanted to be doubly sure that Excel School is an excellent value for money and nothing short of an awesome program. So I gave free passes to people I truly admire, to know what they would think.
Read this short post to find out what they think about Excel School.
Continue »
Excel School 2nd edition seems to be rocking already. Here is a quick update: So far 50 students have signed up for Excel School. The classroom is busy too. We have 40 comments so far and some interesting questions from new students. Excel School Review by Debra: I gave a free student account to Debra […]
Continue »
Today, I want to introduce an excel hero to you. He may not be wearing red cape or carrying latest ninja weaponry with him. But he is a hero. He can arm twist toughest sets of data to create beautiful (almost art like) charts or animations. He can a complex vba model and make it […]
Continue »
Office 2010, the latest and greatest version of Microsoft Office Productivity applications is going to be available worldwide in the next few weeks. I have been using Office 2010 beta since November last year and recently upgraded my installation to the RTM version. I was pleasantly surprised when I ran Microsoft Excel 2010 for first time. It felt smooth, fast, responsive and looked great on my comp.
This week, I want to celebrate the launch of Excel 2010 and write about the following new features in Excel 2010.
Also, you can win a copy of Office 2010 – home & student edition by leaving a comment on this or any of the other excel 2010 posts scheduled for this week
Continue »
Francis J Hayes runs probably one of the most popular excel news letters. His email newsletter, called as "The Excel Addict" has an interesting nugget, tip or trick every week. I have been reading his emails for the last few months and I really enjoy them. So naturally I got curious when I heard about Francis' e-book titled "101 Secrets of a Microsoft Excel Addict". Yesterday I purchased a copy of the book and there are so many hidden gems in the book that I had to tell you about it.
Continue »
Some of you know that I sell a bundle of Project Management Excel Templates. The bundle includes 24 ready to use templates for Gantt Charts, Timesheets, Project Dashboards, Status Reports, Time Line Charts, Issue Logs, To do Lists and more. Launching these templates is one of the best moves in my life. They have been […]
Continue »
If you want to make better charts and create lasting impressions, chances are you have heard about Jorge Camoes. He writes at excelcharts.com (previously charts.jorgecamoes.com). I have been reading Jorge's blog for over 2 years now and have linked to his excellent articles on PHD several times. Jorge also has an Excel Dashboard Training Kit, which teaches us how to make a dynamic and comprehensive excel dashboard. The dashboard training kit is a culmination most of his lessons implemented in a practical way using Excel.
In this article, I review the product and tell you why you should get a copy of it.
Continue »
Along with Excel 2010, Microsoft released a free add-in called PowerPivot. According to MS, PowerPivot gives users the power to create compelling self-service BI solutions, facilitates sharing and collaboration on user-generated BI solutions in a Microsoft SharePoint Server 2010 environment, and enables IT organizations to increase operational efficiencies through Microsoft SQL Server 2008 R2-based management […]
Continue »
We have a macbook at home. Like all latest macbooks, this one too came with a trail version of iWork. Even though I have used iWork before, this time I wanted to compare iWork numbers with Excel. In this post, I want to highlight 7 really cool features for iWork and how Microsoft excel can benefit from implementing the same.
Continue »
I wrote an excel formulas e-book that makes learning 75 most frequently used excel formulas as simple as eating pie. If you are wondering the book is worth your investment, read these wonderful reviews the book has received from fellow excel bloggers in the community. Jimmy on Code for Outlook and Excel and Tony on Support Analytics.
Continue »