All articles with 'links' Tag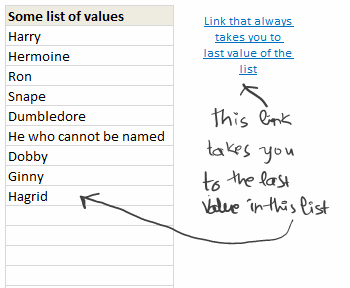 During one my recent training programs, a participant asked an interesting question.
I have a list of values. I would like to place a hyperlink in my workbook that would always take me to the last value in the list.
Something like shown aside.
Click on the image to learn how this is done.
Continue »
As mentioned earlier we have moved to Seattle this Sunday. It seems like a great place already. Just that everything is more expensive than we are used to in Columbus. But I guess that is the premium we have to pay for being in a big city. On to this week's edition of excellent excel […]
Continue »
Every week Pointy Haired Dilbert celebrates the art of chart making by sharing 5 of the most beautiful, innovative and effective infographic ideas from various sites. Click here to see the visualizations featured earlier. Pop, Soda or Coke? – Countywise terms used for sweetened carbonated water The pop-vs-soda map tells how marketers have been effective […]
Continue »
The other day my wife told me that we dream about a total of 6 years in our life, an average of 2 hours for everyday you sleep. [Source: wikipedia on dreams]. That is almost as much time as you would work in 30 years (30*50*40/24/365, assuming you work 40 hours a week for 50 […]
Continue »
Every week, this blog features 5 of the best visualizations from the last week around the web. Average gas prices in US regions from 1993 plotted in dynamic bar Flowing data takes a look at the historical gasoline price data and provides us this eye candy. My friend Jon takes a look at this and […]
Continue »
I use google suggest to get new post ideas, I start out by typing "what is", "who is", "how to", "when is", "where is", "excel" and see all the suggestions Google comes up with. If I see something interesting I would mark the search topic and use it for posting here. And for the last […]
Continue »
Passion, excitement, inspiration or love – whatever you choose to call it, is the key reason we do remarkable things. Take a minute break here, think about the most significant moments in your life. What is common in all of those moments? I am sure your answer will be Passion or excitement, love, inspiration. I […]
Continue »
Time for another round of cool charting / info-graphic ideas around the web. Most Popular Baby Names – all the way from 1880 Nametrends is a cool website totally dedicated to analyzing and showing baby name trends. They have pretty interesting stuff like, how baby names ending with -lie (charlie, willie, ellie etc.) fared from […]
Continue »
Here is a quick round up of excel posts from few of the awe some blogs around the web: At PTS Blog, Jon provides excellent tutorial on adding target lines to your bar charts to show target vs. actual performance. He has several other tweaks for your category axis as well, just read the other […]
Continue »
Starting this week I will post cool infographics from around the web, 4-5 of them a week to inspire , to give more ideas on presenting information and to provide some eye candy for awesome readers @ Pointy Haired Dilbert. Go ahead, click through these awesome graphics: California Walkability Score Heat Map Lee Byron took […]
Continue »
We have been debating whether or not to buy iPhone. For one, we are not on any cellular contract and free to go. But the sheer cost of $400 one time (one for my wife and one of me) and a monthly bill of ~ $150 is holding us back. Our current mobile bill is […]
Continue »
Here is an inspirational read on Richard Feynman. Have you ever noticed that almost all the great people are humble and fun loving. It just amazes me whenever I read or know about these great people who solved world problems with a smile on their face and yet remained so down to earth.
Continue »