During one my recent training programs, a participant asked an interesting question.
I have a list of values. I would like to place a hyperlink in my workbook that would always take me to the last value in the list.
Something like this,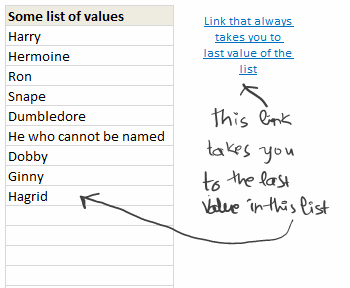 Now, we all know that you can use HYPERLINK() function to create a hyperlink in Excel. Here is a detailed tutorial on hyperlinks in Excel.
But, how do we make the hyperlink dynamic?
Very simple, we just count how many values our list has and then link to the last cell's address accordingly. See this video tutorial to understand how you can do it.
Dynamic Hyperlinks in Excel – Video Tutorial
Watch this video on Chandoo.org Youtube Channel
Download Example Workbook on Dynamic Hyperlinks
Click here to download this example workbook. Play with it to understand how this technique works.
Do you use Hyperlinks? Share your tips
I use hyperlinks in my Excel workbooks all the time. They are easy to create and they make my workbooks more accessible. Adding a hyperlink is the easiest way to impress your audience.
What about you? Do you use hyperlinks? What are your favorite uses / tips? Please share using comments.
More Tutorials on Hyperlinks in Excel
Check out these tutorials to learn more about Hyperlinks in Excel
PS: that is my hand-writing in the image above. I bought Genius Slim Tablet
on my way back from Singapore. So I am playing with it.