All articles with 'Excel 101' Tag
Podcast: Play in new window | Download
Subscribe: Apple Podcasts | Android | RSS
This is going to be epic!!! In the 50th session of Chandoo.org podcast, we have 50 Excel tips to make you awesome.
What is in this session?
In this podcast,
Thank you message
Fifty tips in 5 buckets

Shortcuts & Productivity
Formulas
Managing Data
Charts
Using Excel better
Continue »
Let's keep this simple & short.
Whenever you are editing cells or formulas, the usual sequence is like this:
Double click on the cell you want to edit
For existing cells: Go to the left most / right most part and start typing
For blank cells: start typing right away
Here is a faster sequence:
Read on…
Continue »
Podcast: Play in new window | Download
Subscribe: Apple Podcasts | Android | RSS
In the 43rd session of Chandoo.org podcast, let's talk about top time saving features of Excel.
What is in this session?
In this podcast,
Quick announcement about Awesome August
My 9 favorite time saving features of Excel
Remove Duplicates
Tables
Pivot Tables
Auto fill
Format Painter
Find & Replace
VBA / Macro Recorder
Auto save
Auto complete / Intellisence
Recap & Conclusions
Continue »
Here is a very simple but effective tip: use print areas. Oh.. but what is a print area? Imagine looking at a report or dashboard worksheet. Now, that sheet also has few calculations, some extra stuff to the right of the report. When you print, you don't need those extra elements. Just the report will do. This […]
Continue »
To make friends in a new town hit the bars – Old saying.
To make sense of a new data-set, make bar charts – New saying.
Bar charts (or column charts if you like your data straight up) are vital in data analysis. They are easy to make. But one problem. By default, a bar chart show the original data in reverse order.
See the above example.
Unfortunately, we humans read from top to bottom, not the other way around.
Continue »
Podcast: Play in new window | Download
Subscribe: Apple Podcasts | Android | RSS
In the 41st session of Chandoo.org podcast, Let's take a trip to data hell and meet 6 ugly, clumsy, confusing charts. I am revisiting a classic Chandoo.org article – 6 Charts you will see in hell.
What is in this session?
In this podcast,
Quick announcement about Awesome August
6 charts you should avoid
3D charts
Pie / donut charts with too many slices
Too much data
Over formatting
Complex charts
Charts that don't tell a story
Conclusions
Continue »
A significant portion of our time in Excel is spent navigating between various ribbon tabs and clicking buttons. Wouldn't it be better if you can combine all the frequently used features in to one ribbon? Something like above:
Read on to learn how to create, edit and share custom ribbons in Excel.
Continue »
Excel has many powerful & time-saving features. Even by Excel's standard, Flash Fill is magical. Introduced in 2013, Flash Fill is a rule engine to Excel's fill logic. Every time you type something in a cell, Excel will try to guess the pattern and offers to fill up the rest of cells for you. That is some serious time saving magic.
Let's understand what Flash Fill is and few sample use cases.
Continue »
Analyst's life is busy. We have to gather data, clean it up, analyze it, dig the stories buried in it, present them, convince our bosses about the truth, gather more evidence, run tests, simulations or scenarios, share more insights, grab a cup of coffee and start all over again with a different problem.
So today let me share with you 25 shortcuts, productivity hacks and tricks to help you be even more awesome.
Continue »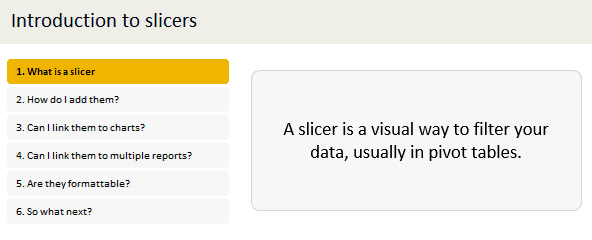 Slicers are one of my favorite feature in Excel. And here is a quick demo to show why they are my favorite.
Slicers – what are they?
Slicers are visual filters. Using a slicer, you can filter your data (or pivot table, pivot chart) by clicking on the type of data you want.
For example, let's say you are looking at sales by customer profession in a pivot report. And you want to see how the sales are for a particular region. There are 2 options for you do drill down to an individual region level.
Add region as report filter and filter for the region you want.
Add a slicer on region and click on the region you want.
With a report filter (or any other filter), you will have to click several times to pick one store. With slicers, it is a matter of simple click.
Read more to learn all about slicers
Continue »
Here is a fun way to use Paste Special to quickly multiply everything in a range with 1.1 (why 1.1? Well, imagine you have a report with everything in US $s and your boss wants to see the numbers in Australian $s…)
Since your report has different formulas for each cell, you can't multiply first cell with a rate variable and drag it down. You have to manually edit each formula and add *rate at the end of it.
Oh wait…, you can use Paste Special.
Continue »
Here is a fairly annoying problem.
Imagine a chart showing both sales & customer data. Sales numbers are large and customer numbers are small. So when you make a chart with both of these, selecting the smaller series (customers) becomes very difficult.
In such cases, you can use arrow keys – as shown above.
Continue »
True story:
On Friday (17th April – 2015), I flew from Vizag (my town) to Hyderabad so that I can catch a flight to San Francisco to attend a conference. As I had 10 hours of overlay between the flights in Hyderabad, I checked in to a lounge area so that I can watch some sports, eat food while pretending to do work on my laptop. There was a gentleman sitting in adjacent space doing some work in Excel. As I began to compose few emails, the gentleman in next sitting space asked me what I do for living. Our conversation went like this.
Me: I run a software company
He: Oh, so you must be good with computers
Me: smiles and cringes at the stereotyping
He: What is the formula to select all the blank cells in my Excel data and highlight them in Yellow color
Mind you, he had no idea that I work in Excel. We were 2 random guys in airport lounge watching sports and eating miserable food.
Me: Well, what are you trying to do?
He: You see, I am auditing this data. I need to locate all the blank rows and set them in different color so that my staff can fill up missing information. Right now, I am selecting one row at a time and filling the colors. Is there a one step solution to this problem?
Needless to say, I showed him how to do it faster, which led to an interesting 3 hours at the lounge.
End of true story.
So today, let's understand how to find & highlight all the blank cells in the data.
Continue »

A lot of analysts swear strong allegiance to keyboard shortcuts. But when it comes to formatting a spreadsheet, these shortcuts go for a toss as formatting is a mouse-heavy activity.
But we can use a few simple & effective shortcuts to zip through various day to day formatting tasks. Let me share my favorite formatting shortcuts.
Continue »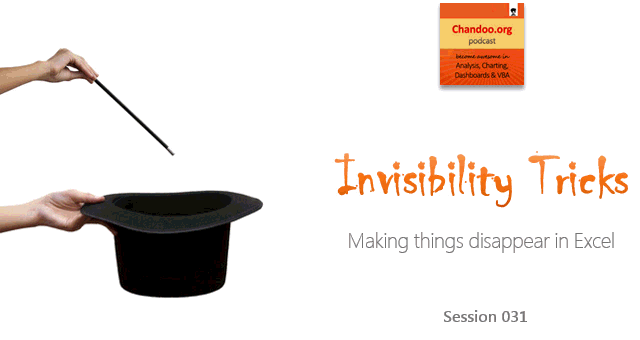 Podcast: Play in new window | Download
Subscribe: Apple Podcasts | Android | RSS
In the 31st session of Chandoo.org podcast, let's disappear.
What is in this session?
Spreadsheets are complex things. They have outputs, calculation tabs, inputs, VBA code, from controls, charts, pivot tables and occasional picture of hello kitty. But when it comes to making a workbook production ready, you may want to hide away few things so it looks tidy.
That is our topic for this podcast session.
In this podcast, you will learn
Quick announcements first anniversary of our podcast etc.
Hiding cells, rows, columns & sheets
Hiding chart data points
On/off effect with form controls, conditional formatting
Making objects, charts, pictures disappear
Disabling grid-lines, formula bar & headings
Hiding things in print
Continue »