In the second session of Chandoo.org Podcast, We will be learning how to use 5 Excel lookup functions.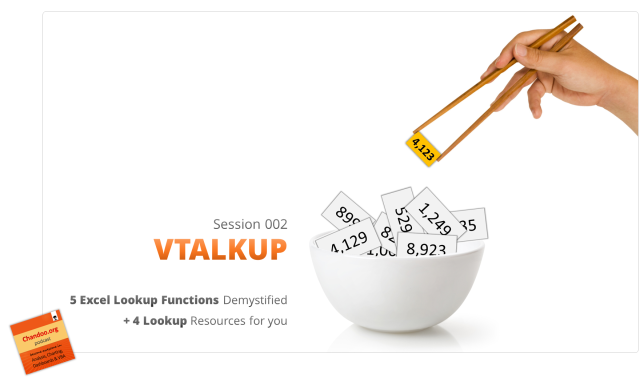 Good News – We are on iTunes and more
Before we proceed with the show, let me share few very happy news with you all.
Chandoo.org Podcast is on iTunes. What more, we are

featured in New & Noteworthy section

too. Click here to subscribe.
Our show is on Stitcher and Windows Phone Podcasts too: Click here to subscribe on Stitcher. For Windows phone, search your podcasts app for our show.
As always, you can get latest episodes, show notes & resources from our Podcast page.
What is in this session?
In this session, we tackle one of the most important areas of Excel. The lookup functions.
You will learn,
Why lookup functions are necessary
5 Important lookup functions in Excel – VLOOKUP, HLOOKUP, LOOKUP, MATCH & INDEX
When & how to use each of these 5 functions?
Extreme scenarios:

What happens when the value you are looking up is not there?
What if too many items match the lookup value?
What if you have too many conditions in the lookup criteria?

Using IFERROR function
Re-cap of the new powers you acquired
4 Resources for you to learn lookup functions better
Go ahead and listen to the show.
Podcast: Play in new window | Download

Subscribe: RSS
Links & Resources mentioned in this session:
4 Resources to learn lookup functions:
Example workbook for this podcast:
Click here to download example workbook to play with the ideas mentioned in this podcast.
Other formulas and links mentioned in this podcast:
Special gift for you:
Listen to this session to unlock a special gift for you.
Transcript of this session:
Download session transcript [PDF]
Thanks to Jordan
I almost forgot. Special thanks to Jordan (@SpikingWhamos) for suggesting VTALKUP as a name.
If you enjoy the podcast…,
Please do these 2 things. It means a lot me & our community.
Please leave an honest review on iTunes by clicking here.. It will help the show & its rankings immensely. Thank you so much.
Now its your turn to talk
Do you use lookup formulas in Excel? What do you use them for? Where do you struggle? What new things have you learned about them thru this podcast? Please share your views, suggestions, questions and tips in the comments area below.