All articles with 'templates' Tag
We recently went on a road trip around parts of New Zealand's north island. We have been to Taupo, Rotorua, East Cape and Napier. It took us 2 weeks, we drove more than 2,000 km and spent almost NZ $3,000 on the trip. Of course, being a data nerd, I made a plan of the trip in Excel and that helped us budget for this.
After getting back to home, I thought it would be fun to polish the planner workbook and share it with you all so you too can plan a fabulous road trip. So here we go.
Continue »
Funnel charts are useful to visualize sales & marketing performance. In this brief video, let's understand how to make a quick funnel chart in Excel.
Read on to learn how to make funnel charts & to download a template for your funnel analysis needs.
Continue »
Here is an awesome planner template to help you manage activities over a month. It is useful for charity drives, activity planning, school schedules, marketing initiatives, project planning etc.
Read on to download a copy of the template & learn how to use it.
Continue »
The idea of mail merge is simple & powerful. Imagine you handle recruitment at a large company. You just hired 300 analysts for the big data division. The next job – generate employment offer letters for each of them. Of course, you don't want to type these letters one at a time. You have the details of all the 300 offers (name, email, address, offer code, role, benefit package details and date of joining etc.) in a spreadsheet. You also have a template of the offer letter.
Enter mail merge. This powerful feature of MS Word combines (Excel) data with Word document contents to generate all the 300 letters in just few minutes.
Continue »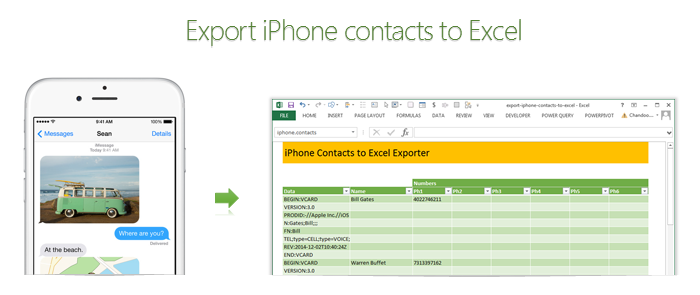 Recently my iPhone 4 crashed. It is 3.5 years old. And just like any other 3 year old, it started acting weird & crazy one night. The next morning it went silent. It won't go beyond the Apple logo whenever I start it. Since I couldn't wait for the phone to start, I took out the SIM card (the phone is unlocked, if you are wondering) and placed it in my old Nokia phone. But alas, none of my contacts are on the SIM. They are in "cloud".
After a day of answering phone calls from everyone including my mom as "Chandoo here", I've decided to get my contacts back. So I logged in to iCloud to download a backup. And the backup was a .VCF file.
Since I wanted to have all my contact numbers in a spreadsheet, I did what any Excel nerd would do. I built a template that can convert VCF data to Excel worksheet.
Continue »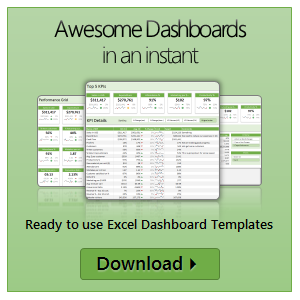 Friends and readers of Chandoo.org, my newest download, Excel Dashboard Templates are available for your consideration. Click here if you are ready to get them. Read on to know more.
What are Excel Dashboard Templates?
As the name suggests, these are ready to use Excel templates for creating awesome, informative, easy to understand & quick dashboards with your data. You just enter your data, set up few calculation options, decide how your dashboard should look & bingo, a beautiful & insightful dashboard will be created for you. These dashboards are optimized to look great, convey key information & prompt correct action.
Who should buy these templates?
Analysts, managers, reporting professionals, business owners & executives. These templates are designed to help anyone preparing Excel based dashboards, scorecards or KPI reports.
Benefits for you
Design awesome dashboards in minutes, not months: Don't waste hours trying to figure out formulas, chart settings and layouts. Instead focus on what your users want, how your business works and use those insights to tell the 'Excel Dashboard Template' what you want. Save time and look awesome.
Accommodate change elegantly: People change. Businesses change. What your boss wanted last month is no longer what she wants today. So when someone asks you, "hmm, can you show me YTD data instead of last 13 months", or "Can I see top 10 KPIs instead of all", you just smile and tap a few clicks and bingo, the new dashboard will be ready. These templates are designed to handle change (data, requirements, design preferences and insights).
Beautiful & Informative: These templates are designed with a delicate balance of beauty & insight. Everything is seamlessly designed, perfectly aligned and precisely calculated so that you & your boss can focus on the insights & decisions. Time tested and well honored visualization principles & guidelines are observed thru-out the reports.
Built for starters, built for pros: Whether you are just starting with Excel or a seasoned pro, you can find the templates right up your alley. For advanced users, we have many customizations to whet your appetite. Want to build a custom calculation or include another type of sorting, you can do it by tinkering with 'calculations' sheet.
Continue »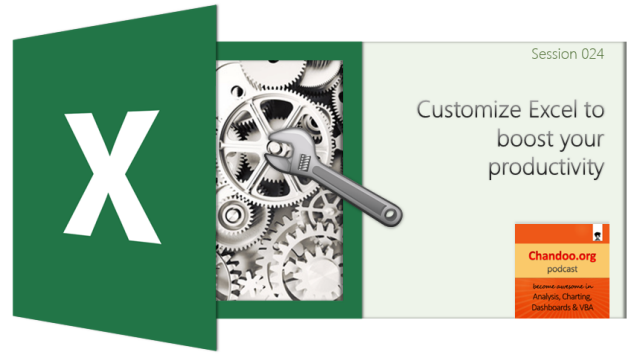 Podcast: Play in new window | Download
Subscribe: Apple Podcasts | Android | RSS
In the 24th session of Chandoo.org podcast, let's customize Excel so we become productive.
What is in this session?
Each of us use Excel in our own way. And yet, we all end up using the same Excel. That's not fair. Shouldn't the Excel of an accountant be different from Excel of a teacher?
In this podcast, lets understand some of the powerful & useful ways to customize Excel so that we can do our work better. Tune in only if you are serious about productivity.
You can get Excel Customization Handbook free. Listen to the podcast for instructions.
In this podcast, you will learn,
Announcements
Why customize Excel?
Customization options:

Excel Options
Quick Access Toolbar
Excel Ribbon
File menu / back stage view
Themes, styles & templates
Personal Macros

Closing thoughts & Bonus give away instructions
Continue »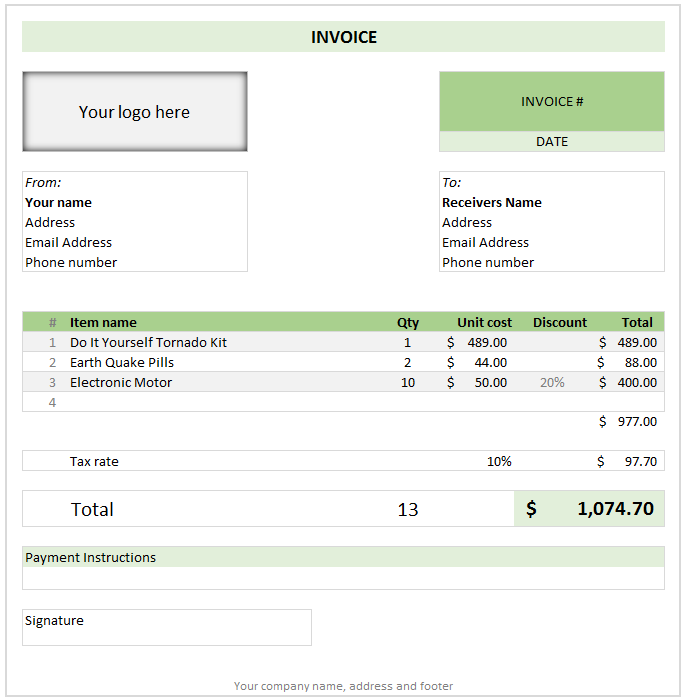 Anyone running a small business knows the oozing bits of joy when you hear a customer saying, "Can you send me an invoice?"
While creating an invoice is an easy task, if you want something that is professional looking, easy to manage and works well, then you are stuck.
That is where Excel really shines. By using an invoice template, you can quickly create and send invoices.
Today I want to share one such template with you all. Why? Because we are awesome like that.
Continue »
Here is a New year gift to all our readers – free 2014 Excel Calendar & daily planner Template.
This calender has,
One page full calendar with notes, in 4 different color schemes
Daily event planner & tracker
1 Mini calendar
Monthly calendar (prints to 12 pages)
Works for any year, just change year in Full tab.
Continue »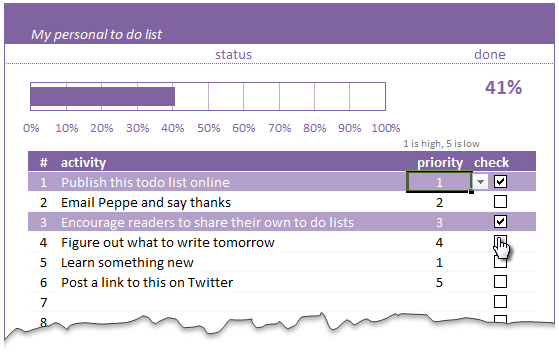 A while ago, we published a new year resolution template. This was a hit with our reader with thousands of you downloading it. During last week, Peppe, one of our readers from Italy, took this template and made it even more awesome.
The original template had tasks and completion check mark. As you finish each task, you can see the progress bar moving.
Peppe added priorities to this. With his new version, progress is measured based on how much priority we assigned that particular task. Pretty neat eh?!?
Continue »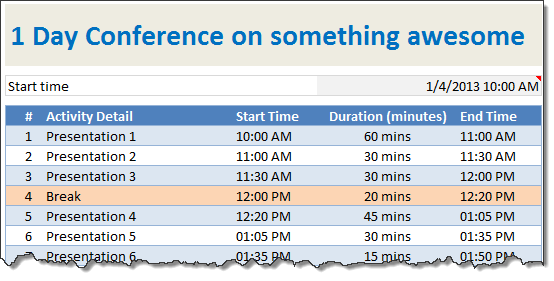 When planning a meeting, an event or activity, we deal with many individual steps (each taking certain amount of time). Today let us understand how to create an agenda template in Excel using simple formulas.
Continue »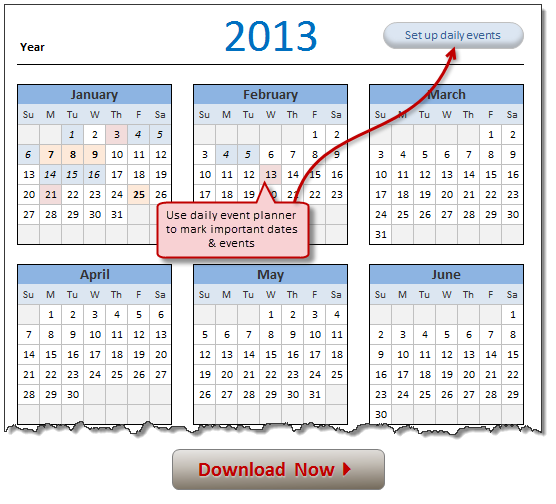 Here is a New year gift to all our readers – free 2013 Excel Calendar Template.
This calender has,
One page full calendar with notes, in 4 different color schemes
Daily event planner & tracker
1 Mini calendar
Monthly calendar (prints to 12 pages)
Works for any year, just change year in Full tab.
Continue »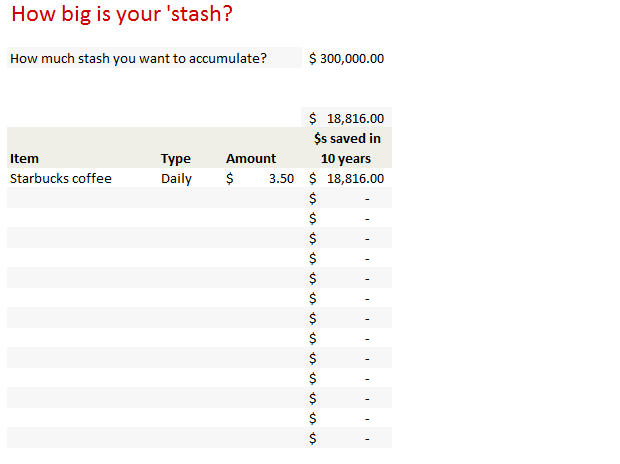 Mustache and Excel?!? Sounds as unlikely as 3D pie charts & Peltier. But I have a story to tell. So grab a cup of coffee and follow me.
Today, lets talk about how to construct a dynamic chart that can show us how much progress we have made against a financial goal (in this case, accumulating a big chunk of money). I call this growing mustache chart, inspired from the wonderful Mr. Money Mustache.
Continue »

During a recent training program, one of the students asked,
Thermo-meter chart is very good to show how actual value compares with target (or budget). But how can we add another point for say Last Year value to the chart with out cluttering it.
Something like above.
Sounds interesting? Read on
Continue »
Here is a new year gift to all our readers – free 2012 Excel Calendar Template.
This calender has,
» One page full calendar with notes, in 4 different color schemes
» 1 Mini calendar
» Monthly calendar (prints to 12 pages)
» Works for any year, just change year in Full tab.
Go ahead and download the FREE 2012 Calendar and Enjoy.
Continue »