Archive for February, 2011
Have you ever jumped back to normal view from print preview and noticed the annoying page break lines? They look distracting. They are like a naughty kid shouting for attention. look at me!!! How do we get rid of those lines after completing our business with print preview?!? Very simple. We just copy everything, press […]
Continue »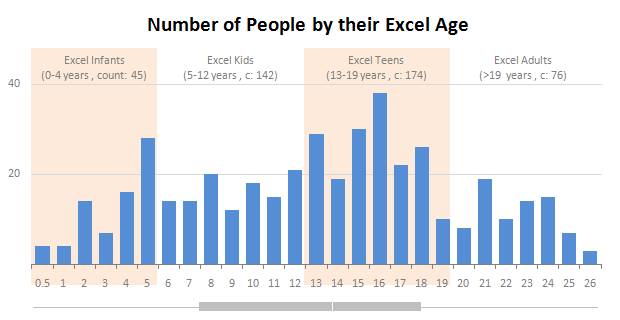 Our of curiosity and fun I asked you "how long have you been using Excel?". I was overwhelmed by the response we got to this simple question. More than 437 people responded with their comments, stories and enthusiastic responses. Thank you so much.
It would taken me more time to make the charts and understand the data. But thanks to Hui, who volunteered to tabulate all the survey data in a simple CSV.
Shown above is a chart I came up with based on the data. Read the rest of the post to understand the survey results and view more charts. Also, you can download the excel workbooks and original data set to play.
Continue »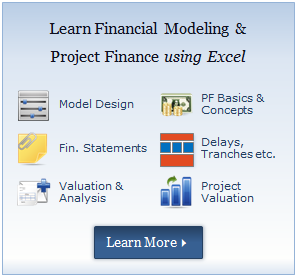 Hi my friends & readers of chandoo.org,
I have an exciting news for you. We have just opened the doors for our financial modeling course.
Please click here to learn more about the program & join.
What is Financial Modeling School?
This is an online training program for financial modeling, project finance modeling. I have partnered with Pristine Education, a company in India that specializes in Financial Modeling training to conduct this program.
This program is aimed at investment bankers, financial analysts, commercial bankers, equity research associates, project managers, sponsors, real estate project managers etc. to help them understand the nuances of project finance, financial modeling and create complex financial models using MS Excel.
Read rest of this post to learn more about the program.
Continue »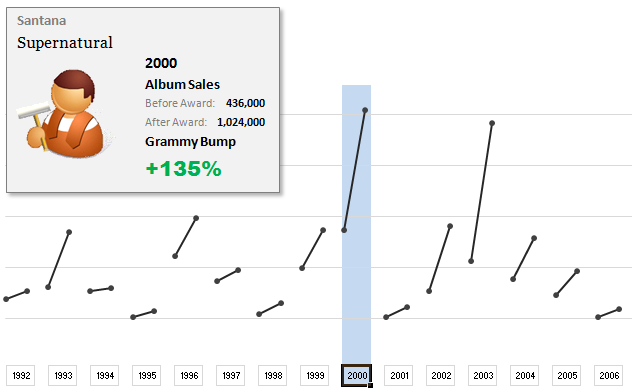 The folks at Washington Post made an interesting chart to understand whether winning a Grammy award makes any difference to album sales. Go ahead and browse it if you have not already seen it. Go, I will wait.
Are you impressed?
I really liked this chart. This is what I liked about the chart,
It tells a story.
It is an ego chart. We would all instantly search for our favorite artists and learn about how Grammy award changed their album sales.
It is a simple chart. No clutter, no gaudy colors, just a bunch of lines and the story is out there.
It lets you play.
In fact, I liked the chart so much that I wanted to make it in Excel.. You can see a snapshot of what I came up with above. Read the rest of this article to learn more.
Continue »
We are opening Financial Modeling School for 2nd batch of classes on 23rd February. It feels very exciting to re-run this successful program. I want to share a few details about the program so that those of you interested to join can know more about it.
Please read this short post to learn 10 things about the financial modeling school program.
Continue »
Transferring data regularly between Excel and Word for the production of Word based forms or reports cab be tedious if it involves much more than a few numbers.
This post looks at a technique for automating this process.
Continue »

In the second part of our series on project finance using Excel, Paramdeep tells us how to model "interest during construction" in real estate and construction type of projects. We take a case of hospital construction and learn how to calculate the IDC using circular references.
You can also download both blank and completed model so that you can test the skills.
Continue »
Lets say you have some data in 2 columns and you want to compare row by row to spot the differences. Of course you can write a formula or apply conditional formatting. But there is a quick and dirty solution that works just as fine.
Continue »
This week's poll is dead simple. Just tell me since how many years you are using Excel. I will go first: I have first started using Excel in year 2003 to keep track of my MBA entrance exam preparation. It helped me a lot in recording practice test scores, listing all the mistakes I made […]
Continue »
It is not too sunny here, but I am going to put on my business man hat. At the end of each month, I ask myself if my business (chandoo.org that is) has performed better or worse. One simple way is to look at previous month's numbers and then I know how good the latest […]
Continue »
This is a guest post written by Paramdeep from Pristine. Chandoo.org runs Financial Modeling School program in partnership with Pristine Careers. Visit Financial Modeling School to learn more and sign-up for our newsletter.
Greetings!
It's been long time since we interacted on Chandoo.org. Actually I was very busy teaching the 105 awesome students for financial modeling in Excel. We all worked together to create some easy and some complex financial models. I found the journey to be quite exciting and enriching (From the feedback that I got, my students too didn't find it bad either 😉 )
During the interaction, I found that a lot of students were looking for financial modeling around the project financing as well. So we thought why not introduce financial modeling for project finance.
In this post I will speak about some of the key aspects of a project finance model and why it can be different from modeling a normal company.
Continue »
Last week we saw a really cool holiday request form made by Theodor. This week, we will learn how to combine conditional formatting and data validation to create an awesome data entry form. First see a demo to understand what I mean: How to create such a data entry form? Very simple, just grab a […]
Continue »
Sometime in November, I got an interesting E-mail from a gentleman named Guru. The title said "Excel Workshop in Maldives". In the email, Guru introduced himself and asked me if I can come to Maldives to conduct few Excel workshops for companies and individuals.
I usually neglect such mails as many times the actual training (or big consulting assignment etc.) will not happen. So I replied to him giving my number and asked him to call me. I was surprised to receive his call. After talking awhile, it was clear that Guru is tenacious and would not take No for an answer.
So we set things in motion and thanks to Guru's perseverance, I ended up boarding a flight to Male on 22nd of January. This is a story of what happened next…,
Continue »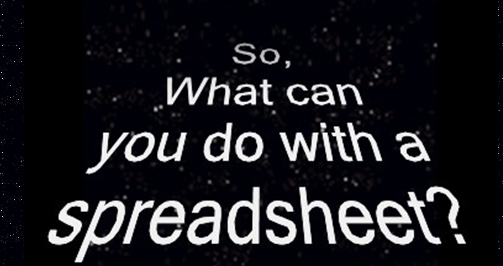 Way back in November, I received this email from Tom, a senior researcher at the Center for Learning Innovation in Australia.
I've been developing & have published spreadsheet applications for teachers for some time now. In particular, I have animations, adventure scenarios etc that can be used to create games for the classroom. I need to promote these so teachers eventually try these and use them. … Perhaps you could post some of these on your site.
What a noble cause, I thought. So I wrote back to him and invited him to share his files along with a guest article. Tom acted quick and emailed me his article and Excel workbooks by Thanksgiving day. I was too lazy and got lost in the flow of things. But now, I am very very glad to feature his work.
There are so many valuable tricks, ideas and powerful concepts buried in his workbook. I encourage everyone to play with his file (you need to enable macros) so that you can learn a thing or two. If you are a teacher, feel free to use the files to make your classroom teaching even more awesome.
Continue »
This is a guest article by Matt, who works as a Business Analyst with allrecipes.com. He shares with us how he is using Excel to become a rockstar business analyst. In his own words,
"At Allrecipes.com we use excel for a variety of purposes. Analyzing site trends, forecasting traffic, charts, dashboards, and slide shows; you name it, we use excel for it. That's why Chandoo's tips have been so helpful – because we use excel every day. Thanks to chandoo.org, I've developed a reputation as an "excel wizard" and even taught a 4 week excel training class!"
Continue »