The folks at Washington Post made an interesting chart to understand whether winning a Grammy award makes any difference to album sales. Go ahead and browse it if you have not already seen it. Go, I will wait.
Are you impressed?
I really liked this chart. This is what I liked about the chart,
It tells a story. [why charts should tell a story]
It is an ego chart. We would all instantly search for our favorite artists and learn about how Grammy award changed their album sales.
It is a simple chart. No clutter, no gaudy colors, just a bunch of lines and the story is out there.
It lets you play. You can hover your most over an artist to see their sales before and after the award, and how much % bump they got.
In fact, I liked the chart so much that I wanted to make it in Excel.
Here is what I came up with: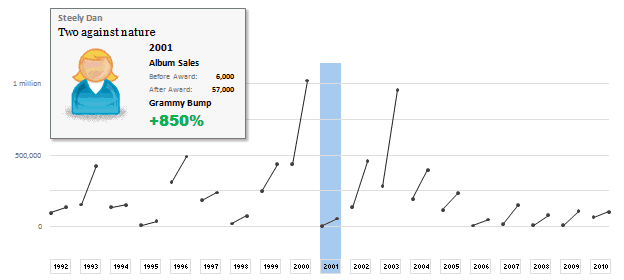 How does the chart work?
1. Data for the chart: The Washington Post guys did not give any details about the source of data. So I manually typed the data myself by looking at their chart. It took a few minutes. But totally worth it. I put the data in 5 columns – Year, Artist, Album, Before and After sales.
2. The chart: The chart is an XY Scatter plot. I took numbers from 0 to 37 (there is a total of 19 years of data – from 1992 to 2010. Each year has 2 data points – before and after). For even numbers I used the before sales and odd numbers I used the after sales. For this I wrote simple INDEX formula with a bit of MOD(). Again, nothing too fancy.
3. Getting the gaps in the chart:
This is the tricky part. By default, if you have 4 points (0,98000),(1,135000), (2,155000), (3, 427000) in the XY Scatter plot, Excel will draw a line connecting all 4. But we want to have a gap between first 2 points and second 2 points. How?!?
Thankfully, there is a simple workaround. You can insert blank rows between 2nd and 3rd row of your data and instantly you will see a gap in the chart. Repeat the same for remaining 18 points.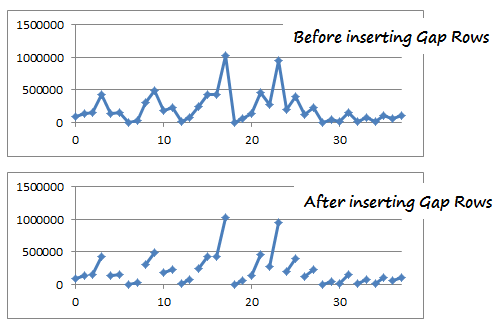 4. Year Selection & Highlighting
This is done using conditional formatting & Worksheet_SelectionChange Event Macro. First, I wrote a simple macro that would change the named range valSelectedYear to the selected year. The code is very simple. You can examine it in the download file.
Then, I used the valSelectedYear to drive the conditional formatting that would fill blue color across the column. As you can guess, the chart is transparent (ie no fill color for both chart area and plot area). So whatever color the cells beneath the chart have, they will show up in the chart too.
5. Creating the Dynamic Legend:
Here I have used picture links to fetch the artist image dynamically. (well, I was too lazy to download the actual images of Nora Jones and U2 etc. So I just used clip art).
Then, I used text boxes to make the dynamic legend, same as the technique demonstrated in smart chart legends & excel product catalog articles.
6. Formatting and aligning everything:
Once the basic setup is ready, I just moved and re-arranged the chart, legend box etc. so that everything looks right.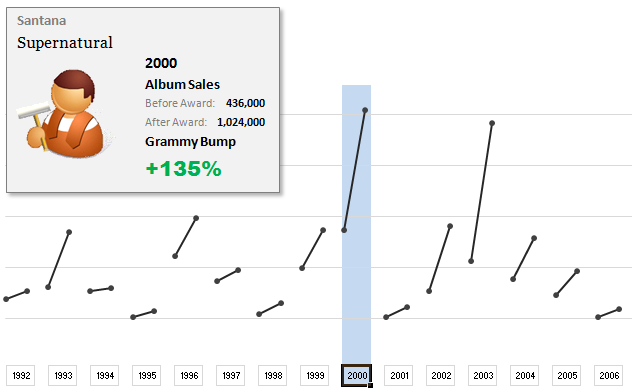 Download the Chart Workbook:
Click here to download the workbook in Excel 2007 format.
(click here to download the file in Excel 2003 format. I have not tested this, but it should work alright)
Mirror location for the files.
Please note that you must enable macros to select years.
Recommended Reading to make charts like these
How would you have made this chart?
I liked the original chart design and interactivity provided by Washington Post people. So I closely mimicked the same my Excel chart. But you may want to visualize the same data in a different way. So go ahead and download the workbook. It has data (hidden in columns A thru G). Play with it and make your own chart. Post them in comments.
I would love to see how you would have visualized the same information. Especially this type of data has a lot of relevance in business situations, so it would be fun to see your views and learn from each other. Go ahead and chip in.
Thanks to Washington post for the chart. Hat tip to Flowing Data for the link.