Archive for October, 2010
This is a fun and quick poll.
I want to know what is the maximum number of cells you can see when you open Excel. Do this:
Open Excel, Maximize the window if it is not.
Just tell me the bottom right cell that you can see completely.
Go have a good weekend 🙂
Continue »
I like to leave certain error messages in place because they can show you what your data is doing, but they look horrible when you print out reports. This will show you an alternative method for dealing with error messages.
Continue »
I have a quick announcement for you.
As you may know, I am running an Online Financial Modeling Training Program called as Financial Modeling School in collaboration with Pristine Education. We have opened registrations for first batch of this program on October 18th. Thank you very much for supporting this program wildly. In a few hours, I will be closing the registrations for Financial Modeling School.
Click here to sign up for Financial Modeling School
Continue »
Learn how to create a birthday reminder worksheet in excel in this video post. You can also download a template to keep track of upcoming birthdays and anniversaries.
Continue »
Analyzing competition is one of the key aspects of running a business. In this article, learn how to use Excel's scatter plots to understand competition, like shown aside.
The inspiration for this comes from a recent article on Asymco analyzing mobile handset market (Apple iPhone, Nokia etc.) and how it has changed since 2007.
Read the rest of the post to learn how to create this type of chart in excel. Also, you can download the chart template. Go ahead.
Continue »
Lets keep this quick and short, As some of you may know, There is a mega IPO (initial public offering) going on in India these days. It is for a company called Coal India Ltd. So my partners at Pristine Education thought, it would be cool to build a financial model analyzing the IPO. Click […]
Continue »
First some personal matters. Today I am celebrating my 28th birthday. The last one year has been very good for us. We have been very busy parenting 2 hilarious and naughty twins, I moved back to India, quit my job and started a company. My business became a mild success crossing $100k revenues in 12 […]
Continue »
Today I want to introduce a new excel feature to you, called as Picture link.
Well, picture links are not really new, they are called as camera snapshots in earlier versions. They provide a live snapshot of a range of cells to you in an image. So that you can move the image, resize it, position it wherever you want and when the source cells change, the picture gets updated, immediately.
Continue »
Do you ever think about questions like this?
1) What is the maximum profit we can make?
2) What is the best way to schedule employees in shifts?
3) What the best combination of tasks we can finish in a given time?
You might have heard about Excel Solver tool while trying to find solutions to questions above. If you have never used Solver or have little idea about it, then this post and video are for you.
Continue »
Financial modeling is a no catwalk. You can not look pretty, wear ridiculous outfits and expect to find if a project is worth investing money in. That is why I am very happy to announce Financial Modeling School.
Please read this short post to learn more about the program.
Continue »
Often, we need to input special symbols like €£¥©½» in to our Excel sheets. Now, how do we do that? Simple, you can use Insert > Symbol to add several different kinds of symbols. See this animation to understand how you can add symbols to an excel cell. (the file is kind of big, so […]
Continue »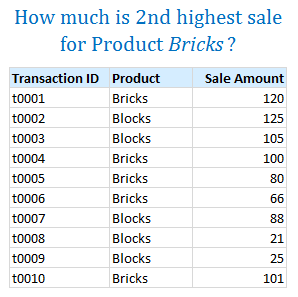 Excel Array Formulas have subtle beauty and raw power. Today I want to share how you can use Excel Array Formulas to find-out the 2nd largest sale amount corresponding to a particular product.
Lets say you have sales data like this:
Now, we all know that, to get 2nd largest sale amount, we can use the LARGE() formula. Like this: =LARGE(RANGE,2)
But, how do we know what is the 2nd largest sale amount for the product "bricks"?
Continue »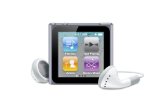 Hello Folks.
I have a rather bad news for you. My internet service provider (TATA Photon) has mysteriously blocked chandoo.org. My site hasn't been loading since Sunday. While, I know it is up and running, I cannot see it unless I go thru a proxy server.
It may take a few days to get this resolved. I am using this time to take a break from blogging and finish reading a few books.
But I have a contest for you that will keep you busy. Share your favorite VLOOKUP tip / trick and you can win an iPod Nano. Read more for rules & how to participate.
Continue »
I have a happy news to share with you!!! For the first time since starting this website, we got 500,000 + page views in the month of September 2010. Half-a-million! Thank you so much. To put this in context, in Sept 2009, we got 245,000 views. Traffic grew by more than 100% in last 12 […]
Continue »