All articles in 'Learn Excel' Category
It is almost weekend. Today we (Jo and I) are going to watch a cricket match being played in Vizag. We are pretty excited as this is the first time we are watching a match in stadium. So, let keep this light and fun. I want to know What is one area of Excel you […]
Continue »
Maintenance on the 18 month old, Data Tables, Monte-Carlo Simulations and Fractals in Excel – A Comprehensive Guide has been completed.
Continue »
Last year, Steven shared a beautiful Christmas Gift List template with all of us. It is packed with lots of Excel goodness. Just a few days ago, he emailed me another copy of his file with some improvements. So if you are planning for Christmas shopping and want a handy tracker, you don't want to miss this.
Continue »
Today we publish what is hopefully the First of many posts by guest author Luke M. it is also the Third post in the Formula Forensics series, which has now moved to a regular and new Thursday slot ?
Luke has taken up Hui's and 3G's challenge of explaining how the technique he regularly uses on the Chandoo.org Forums for extracting individual records out of a group.
Today Luke tells us how to extract a list of items from a larger list according to some criteria.
Continue »
While I was away, Hui did a splendid job of starting a new series called Formula Forensics. The idea is to break down formulas for difficult real-world problems so that we can understand them better. In that spirit, I am giving you an interesting and tough formula homework. Situation: Imagine you work for Large Fries […]
Continue »
This post examines a quick technique for developing Custom Number Formats for Cells, Charts or any other Number location in Excel.
Continue »
Chandoo is off on Holidays and once again thrown me the keys to Chandoo.org.
So this week we're going to:
Pull apart an Array Formula and see what's under the hood;
Have a look at a technique for quickly developing Custom Number Formats &
Look at how we can use HTML Codes in posts at Chandoo.org to spice up your questions and answers.
Today is Tarun's Problem
"I have got multiple names in each row and would like to have what name is repeated maximum number of times and how many times?"
Today we pull apart an answer to this question and see how it works.
Continue »
Comparison is one of the most common things we do with Excel. Naturally, there are so many ways to compare 2 lists of data using Excel.
Today, I want to share an interesting comparison problem with you.
Lets say you run a small shop which sells some highly specialized products. Now, since your products require quite some training before customers can buy them, you keep track of all product queries and arrange demos.
After a hectic week, you are staring at 2 lists. One with product queries, another with product demos. And you want to know whether all the queries are answered with a demo or not.
Continue »
Long time readers of Chandoo.org know that we have a regular featured called as "Excel Links", where I share some interesting Excel articles published around the web. This used to be a weekly feature, then became a monthly thing and later once a few months thing. As I had a hectic weekend, when I got […]
Continue »
Filtering is a simple yet powerful way to analyze data. When you apply filters to any list of values, Excel gives you some really useful pre-defined filters so that you can analyze the data in a variety of ways. So, assuming you have data like this: We all know how to filter data for Bananas. […]
Continue »
Lets just say, you run a nice little orange shop called, "Joe's Awesome Oranges". And being an Excel buff, you record the daily sales in to a workbook, in this format. After recording the sales for a couple of months, you got a refreshing idea, why not analyze the sales between any given 2 dates? […]
Continue »
Pivot Tables are an integral part of Excel based reports. So it is no surprise that many of create multiple pivot reports in one Excel workbook. So when the underlying data changes, we often spend time refreshing individual pivot tables. Today, I want to share a quick tip about how to refresh all pivot tables […]
Continue »
First a Quick Announcement: Our VBA Class enrollments will be closed this Friday (Sep 16). If you want to learn VBA & Excel, please consider joining our course. More than 120 students have already joined us in the second batch and are learning VBA as you read this. Click here to learn more about the VBA Classes and join us.
Moving on…,
As you may know, Chandoo.org offers quite a few Online Excel training programs. Over the last few weeks, many of you have emailed us and asked which training program is best for your situation. This got me thinking. "It should be easy for YOU to know what is best."
So today morning, I locked my office room and made a beautiful Excel workbook that asks you only 2 questions and tells you which training programs are best for you. Try it here.
Continue »
This article is part of our VBA Crash Course. Please read the rest of the articles in this series by clicking below links.
In the part 5 of our VBA Crash Course, let me share you my tips for mastering Excel VBA.
A warning before jumping in to the tips: I am not a VBA expert. I am a learner, just like you. I find VBA quite interesting language to learn and explore. These tips are based on what I have learned writing VBA (and VB code) in the last 12 years.
Continue »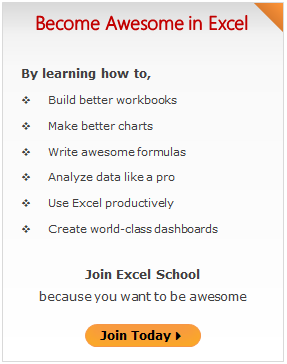 Hello lovelies,
We break the regular awesomeness on Excel & related beauty to bring you an important notice.
You may know that I run an online Excel & Dashboard training program, called as Excel School. We have been running this course since Jan 2009 and trained more than 1,500 students thru this so far. And starting next Monday (29 August), the course prices are going up.
So, if you are waiting to become awesome in Excel, now is your chance.
Click here to learn more about Excel School & Join us.
Continue »