All articles in 'Learn Excel' Category
This week's poll is dead simple. Just tell me since how many years you are using Excel. I will go first: I have first started using Excel in year 2003 to keep track of my MBA entrance exam preparation. It helped me a lot in recording practice test scores, listing all the mistakes I made […]
Continue »
It is not too sunny here, but I am going to put on my business man hat. At the end of each month, I ask myself if my business (chandoo.org that is) has performed better or worse. One simple way is to look at previous month's numbers and then I know how good the latest […]
Continue »
This is a guest post written by Paramdeep from Pristine. Chandoo.org runs Financial Modeling School program in partnership with Pristine Careers. Visit Financial Modeling School to learn more and sign-up for our newsletter.
Greetings!
It's been long time since we interacted on Chandoo.org. Actually I was very busy teaching the 105 awesome students for financial modeling in Excel. We all worked together to create some easy and some complex financial models. I found the journey to be quite exciting and enriching (From the feedback that I got, my students too didn't find it bad either
)
During the interaction, I found that a lot of students were looking for financial modeling around the project financing as well. So we thought why not introduce financial modeling for project finance.
In this post I will speak about some of the key aspects of a project finance model and why it can be different from modeling a normal company.
Continue »
Last week we saw a really cool holiday request form made by Theodor. This week, we will learn how to combine conditional formatting and data validation to create an awesome data entry form. First see a demo to understand what I mean: How to create such a data entry form? Very simple, just grab a […]
Continue »
Sometime in November, I got an interesting E-mail from a gentleman named Guru. The title said "Excel Workshop in Maldives". In the email, Guru introduced himself and asked me if I can come to Maldives to conduct few Excel workshops for companies and individuals.
I usually neglect such mails as many times the actual training (or big consulting assignment etc.) will not happen. So I replied to him giving my number and asked him to call me. I was surprised to receive his call. After talking awhile, it was clear that Guru is tenacious and would not take No for an answer.
So we set things in motion and thanks to Guru's perseverance, I ended up boarding a flight to Male on 22nd of January. This is a story of what happened next…,
Continue »
This is a guest article by Matt, who works as a Business Analyst with allrecipes.com. He shares with us how he is using Excel to become a rockstar business analyst. In his own words,
"At Allrecipes.com we use excel for a variety of purposes. Analyzing site trends, forecasting traffic, charts, dashboards, and slide shows; you name it, we use excel for it. That's why Chandoo's tips have been so helpful – because we use excel every day. Thanks to chandoo.org, I've developed a reputation as an "excel wizard" and even taught a 4 week excel training class!"
Continue »
Theodor, one of our readers, first emailed me in December asking a question. But he also made a promise to share some of his techniques with us thru Guest posts. Naturally, I was too happy and invited him to share a file or two so that I can use them for articles here.
Later during Christmas holidays, he sent me this beautiful Holiday Request Form made using Excel.
Continue »
In the final post of the Are You Trendy? series we will look at the use of Excel Charts and associated Trendlines for trend analysis and I will give you a free tool (Normally valued at $200, I wish) which will allow interactive assessment of a Charts Trendline Y value for any X value.
Continue »
Does your data hold hidden secrets?
In Part 2 of Are You Trendy? we will examine the Excel functions that assist us in Trend Analysis.
Continue »
Often you may have a set of data and need to know what an intermediate or future value of that data may be.
This week we will investigate 3 methods of tackling this problem using Excel.
In this post we'll look at manual forecasting.
Continue »
I have an exciting news & massive post for you.
Chandoo.org reaches 20,156 RSS Subscriber mark on Jan 19, 2011As of Jan 19, 2011, our little blog has registered our 20,000th RSS Subscriber. While this is not a huge achievement or anything, It certainly calls for celebration. I am so happy to see our mission to make people awesome in Excel is reaching out to more people everyday. Thank you.
To celebrate this milestone, I am doing a massive post with 220 Excel tips, tricks, tutorials & templates.
Formulas [52 tips]
Formatting & Conditional Formatting [36 tips]
Charting [60 tips]
Tables & Pivot Tables [15 tips]
Using Excel [47 tips]
Free Downloads [5 tips]
Recommended Resources [5 tips]
Continue »
Stage is almost set for my first international Excel workshop. That is right. I am doing a physical excel workshop on Intermediate & Advanced Excel at Maldives between January 23 and 27, 2011. I feel quite excited to do this.
While I derive immense pleasure and learn lots of new things by running Excel School, there is one nagging problem. It is an online program, so the scope of physical interaction with students is limited.
Doing a physical class is a great way to meet new people, gather material for new content, get ideas, learn new things and get challenged. And that is why I am looking forward to do my workshop in Maldives next week.
If you would like to join this workshop: Please call Mr. Guru Raj, Training Manager at IIPD, Malè. His number is +960 7625338. (Workshop agenda)
Because I will be busy with the workshop next week, I will not be able to post much on the blog. I have requested Hui, our guest author to keep you all engaged. So expect some delicious stuff from him while I am away.
Continue »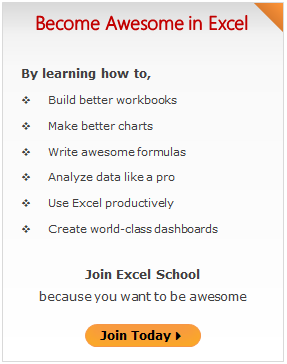 Friends & Readers of Chandoo.org, I am excited to announce that Excel School, my online excel & dashboard training program is now available for your consideration. Please take a minute to read this post.

What is Excel School & Who Should join?
Excel School an online Excel & Dashboards training program. It is designed to make you awesome by teaching formulas, charting, formatting, data analysis & dashboards.
If you use Excel everyday and find my site useful & helpful, then this is a perfect program for you.
I have trained more than 700 students in this program so far and many of them have benefited tremendously. I am hoping you too will benefit from Excel School.
If you want to join Excel School, click here.
Continue »
As you may know, I run an online Excel training program called as Excel School. So far, I have conducted 3 batches of Excel School training and now on January 12th I am opening registrations again for new students.
In this post, I am going to share few important details about the program and give 3 FREE lessons to you. Read on, if you are interested to learn Excel.
Continue »
Wish you a happy new year and Welcome back to Chandoo.org. So how did you celebrate the new year's eve? We put the kids to sleep early and partied till 1. Next day, we took them to a park. The kids loved grass, trees and ran like wind. What about you? As for the new […]
Continue »