All articles in 'Learn Excel' Category
The other day, while I was putting my kids to sleep, this idea came to me. How do I check if a cell contains a palindrome, using Excel formulas?
Next morning, I wrestled with excel for about 20 minutes and boom, the formula is ready.
But what is a palindrome?
A palindrome is a word, phrase, verse, or sentence that reads the same backward or forward. For example: A man, a plan, a canal, Panama!
So, to check if a cell contains palindrome, we need to reverse the cell contents and see if both original and reverse are the same.
Continue »
Everyone and their colleague knows the importance of Excel keyboard shortcuts. While it may be a good idea to know a 97 different shortcuts for everything in Excel, the fact is, you don't use them all the time. So, it all boils down to memorizing the few shortcuts that you use all the time.
In this post, I am sharing 10 such shortcuts that I can't live without, especially, when I am analyzing data, making charts and formatting my workbooks.
Continue »
Today I want to share an Employee Shift Calendar Template with you. You can use this template to keep track of shift timings on various days. See a demo of the template: How does this template work? This template uses a 3 main ideas, Excel formulas to create the calendar & checking for a day's […]
Continue »
Last week we learned how to create dynamic hyperlinks in Excel. Today, I want to show you something even cooler. An interactive dashboard based on hyperlinks, like shown above.
Isn't it impressive?
Well, to create something like this, you don't need a degree in advanced cryogenics. You just need a bunch of data, a chart, a one line macro code and some pixie dust (go easy on pixie dust).
Continue »
During one my recent training programs, a participant asked an interesting question.
I have a list of values. I would like to place a hyperlink in my workbook that would always take me to the last value in the list.
Something like shown aside.
Click on the image to learn how this is done.
Continue »
Today, let us learn how to use NPV() function in Excel & create a simple financial model.
If you are dealing with cash and valuations, you are bound to have come across the NPV function. If you don't know the assumptions behind the same, I bet it could cost you your job!
Let's take a simple project – You buy a MSFT stock for USD 100. You receive a dividend of USD 10 in the first year, USD 20 in the second year, USD 40 in the third year and then you sell it out for USD 140. If you could have alternatively put this money in bank at 10% interest rate, have you gained anything?
How do you model this in excel? In this tutorial we understand how you can use NPV to do this analysis and what kind of pitfalls you can land into!!
Continue »
A quick announcement folks. I am doing an Excel Boot-camp in Singapore this weekend (July 8-10) along with Paramdeep from Pristine. If you are interested in joining our Bootcamp, this is your last chance. Visit our Singapore Excel Boot-camp page for details & sign-up information. The last date for enrollment is Thursday, 7th of July. […]
Continue »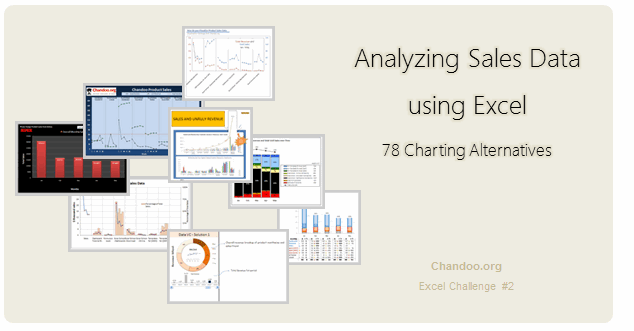 Recently, I ran a contest asking you to analyze a bunch of sales data and present your results in charts. We received a total of 78 charts from 45 people. The contest entries had a mind-boggling variety of excel charts, techniques and ideas. It took me a while to go thru all the files and compile the results. Thanks for your patience. In this post, you can find all the charts along with my comments & links to download files.
Continue »
It has been a while since we had an Excel Links post. So here we are.
First, I want to update you about our Singapore Workshop.
As you know, we have opened the registrations for this workshop last week. If you are in Singapore and want to attend an Excel & Financial Modeling Workshop, Please consider joining us on July 8- 10. For details & enrollment, visit Singapore Bootcamp page.
Apart from the Singapore workshop, I was busy last week conducting live training at CapGemini, in their Hyderabad office on Excel & Dashboards. It was a very good experience. I learned a lot about practical challenges people face when doing sales reports etc. using Excel.
Continue »
Over at Newton Excel Bach I spotted the Dynamically Defined Dancing Pendulums. Doug had used Strand7 for the animation.
I thought I could do that in Excel and did.
This post demonstrates some of some basic VBA techniques used to simplify repetitive tasks used during the construction of the project.
For a full project description visit Excel Hero.com.
Continue »
Can I automate 500 Columns of Data Analysis without VBA?
Absolutely!
Excel super function – Data Table to the rescue.
After reading this post, you will be able to process data like a Data Analysis Super Hero !
Continue »
Last week, we had a home work on Calculating Donation Summaries using Excel Formulas. This is a good case where array formulas can help us. So today, we will learn how we can use Array Formulas to compare lists of values and calculate summaries. Towards the end of this post, you can see a video that explains the solution to Donation Summary Calculation problem.
Continue »
Many of us start using Excel to keep track of something. And along way, we realize that Excel has a powerful feature called formulas, using which we can automate a lot of things. BOOM! Before we realize, we are in the thick of VLOOKUPs and SUMIFs.
But, along way, we also pick up a few bad habits or believe a few myths. Today, lets bust 10 Excel formula myths that we hear often.
Read this post to learn what these myths and why you should not trust them.
Continue »
How often have you had a simple table where you want to lookup a value or add up some values meeting a criteria?
This post looks at a simple way to do a 2D Lookup or 2D Sum of a values from within a 2D range with multiple criteria, without complex Sum, Offset, Index, Match, Sumifs or other functions, simply using Sumproduct
Continue »
You take an apartment on rent at $1000 per month and the owner puts an escalation clause saying 10% increment each 3 years. How do you model this in excel? In this tutorial we understand how escalations at certain frequency can be implemented using the mod function in excel. What is the mod() function Simply […]
Continue »