All articles with 'scatter plot' Tag
It's Halloween time. As adults, we can't go trick or treating. We can of course dress up in costumes and entertain others. But what about the poor spreadsheets. Don't they deserve some of this fun too?
Hell yeah! So I made a spider web generator in Excel. Just use it to make a spooky cob web pattern and add it to your report / dashboard / time sheet or whatever else. Surprise your colleagues.
Continue »
This is an Excel replica of excellent Tableau visual on Tour de France winner data made by Marc Reid.
Last week I saw a stunning visualization on Tour de France using radial charts. I wanted to replicate it in Excel. So here we go.
Continue »
Recently, Microsoft Power BI introduced a very useful visualization, called key influencers visualization. As the name suggests, this is a chart of key parameters that effect a measure or outcome.
For example, you have customer satisfaction rating as a measure. Now you want to know which aspects of your data impact the ratings most? You can create the key influencer visual and Power BI finds all the top ranking influencers (using rules and machine learning).
But can we make it in Excel?
Let's see…
Continue »
On twitter I follow many charting and visualization related accounts. One of them is @Andy Kriebel, who runs Makeover Monday. The idea is simple. Every Monday they publish a data-set and ask the community to visualize. Last Monday (7th May, 2018), they have published about toughest sport by skill data. This categorizes 60 sports by 10 skill categories to find out which sport is the toughest. Over the weekend, Andy posted a summary of all toughest sport viz entries. Many of the entries are made in Tableau. I thought it would be a fun challenge to re-create some of these charts in Excel. The result is this post. 60 sports in 6 charts. Check out the charts and download workbook to learn more.
First four charts are re-creations of Tableau designs. Last two are mine.
Continue »
Game for some charting awesomeness?
Off late, I have been doing a lot of data analysis and visualization on performance ratings, salary hike, gender pay equality etc. Today let me share you an awesome way to visualize massive amounts of data.
Scenario: Your organization of 3,686 people recently went thru annual performance ratings & review process. At the end of it, everyone was offered some salary increase (from $0 to $24,000 per year). You have 7 business groups. How do you tell the story of all these salary hikes in one chart?
How about the one above?
Ready to know how to create this in Excel? Read on.
Continue »
Over the years, we have discussed a whole heap of techniques to visualize budget vs. actual charts. Today let's take a ride on this slope again and learn another fun, silly & awesome way to depict target vs. actual progress.
Introducing biker on a hill chart
Tada!!!
Biker on a hill!?! Don't worry, I didn't fall down on a descent and lose my brain. I am talking about an Excel chart to visualize target vs. actual progress on a time line with biker on a hill analogy. See the above chart, you will know.
Looks interesting? Read on to learn how to create this in Excel.
Continue »
First a little back story:
Last Friday (on 29th of July), we (Jo, kids & I) went on a day walk to Red Rocks. It is a rugged coastal walk near Owhiro bay in Wellington. It was a windy & cold day. So why did we brave the elements of nature on this 10km walk? To see seals of course. And we did find a few of them. We also caught glimpses of snowy peaks in Southern Island of New Zealand.
3 Seals Excel Puzzle
Now I can't take you on the same walk thru internet. There is no Excel function that can teleport you from your office (or home) to Owhiro bay. So I made the next best thing.
An Excel puzzle with 3 hidden seals.
Continue »
Recently I saw an interesting Earth Venus cosmic dance video on Facebook. See the original video below or here.
Although this is not entirely accurate from physics & astronomy perspectives, the dance is a stunning example of patterns that are generated by simple things.
I wanted to recreate this cosmic dance in Excel. How else am I to get my spreadsheet fix on a Saturday?
Here is a quick demo of the final outcome. Read on to learn more about the Earth Venus cosmic dance.
Continue »
It is Easter time again. This year, we drove to my brother's house in Hyderabad (700 km away from my home) to spend a weekend doing absolutely nothing (we will eat copious amount of food, share family memories, laugh and laze). It is Chandoo.org tradition to share few puzzles during Easter time, a la an Excel themed virtual Easter egg hunt. This year, I have prepared an amazing challenge for you.
Continue »
Here is an interesting chart from Economist, ironically titled The weight of the world. Can you tell what is wrong with it?
Continue »
Yesterday I saw a tweet from @JanWillemTulp with random snow flake generator.
That got me thinking…? Why can't we make a snow flake pattern in Excel?
This is what I came up with.
Read on to know more about this snow flake and download the example workbook.
Continue »
Today is Diwali, the festival of lights. I wish you and your family a happy, bright and prosperous festive time. May your house shower with lots of light, laughter and love.
Diwali is one of my favorite festivals. It is a time when all family members get together, eat delicious food, laugh to hearts content and light up diyas (small oil lamps) to celebrate the victory of good over evil. This year, my kids (who are 6 yrs btw) are very excited about the festival. They are looking forward to lighting up diyas and crackers (fire works).
To celebrate the holiday, I made something for you.
An animated flower pot firework in Excel.
Continue »
Here are three questions you often hear from your boss:
What changes are happening in our business and how do they look?
Do you know how to operate this new coffee machine?
Why does every list has 3 items?
Jokes aside, our urge to find change in environment predates cave drawing, slice bread and Tommy Lee Jones. So, today let's examine a very effective chart that tells the story of change and re-create it in Excel.
Continue »
ABC analysis is a popular technique to understand and categorize inventories. Imagine you are handling inventory at a plant that manufactures high-end super expensive cars. Each car requires several parts (4,693 to be exact) to assemble. Some of these parts are very costly (say few thousand dollars per part), while others are cheap (50 cents per part). So how do you make sure that your inventory tracking efforts are optimized so that you waste less time on 50 cent parts & spend more time on costly ones?
This is where ABC analysis helps.
We group the parts in to 3 classes.
Class A: High cost items. Very tight control & tracking.
Class B: Medium cost items. Tight control & moderate tracking.
Class C: Low cost items. No or little control & tracking.
Given a list of items (part numbers, unit costs & number of units needed for assembly), how do we automatically figure which class each item belongs to?
And how do we generate above ABC analysis chart from it?
Continue »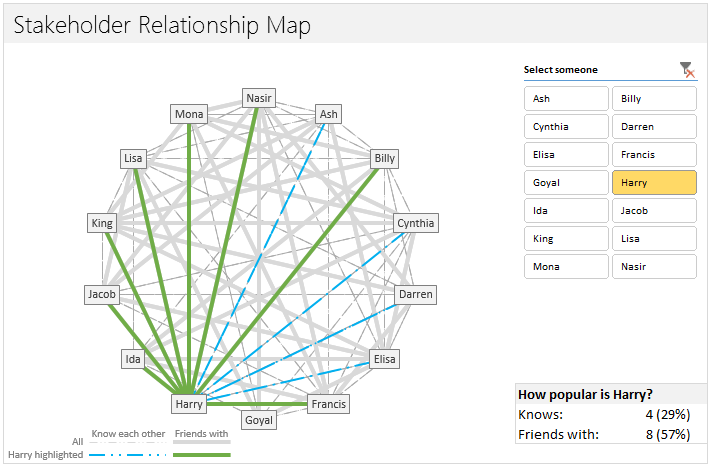 Today, lets learn how to create an interesting chart. This, called as network chart helps us visualize relationships between various people.
Demo of interactive network chart in Excel
First take a look at what we are trying to build.
Looks interesting? Then read on to learn how to create this.
Continue »