All articles with 'measures' Tag
Commonwealth games 2018 have ended in the weekend. Let's take a look at the games data thru Power BI to understand how various countries performed.
Here is my viz online or you can see a snapshot above.
Looks good, isn't it? Well, read on to know how it is put together.
Continue »
Hi folks,
I have a quick announcement & an awesome Power Pivot technique to share with you. First the announcement.
Only few hours left to join our Power Pivot course…
As you may know, I have opened enrollments for our inaugural batch of Power Pivot course few days ago. The aim of this course is to make you awesome in Excel, Advanced Excel, Dashboards & Power Pivot.
We will be closing the doors of this program at midnight, today (11:59 PM, Pacific time, Friday, 15th of February).
If you want to join us, click here and enroll now.
How many people have joined the class?
At the time of writing this, we have 195 students enrolled in Power Pivot class. We are eager to share Power Pivot knowledge & techniques to as many more of you as possible. So go ahead and join us because you want to be awesome in Excel & Power Pivot.
Continue »
When it comes to analyzing business data, managers are always asking, "so how many distinct x each y is doing?"
And that sends us, data analysts & reporting professionals running from pillar to post figuring out the best way to do it.
We can use variations of SUMPRODUCT, COUNTIFS etc, but the methods are not flexible..
We can use VBA, but it would become slow as you add more data.
We can use Pivot tables, but it only gives half of what we want ie each y part, but not distinct count of x.
We might as well shave our head with a shovel before manually counting values.
And that brings us to 2 distinctly simple solutions:
Using Power Pivot & Excel 2010
Using regular pivot tables in Excel 2013
Today, lets talk about these 2 approaches & see why they are so better than anything else for distinct count situations.
Continue »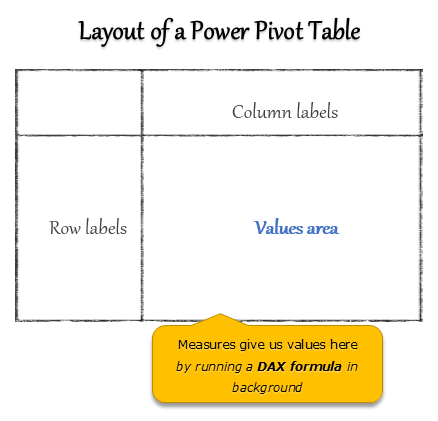 A measure is a formula for the values area of Power Pivot table.
A measure can be implicit or explicit.
Implicit measures are created automatically when you drag and drop a field in to Power Pivot values area. For example, in last week's introduction, we created an implicit measure for SUM of Sales by dragging and dropping the sales amount field in to values area of our power pivot table.
Explicit measures are created by you using New measure button in Power Pivot tab (or Calculated Field button in Excel 2013 Power Pivot tab). You can also create a measure in the Power Pivot window.
Learn what measures are, how to create them using DAX (Data Analysis Expression) formulas in this video tutorial.
Continue »