All articles with 'australia' Tag
Hiya folks… just a quick update on whats keeping me busy this year, with a bonus Excel tip at the end. Take a sip of your favorite brew and read on.
Continue »
If you are an Excel enthusiast, here is a feast for you.
Just a small glitch, it is a not feast you enjoy with mouth, it is a feast you consume with eyes, ears & mind.
It gives me immense pleasure to invite you to this feast.
Continue »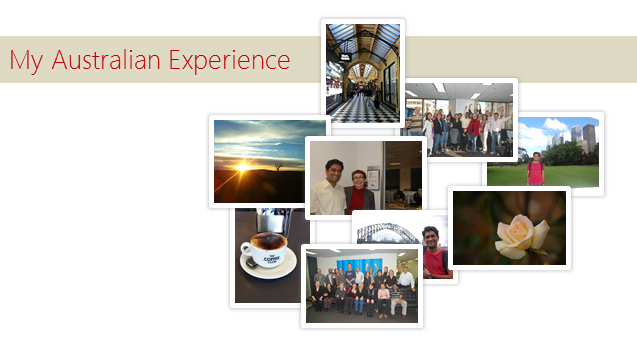 As the gentleman at immigration counter stamped my passport & said, "Welcome to Australia", I could barely contain my excitement. You see, Australia has been on my list of places to visit as far back as I can remember. It finally happened on On Sunday, 29th of April 2012.
After collecting my baggage, I walked out of Sydney Kingsford Smith Airport. My friend Danielle (from Plum Solutions) is waiting for me there. Thus began my Australian adventure and it was fantastic. (Aussies so fondly use this word).
Grab a fine cup of coffee, sit back and read to know how the whole experience went.
Continue »
Hello folks,
I have a quick announcement. As you may know, I am doing a set of Excel & Dashboards Masterclasses in Sydney, Melbourne & Brisbane. We had a fantastic session in Sydney (with 18 delegates). We are sold out in Melbourne & have 2 spots left in Brisbane. But we kept getting requests for more in Melbourne. So we have added an additional session in Melbourne. This is right after Queen's birthday – on 12th & 13th of June. Please use below links to enroll for the masterclass if you are interested.
Reviews from our Sydney masterclass delegates
We asked the delegates of our Sydney masterclass to tell us how they liked it. Here is a short video with their reviews (4 min):
Continue »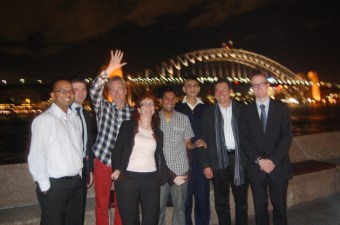 Hello folks,
My flight to Sydney has been lengthy but fun. I have reached here on Sunday morning (8AM) and spent most of the day with Danielle's family. (Danielle is the founder of Plum Solutions. She is the one who invited me to Australia and planned this whole experience for me).
On Monday (30th April), I went exploring the city on foot. I had coffee in the beautiful Queen Victoria Building, attended 1PM church service at the magnificent St. Mary's cathedral, walked thru Hyde park, went to Sydney central station, took at sneak peek at the new Apple store in down town, got back to my hotel, walked to Opera house to meet up with our readers.
Reader meetup at Sydney
We had 6 people turn up for the meetup. It was fun talking about Excel & our journey with these wonderful folks. Here is a pic (you can see the harbor bridge in background & 8 awesome Excel users in foreground, Click on it to enlarge).
Continue »
When I announced my upcoming Australian Excel masterclass, I got quite a few mails (ok, just a few), all which are on these lines,
Wow, I would love to meet you when you are here. Let me know if you have sometime on an evening for some coffee or beer?
Down under, I must be popular.
After saying yes to a few invitations, I saw the hassle in arranging several individual rendezvous. So here is an open invitation to you all. If you like Chandoo.org or Australian brewed coffee, clear your calender on below dates,
Sydney – 30th April
Brisbane – 2nd June
I am yet to decide the venue & time. But preferably, we will meet near water around 5ish in the evening. If you want to join me & share your Excel stories (or just any stories), fill up below form.
Continue »
Hi readers,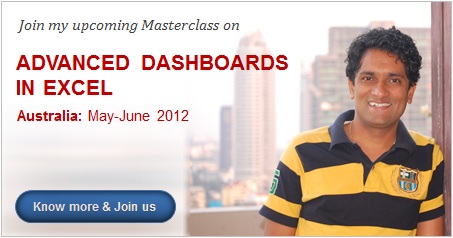 Just a quick reminder. We are closing early-bird discount for my Australian Excel & Dashboards Masterclass on 16th April. So if you want to attend my training program in Sydney, Melbourne or Brisbane, you have very little time left to sign-up.
Click here to sign-up for Advanced Excel & Dashboards Masterclass.
Continue »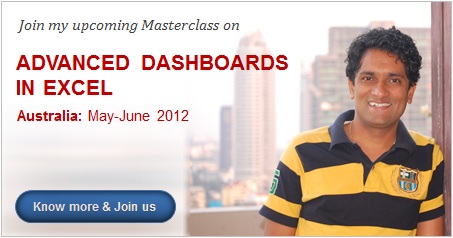 Hello folks,
We pause the regular broadcast of Excel awesomeness to share something exciting. As you may know, I will be running a series of Advanced Excel Dashboard Masterclasses in Australia this May & June. So if you live in (or nearby) Sydney, Melbourne, Canberra, Perth or Brisbane and want to one up your dashboard skills, you know what to do next.
I am conducting these masterclasses in partnership with Plum Solutions.
Read this short post or Click here to know more about this masterclass.
Continue »
Hello folks, I have a super exciting news to share with you all. I will be conducting a series of Masterclasses on Advanced Dashboards & Excel in Australia this Autumn (May – June 2012). So if you live in (or nearby) Sydney, Melbourne, Canberra, Perth or Brisbane and want to one up your dashboard skills, […]
Continue »