Sign-up for my Excel Dashboard Masterclass in Australia
Hello folks,
We pause the regular broadcast of Excel awesomeness to share something exciting. As you may know, I will be running a series of Advanced Excel Dashboard Masterclasses in Australia this May & June. So if you live in (or nearby) Sydney, Melbourne, Canberra, Perth or Brisbane and want to one up your dashboard skills, you know what to do next.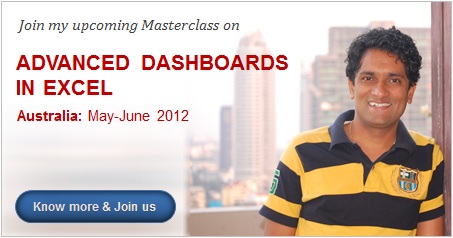 I am conducting these masterclasses in partnership with Plum Solutions.
What is in this Masterclass  & Who should attend?
This 2 day masterclass is aimed at managers, analysts, reporting professionals, executives in sales, marketing, customer service or anyone who wants to learn about Excel Dashboards.
In this masterclass we will be learning,
Day1: Our first dashboard in Excel

Excel formulas for dashboards
Applying advanced conditional formatting for dashboards
Building our first dashboard – hands-on exercise

Day 2: Advanced dashboard skills

Selecting right charts for any situation
Enhancing dashboards with Excel 2010 – sparklines, slicers
Customizing Excel charts – top 5 problems
Building our second dashboard – hands-on exercise
Q&A
For complete details about the masterclass, please download our brochure.
Benefits of this Masterclass – what you will get?
These are the benefits of the of our Masterclass:
Learn the process to create robust, easy-to-maintain Excel Dashboards
Build better & error-free Excel reports
Know how to choose right charts based on your need
Understand design principles that make your work stand out
Discover some of the less commonly-known Excel features
And you will get this by enrolling:
Two full days of tuition by me
Use of workstations, lunch and refreshments
USB stick with Example workbooks, PDF guides & videos
Access to selected videos & material on Chandoo.org
Email support for Excel questions for 3 months following the course by Chandoo.org
When is it?
The venues and dates of the masterclass are,
Thu 03 May 2012, Sydney
Thu 10 May 2012, Canberra

Mon 21 May 2012, Perth
Thu 31 May 2012, Brisbane
Thu 07 June 2012, Melbourne
Sign-up before April 15th to get $100 discount
This masterclass is AUD 950 + GST per participant.
If you sign-up before April 15th, you get $100 discount. Please use the discount code CHANDOO during checkout to claim it.
Click here to sign-up for our Advanced Excel & Dashboards Masterclass.
Do you want me to conduct training in your company?
I will be Australia between April 23rd and June 10th. I would love to visit your team and spend a day or two discussing Excel. So if you want to have an in-house training session by me, just drop an email to chandoo.d @ gmail.com.
Any questions: Comment on this page or email me.
Thank you
I got my visa few days. I have booked my tickets too. I am very eager to visit Sydney, Perth and all other beautiful places down under. I am even more eager to meet some of you and share my knowledge. Thank you so much for making this happen.
PS: If you are live in any of those 5 cities and want to have some coffee / beer, let me know. I would love to meet you.
PPS: If you live in any of those 5 cities and want to become awesome in Excel, go ahead and sign-up. You know it is going to rock.
Hello Awesome...
My name is Chandoo. Thanks for dropping by. My mission is to make you awesome in Excel & your work. I live in Wellington, New Zealand. When I am not F9ing my formulas, I cycle, cook or play lego with my kids. Know more about me.
I hope you enjoyed this article. Visit Excel for Beginner or Advanced Excel pages to learn more or join my online video class to master Excel.
Thank you and see you around.
Related articles: